Commentary
LeBron, only Dallas is fit for a King
Friendly folks, low taxes and Texas BBQ on the house will make for a high-flying reign
Updated:
June 30, 2010, 12:30 PM ET
By
Tom Leppert
| Mayor of Dallas
ESPNDallas.com asked Dallas Mayor Tom Leppert for his best pitch to bring free agent LeBron James to the Mavericks. Below is his response:
Dear LeBron,
[+] Enlarge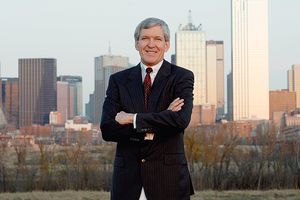 Courtesy City of DallasRoger Staubach and Tex-Mex? Mayor Tom Leppert can make it happen for LeBron if he chooses Dallas.
I hear you may be considering a career-enhancing move to another city. I'm sure you'll find that a move to Dallas clearly would make the most sense professionally, financially and personally.
Dallas is a great city to live, work and play. It is the eighth-largest city and fourth-largest metro area in the country. Dallas is a thriving and growing metropolitan city yet still maintains its Southern charm. While it certainly has a stellar reputation and some of the friendliest people around, you may also want to consider the Top Ten reasons you should move to Dallas and the Mavs:
10. No snow blowers needed!!!!

9. You can move in next door to Dirk in North Dallas. It's just a 12-minute drive to the American Airlines Center.

8. The Mavericks have the best plane.

7. Great airports at both DFW International and Love Field. Central location makes getting around the country quick and easy!

6. On off nights, you can hit the opera at the stunning new Winspear Opera House.

5. Make calls in the Central Time Zone. Much easier to manage your affairs.

More on the Mavericks

News, notes and analysis of the Mavericks from ESPNDallas.com's Tim MacMahon, Jean-Jacques Taylor and our team.
Blog » ESPN Dallas »


4. Hit the links at Dallas National Golf Club in February. Just five minutes from the American Airlines Center.

3. Keep more of your money. Unlike New York City, which has a 12.62% income tax rate (State: 8.97% + City: 3.65%), Texas has no personal income tax. At your current salary of $15,779,912, a move to Dallas saves you $2 million over New York.

2. Cowboys Stadium: You can sit with Roger Staubach for the Super Bowl.
And the number one reason to move to Dallas ...
1. The Mayor will personally greet you with Texas BBQ, Tex-Mex and Sweet Tea on the day you move in!
The bottom line: You would love Dallas and Dallas would love you. We welcome the opportunity to welcome you to Dallas.
Sincerely,
Tom Leppert, Mayor of Dallas
Adidas Boys' Cleveland Cavaliers Lebron James #23 Road Burgundy Replica Jersey Shop »