Kobe Bryant: Mavericks 'can beat us'
Updated:
May 4, 2011, 10:57 AM ET
By
Tim MacMahon
| ESPNDallas.com
LOS ANGELES -- The Dallas Mavericks might have planted a seed of doubt in the two-time defending champions' minds while stealing Game 1 and home-court advantage away from the Los Angeles Lakers on Monday night.
"I'm highly concerned," Lakers star Kobe Bryant said after the Mavericks erased a 16-point second-half deficit for a 96-94 victory in the opener of their Western Conference semifinal series. "This team can beat us. It's clear. We just have to come in ready to play Game 2."
It's also clear that the Mavericks, who have won back-to-back road playoff games after losing 18 of their previous 20 away from American Airlines Center, believe they can beat the Lakers.
"We're not happy right now. We're not satisfied," said Jason Terry, who scored 15 points as the Mavericks' bench outscored the Lakers' bench 40-25. "We didn't play our best basketball. When we watch the film, we'll realize what we did out there wasn't that great."
Dirk Nowitzki, who led the Mavericks with 28 points and 14 rebounds, echoed those sentiments.
"It's definitely a great win for us, but if you look at their last series, they lost Game 1 and came right back and won the next two and had the series back in control," Nowitzki said. "We'd love to go for it in Game 2."
2011 NBA Playoffs: Mavericks vs. Thunder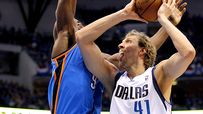 The Mavs rallied to finish off the Thunder and advance to the NBA Finals. Get all the latest playoff information here.
Mavs Center » Mavs Blog »
The Lakers went to Bryant five times in the final three minutes and got two points and two turnovers out of those possessions.
That included a potential game-winning 3-point attempt that bounced off the back rim at the buzzer.
"When he shot it, I didn't look," Jason Kidd said. "I was going to listen to the crowd."
But the mood in the Staples Center visitors' locker room wasn't celebratory. It was all business, with the Mavs already thinking about how they can play better in Game 2.
"You've got to make plays, and you've got to dodge some bullets," Mavericks coach Rick Carlisle said. "We did both."
Tim MacMahon covers the Mavericks for ESPNDallas.com.
ESPNDallas.com
Joined ESPNDallas.com in September 2009
Covers the Dallas Cowboys and Dallas Mavericks
Appears regularly on ESPN Dallas 103.3 FM
2011 NBA PLAYOFFS: DALLAS VS. L.A. LAKERS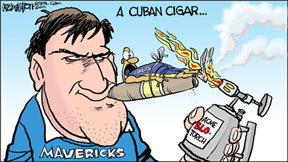 The Mavs are in the Western Conference finals.
Mavs Playoff Center
|
Mavericks Blog
Mavs win best-of-7 series, 4-0