Mavs don't rule out Caron Butler return
Updated:
May 26, 2011, 6:42 PM ET
By
Tim MacMahon
| ESPNDallas.com
The Dallas Mavericks do not anticipate Caron Butler will be able to play in the NBA Finals, although a return remains a possibility.
"It's unlikely, but I can't say no for sure," coach Rick Carlisle said during a Thursday morning appearance on ESPN 103.3's "Ben and Skin Show."
Butler, a two-time All-Star who began his career with the Miami Heat, has been working to return from a ruptured patellar tendon in his right knee. Butler is able to sprint and jump, but he has not yet been cleared for full-contact practice.
2011 NBA Playoffs: Mavericks vs. Thunder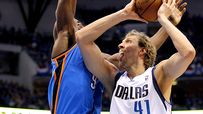 The Mavs rallied to finish off the Thunder and advance to the NBA Finals. Get all the latest playoff information here.
Mavs Center » Mavs Blog »
Butler suffered the injury on New Year's Day in Milwaukee, popped the kneecap back in place and walked to the Mavericks' locker room because he didn't want to be seen carried off the court in front of the dozens of friends and family members who traveled from his hometown of Racine, Wis., to attend the game.
After Butler underwent surgery days later, the Mavericks announced that he would be out for the season. However, Butler declared soon afterward that he was determined to return during Dallas' playoff run.
Butler, known by his "Tuff Juice" nickname, was averaging 15.0 points as the starting small forward for a 24-7 team when he was injured. The Mavs signed Peja Stojakovic in midseason to help fill the scoring void created by Butler's absence.
Butler wasn't able to contribute to the Mavs' Western Conference championship run, but his positive attitude and work ethic has been an inspiration to teammates and coaches.
"I just want to see him in layup lines," Dallas guard Jason Terry said recently. "If he can get up in layup lines, it's going to boost us immensely emotionally. He's been here the whole way, though. This guy has worked so hard to get ready."
Tim MacMahon covers the Mavericks for ESPNDallas.com.
ESPNDallas.com
Joined ESPNDallas.com in September 2009
Covers the Dallas Cowboys and Dallas Mavericks
Appears regularly on ESPN Dallas 103.3 FM
2011 NBA PLAYOFFS: MAVERICKS VS. THUNDER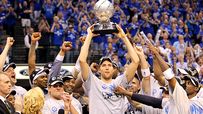 The Mavs beat the Thunder in five games to book their trip to the NBA Finals.
Mavs Playoff Center
|
Mavericks Blog
Mavs win best-of-7 series, 4-1