Dirk Nowitzki ready for Heat rematch
Updated:
May 30, 2011, 10:27 AM ET
By
Jeff Caplan
| ESPNDallas.com
DALLAS -- No matter how fitting the chance for the Dallas Mavericks to come full circle since the 2006 Finals meltdown against the Miami Heat, forward Dirk Nowitzki has no interest in playing the revenge card.
"It doesn't really matter that much to me," Nowitzki said after Friday's practice. "We had a huge chance in '06 and let it slip away, so we've got another crack at it. You never know in this league if you ever get another chance, and we're able to get to this stage again and it feels good."
NBA Finals on ESPN.com


The Mavericks defeated the Heat 4-2 to win the NBA title. Get your championship coverage on ESPN.com:

• Finals page | Finals schedule
• Mavs Center | Blog | ESPN Dallas
• Heat Index | TrueHoop | Playoffs

Nowitzki is so intently focused on the task at hand that he didn't even allow himself to soak in the moment of capturing a second Western Conference title. He bolted from the trophy presentation, hopping over the scorer's table and disappearing into the tunnel before he could even be interviewed on national television.
"Now we've just got to go for it and do all the things that got us here," Nowitzki said. "And that's play some defense, rebound the ball and ball movement on the offensive floor."
The Mavericks took a 2-0 lead on the Heat in the '06 Finals and took their talents to South Beach with a head of steam and championship parade plans in the works at City Hall.
Dallas led Game 3 in Miami by 13 points with 6:42 left in the game when everything went haywire. Led by Dwyane Wade's parade to the free throw line, the Heat rallied for the win and never lost again.
2011 NBA Finals: Champion Mavericks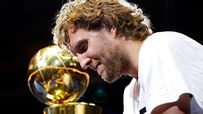 Review: Best of 2010-'11

Worst


Parade: Taking it to streets of Big D


Title Time: Mavericks' celebration


Download: Mavericks Wallpaper »

Game 1: Heat 92, Mavericks 84


Game 2: Mavericks 95, Heat 93


Game 3: Heat 88, Mavericks 86


Game 4: Mavericks 86, Heat 83


Game 5: Mavericks 112, Heat 103


Game 6: Mavericks 105, Heat 95


More: Mavs Center » Mavs Blog »
It might not have mattered to Nowitzki if the Chicago Bulls had come out of the Eastern Conference instead, but he has never let go of just how close the Mavs were to winning a championship or the struggles in the seasons since that have come to define the franchise and Nowitzki.
"Obviously, it was one of the toughest losses we've ever gone through as a franchise," Nowitzki said. "Me personally, to be up 2-0 and not a find a way to win another game, that was tough. But, you've got to give Miami credit ... It took us a long time to get back to this stage."
Nowitzki and Jason Terry are the only remaining members from the '06 Finals team, plus assistant coach Darrell Armstrong. Wade and Udonis Haslem, freshly returned from a season-long foot injury, are the only holdovers on the Miami side.
The Heat prospered from the offseason's free-agent coup, combining superstar LeBron James and Chris Bosh with Wade and surrounding the trio with a group of low-salaried role players. The Mavs' '06 team did not include Jason Kidd running the point, Shawn Marion making significant contributions on both ends at small forward or the emotional and defensive leadership of center Tyson Chandler.
Terry, Dallas' point guard in his second season in '06 and now a potent scoring weapon as the sixth man, has consistently contended that the '06 title rightfully belonged in Dallas. After defeating the Oklahoma City Thunder to win a second Western Conference title on Wednesday, Terry seemed a bit little conflicted about his emotions regarding the Heat.
"That's not the same team," Terry said. "Pat Riley's not even coaching. I've always said it, though, every time we've played the Heat it's always been something special, even in the regular season those five years."
Jeff Caplan covers the Mavericks for ESPNDallas.com.
2011 NBA FINALS: MAVERICKS BEAT HEAT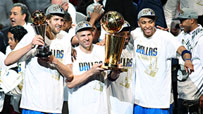 The Mavericks are world champions!
Mavs Playoff Center | Mavericks Blog
Heat Index | TrueHoop | Playoffs


Mavs win best-of-7 series, 4-2
Adidas Youth Cleveland Cavaliers Lebron James #23 Alternate Gold Swingman Jersey Shop »