Jason Terry's tattoo temporary?
Updated:
May 31, 2011, 10:19 AM ET
By
Tim MacMahon
| ESPNDallas.com
DALLAS -- Jason Terry's tattoo of the Larry O'Brien Trophy could be temporary.
NBA Finals on ESPN.com


The Mavericks defeated the Heat 4-2 to win the NBA title. Get your championship coverage on ESPN.com:

• Finals page | Finals schedule
• Mavs Center | Blog | ESPN Dallas
• Heat Index | TrueHoop | Playoffs

If his Dallas Mavericks don't beat the Miami Heat in the NBA Finals, Terry said he would have the tattoo removed from the inside of his right biceps.
"I definitely know that it will hurt worse if I have to take this thing off than it did putting it on," Terry said Sunday after the Mavericks wrapped up their final practice before boarding their flight to Miami.
If the Mavs fail to win their first NBA championship, Terry said it would mean his tattoo was bad luck.
"I'm very superstitious," he said.
Terry got the tattoo on Oct. 19 during a get-together Dallas shooting guard DeShawn Stevenson had at his offseason home before the Mavericks played a road preseason game against the Orlando Magic. Stevenson, who has hundreds of tattoos on his face, neck, torso and arms, offered the services of his personal tattoo artist to his teammates.
2011 NBA Finals: Champion Mavericks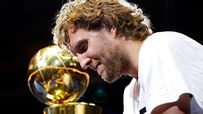 Review: Best of 2010-'11

Worst


Parade: Taking it to streets of Big D


Title Time: Mavericks' celebration


Download: Mavericks Wallpaper »

Game 1: Heat 92, Mavericks 84


Game 2: Mavericks 95, Heat 93


Game 3: Heat 88, Mavericks 86


Game 4: Mavericks 86, Heat 83


Game 5: Mavericks 112, Heat 103


Game 6: Mavericks 105, Heat 95


More: Mavs Center » Mavs Blog »
Terry, the only player other than Dirk Nowitzki remaining on the Mavericks' roster from the 2006 Finals team, got the trophy inked into his arm to send a message to his teammates.
"It just symbolized the fact that we had a realistic shot of getting here," Terry said. "If I didn't think we had a chance, I wouldn't have put it there."
Terry certainly isn't backing off his belief in the Mavs now that they've earned a Finals rematch with the Heat, although he understands that Miami is considered the heavy favorite.
"Everybody knows that they're picking Miami to win. We know that," Terry said. "It really doesn't matter to us. We know we're very focused right now. We know what the job is and we know how we have to get it done."
Tim MacMahon covers the Mavericks for ESPNDallas.com.
ESPNDallas.com
Joined ESPNDallas.com in September 2009
Covers the Dallas Cowboys and Dallas Mavericks
Appears regularly on ESPN Dallas 103.3 FM
2011 NBA FINALS: MAVERICKS BEAT HEAT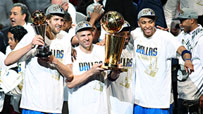 The Mavericks are world champions!
Mavs Playoff Center | Mavericks Blog
Heat Index | TrueHoop | Playoffs


Mavs win best-of-7 series, 4-2