Jason Terry wears Heat shorts to bed
Updated:
June 1, 2011, 12:52 AM ET
By
Tim MacMahon
| ESPNDallas.com
MIAMI -- The Dallas Mavericks' flop against the Miami Heat in the 2006 NBA Finals isn't on Jason Terry's mind, but a piece of that series was on his body the night before his team's 92-84 Game 1 loss on Tuesday night.
Terry always wears a pair of the opponent's game shorts to bed the night before games, a superstition that dates to his college days.
That didn't change Monday night, when Terry slipped on a pair of Miami Heat shorts.
2011 NBA Finals: Champion Mavericks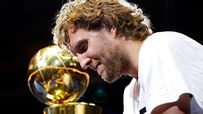 Review: Best of 2010-'11

Worst


Parade: Taking it to streets of Big D


Title Time: Mavericks' celebration


Download: Mavericks Wallpaper »

Game 1: Heat 92, Mavericks 84


Game 2: Mavericks 95, Heat 93


Game 3: Heat 88, Mavericks 86


Game 4: Mavericks 86, Heat 83


Game 5: Mavericks 112, Heat 103


Game 6: Mavericks 105, Heat 95


More: Mavs Center » Mavs Blog »
Only these weren't any Heat shorts. These were a pair given to Terry by Gary Payton after Miami beat Dallas to win the NBA championship in 2006.
Any nightmares?
"Gary Payton gave me some back when they beat us," said Terry, the only player other than Dirk Nowitzki remaining on the Mavericks' roster from the 2006 Finals team. "I slept good."
Terry admittedly is "very superstitious."
He recently said he'd remove the tattoo of the Larry O'Brien Trophy from the inside of his right biceps if the Mavericks don't beat the Heat in the Finals, saying it would be bad luck if he didn't.
Terry had the tattoo placed there prior to the start of this season.
Tim MacMahon covers the Mavericks for ESPNDallas.com.
ESPNDallas.com
Joined ESPNDallas.com in September 2009
Covers the Dallas Cowboys and Dallas Mavericks
Appears regularly on ESPN Dallas 103.3 FM
2011 NBA FINALS: MAVERICKS BEAT HEAT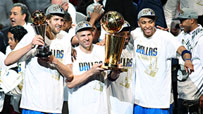 The Mavericks are world champions!
Mavs Playoff Center | Mavericks Blog
Heat Index | TrueHoop | Playoffs


Mavs win best-of-7 series, 4-2