Dirk Nowitzki calls out teammate
Updated:
June 7, 2011, 1:15 PM ET
By
Jeff Caplan
| ESPNDallas.com
DALLAS -- Dirk Nowitzki needs scoring help and he knows teammate Jason Terry has yet to deliver in the NBA Finals.
Terry, the Dallas Mavericks' charismatic sixth man who likes to bust out his arms like airplane wings after he makes 3-pointers and prides himself on cold-blooded shooting in the clutch, has found little breathing room with Miami Heat forward LeBron James shutting him out of the late-game offense.
"They keep sticking him [James] on Jet in the fourth quarters and he's been doing a good job," Nowitzki said. "Jet hasn't really been a crunch-time, clutch player for us the way we need him to."
NBA Finals on ESPN.com


The Mavericks defeated the Heat 4-2 to win the NBA title. Get your championship coverage on ESPN.com:

• Finals page | Finals schedule
• Mavs Center | Blog | ESPN Dallas
• Heat Index | TrueHoop | Playoffs

Nowitzki scored 34 points in the 88-86 Game 3 loss and he scored the Mavs' final 12 points of the game. Terry, the team's second-leading scorer, was 0-of-4 from the floor in the fourth quarter of the disappointing home loss that put the Mavs in a 2-1 hole with Game 4 on Tuesday night at the American Airlines Center.
Terry is a combined 0-of-7 in the fourth quarters of the Mavericks' two losses in the NBA Finals.
"They know to take me out of the fourth quarter, which they didn't do in Game 2," Terry said of the Heat's choice to turn to James defensively, "then they got a good chance."
Added Terry: "Let's see if [James] can defend me like that for seven games."
During the regular season, Nowitzki and Terry ranked at the top of the league with James and Dwyane Wade as the best fourth-quarter scoring duo. Nowitzki has held up his end, but the 6-foot-2 Terry has struggled in late-game situations throughout the postseason and mightily so against the 6-foot-8 James.
In the final 4:14 of Game 3, Terry missed a 3-point attempt, botched a driving layup and couldn't hit a go-ahead jumper from the baseline with 58.9 seconds to play.
"I had two opportunities," Terry said. "One in the corner for 3, LeBron closed out. The other one in the right corner, LeBron closed out again, didn't get enough air under it.
"Hey, it happens. If I get those same shots in Game 4, I bet I make them."
But Terry still seems hesitant to give too much credit to the Heat, even going so far as to say the Portland Trail Blazers were better on defense in the first-round series than Miami has been in the Finals.
"Portland, by far, has the best D," said Terry, who added that the Heat has a "great scheme" that is "working for them thus far this series."
Terry is 3-of-12 (25.0 percent) in the fourth quarters against Miami, which is not much worse than his overall fourth quarters in which he's shooting 29.3 percent (17-for-58) for an average of 3.2 points per fourth quarter.
"It's a call to arms. One man's not going to win it," Terry said. "Obviously, the big-wig [Nowitzki] is going to need to get some help, and I'm going to tell you this -- that we will be there in Game 4."
2011 NBA Finals: Champion Mavericks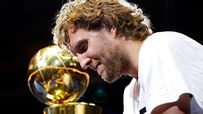 Review: Best of 2010-'11

Worst


Parade: Taking it to streets of Big D


Title Time: Mavericks' celebration


Download: Mavericks Wallpaper »

Game 1: Heat 92, Mavericks 84


Game 2: Mavericks 95, Heat 93


Game 3: Heat 88, Mavericks 86


Game 4: Mavericks 86, Heat 83


Game 5: Mavericks 112, Heat 103


Game 6: Mavericks 105, Heat 95


More: Mavs Center » Mavs Blog »
Terry's shooting woes complicate a growing problem for the Mavs and their heavily-relied-upon bench. The unit led the league in scoring during the regular season at about 40 points a game, and has been a steady contributor throughout the postseason until going up against the smothering Heat defense.
The bench is averaging 21.6 points in the three Finals games.
Peja Stojakovic is 1-of-5 from the floor and 0-of-4 from 3-point range in the series. He's played just 11 minutes in the past two games and coach Rick Carlisle hasn't gone back to him in his normal substitution package in the second halves of Games 2 and 3.
J.J. Barea, an effective penetrator against the Los Angeles Lakers and Oklahoma City Thunder in the Western Conference finals, is seven points off his scoring average of the past two series and is shooting 21.7 percent from the floor and 12.5 percent from the 3-point range.
The onus falls on the 33-year-old Terry, who is shooting below 39 percent since the end of the second round.
"We're going to have to ride our horses. It's just going to have to be something we have to do," Terry said. "They're doing it on their end. Hey, you got eight, seven days, however many days are left in this series. If you can't go out there and play 40-plus minutes as a major cog in the wheel, then you shouldn't be here."
Jeff Caplan covers the Mavericks for ESPNDallas.com. Tim MacMahon of ESPNDallas.com contributed to this report.
2011 NBA FINALS: MAVERICKS BEAT HEAT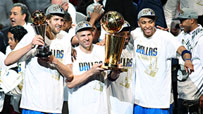 The Mavericks are world champions!
Mavs Playoff Center | Mavericks Blog
Heat Index | TrueHoop | Playoffs


Mavs win best-of-7 series, 4-2
Adidas Youth Cleveland Cavaliers Lebron James #23 Home White Swingman Jersey Shop »