J.J. Barea gets Game 4 start
Updated:
June 7, 2011, 11:57 PM ET
By
Jeff Caplan
and
Tim MacMahon
| ESPNDallas.com
DALLAS -- The Dallas Mavericks inserted penetrating backup guard J.J. Barea into the starting lineup for Tuesday night's Game 4 in place of DeShawn Stevenson in an attempt to boost the team's sagging offense.
NBA Finals on ESPN.com


The Mavericks defeated the Heat 4-2 to win the NBA title. Get your championship coverage on ESPN.com:

• Finals page | Finals schedule
• Mavs Center | Blog | ESPN Dallas
• Heat Index | TrueHoop | Playoffs

Barea scored eight points and had four assists as Dallas avoided going down 3-1 to Miami with an 86-83 win.
Stevenson, who said he would come off the bench at small forward for Shawn Marion, had started all 18 playoff games, averaging 3.9 points and shooting 37.7 percent from 3-point range. The Mavs offense had struggled against the Miami Heat defense, averaging 88.3 points a game on 42.0 percent shooting. Barea entered Tuesday averaging just 4.3 points in the series, down seven from the last two series.
"I've got to do what I've got to do," Stevenson said before the game. "I want to win a championship, so no matter what it is I've got to do it."
Marion played 43 minutes during Sunday's Game 3 loss to the Heat. Stevenson's main defensive duty was guarding LeBron James instead of Dwyane Wade.
"As long as I'm out there battling it doesn't bother me," Stevenson said about his adjusted role.
Coach Rick Carlisle declined to confirm the change in the starting lineup before the game, but he mentioned Marion's extended minutes as a pressing concern. Marion, the primary defender on Miami superstar James, entered Tuesday averaging 39.7 minutes in the Finals.
"That's something I have to look at, take a hard look at," Carlisle said. "There are different ways we can alleviate that. It's very difficult to ask him to be in a stance and guard the best players on the planet for 43 minutes and hey, go score and do what you do on the other end. That's on me."
Barea, who is Jason Kidd's backup at point guard, only started two games all season. Those starts came in early February, when Barea joined Kidd in the backcourt and Stevenson slid over to small forward.
The lineup of Barea with starters Kidd, Marion, Dirk Nowitzki and Tyson Chandler did give the Mavericks a spark in Game 3. After Barea replaced Stevenson 91 seconds into the second half, the Mavericks went on a 15-4 run over the next six minutes to tie the score.
That lineup had played together for only another eight minutes during the postseason.
Stevenson started most of the season, but he fell out of the rotation after second year guard Rodrigue Beaubois recovered from a broken foot and was given a starting job. Kidd and Nowitzki helped persuade Carlisle to put Stevenson back in the starting lineup for the regular-season finale, and the Mavericks have stuck with that lineup throughout the playoffs.
Stevenson had shot well during the Finals (6-of-9 from 3-point range), but the Mavericks had been outscored by 17 points during his 50 minutes on the floor.
Jeff Caplan and Tim MacMahon cover the Mavericks for ESPNDallas.com.
ESPNDallas.com
Joined ESPNDallas.com in September 2009
Covers the Dallas Cowboys and Dallas Mavericks
Appears regularly on ESPN Dallas 103.3 FM
2011 NBA FINALS: MAVERICKS BEAT HEAT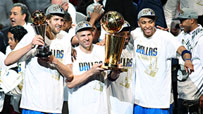 The Mavericks are world champions!
Mavs Playoff Center | Mavericks Blog
Heat Index | TrueHoop | Playoffs


Mavs win best-of-7 series, 4-2