Jason Terry: 'Time is now and I'm ready'
Updated:
June 9, 2011, 8:23 PM ET
By
Jeff Caplan
| ESPNDallas.com
DALLAS -- Jason Terry is certain the Dallas Mavericks will finally break out of their shooting funk against the Miami Heat in Game 5 of the NBA Finals on Thursday night.
Dallas averaged 100.2 points a game during the regular season, but has managed to score more than 86 points only once in four Finals games. The Mavericks also have shot better than 40 percent just once (48.0 percent, Game 2), having twice finished in the 30s.
NBA Finals on ESPN.com


The Mavericks defeated the Heat 4-2 to win the NBA title. Get your championship coverage on ESPN.com:

• Finals page | Finals schedule
• Mavs Center | Blog | ESPN Dallas
• Heat Index | TrueHoop | Playoffs

"We know we can win any style of game, but we prefer obviously to score 100 points because we know that team over there, that's not the style they want to play," Terry said. "So if we can get to that in this series, I think we can take control and it'll be not as difficult as it has been for us.
"But, again, those shots that we've been missing ... I just don't see us missing those come [Game 5]."
For Terry, who has been up and down throughout the playoffs, the next game is always the best chance for a breakout.
"For me, it's not risky at all," Terry said of calling himself out. "It's just a situation where I know what I have to do to be successful. I've watched film. I've studied the game. I prepare myself.
"So I'm ready for the moment. In a moment like this, the time is now and I'm ready."
2011 NBA Finals: Champion Mavericks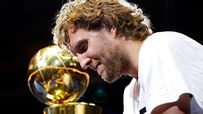 Review: Best of 2010-'11

Worst


Parade: Taking it to streets of Big D


Title Time: Mavericks' celebration


Download: Mavericks Wallpaper »

Game 1: Heat 92, Mavericks 84


Game 2: Mavericks 95, Heat 93


Game 3: Heat 88, Mavericks 86


Game 4: Mavericks 86, Heat 83


Game 5: Mavericks 112, Heat 103


Game 6: Mavericks 105, Heat 95


More: Mavs Center » Mavs Blog »
And what does teammate Dirk Nowitzki think of Terry continuing to speak up during the NBA Finals?
"I told him I was going to put him on a no-interview policy," Nowitzki said, recalling a moment after Terry provided some bulletin-board material earlier in the playoffs. "But he didn't follow that, either. He's a very confident young man. He believes in himself. That's what I like about him.
"I like this mentality. We need him to be aggressive."
Terry flaps his gums so often and so colorfully that Mavericks coach Rick Carlisle compared him to two trash-talking legends he's been around during his days in the NBA: Reggie Miller and Larry Bird.
"Jet says what he says, and he has his reasons," Carlisle said. "I don't necessarily need to know what they are. But I think the one thing he knew was that once he says some things, he's going to have to back it up.
"So I give him a lot of credit. It's a lot easier to stay low key and sort of go with the flow."
Jeff Caplan covers the Mavericks for ESPNDallas.com. Tim MacMahon of ESPNDallas.com contributed to this report.
2011 NBA FINALS: MAVERICKS BEAT HEAT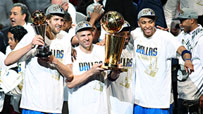 The Mavericks are world champions!
Mavs Playoff Center | Mavericks Blog
Heat Index | TrueHoop | Playoffs


Mavs win best-of-7 series, 4-2