Brendan Haywood can't go in Game 5
Updated:
June 10, 2011, 2:12 AM ET
By
Jeff Caplan
| ESPNDallas.com
DALLAS -- Dallas Mavericks backup center Brendan Haywood was ruled out of Thursday night's Game 5 of the NBA Finals.
2011 NBA Finals: Champion Mavericks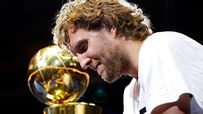 Review: Best of 2010-'11

Worst


Parade: Taking it to streets of Big D


Title Time: Mavericks' celebration


Download: Mavericks Wallpaper »

Game 1: Heat 92, Mavericks 84


Game 2: Mavericks 95, Heat 93


Game 3: Heat 88, Mavericks 86


Game 4: Mavericks 86, Heat 83


Game 5: Mavericks 112, Heat 103


Game 6: Mavericks 105, Heat 95


More: Mavs Center » Mavs Blog »
Haywood missed Game 3 against the Miami Heat with a strained right hip flexor and tried to play in Game 4 but was limited to three minutes before exiting for good.
His absence means starting center Tyson Chandler will likely be forced again to shoulder a heavy work load. He played 40 minutes in Game 3 and 43 minutes in the Game 4 victory, finishing with 13 points and 16 rebounds.
"If I need to play 48 [minutes] from here on out, it is what it is," Chandler said. "When you're playing for a championship, you do what it takes."
Mavs coach Rick Carlisle said he will closely monitor Chandler as the game progresses.
"My job becomes important tonight," Carlisle said. "I've got to keep him fresh. And exactly how we do that is going to depend on the ebb and flow of the game."
NBA Finals on ESPN.com


The Mavericks defeated the Heat 4-2 to win the NBA title. Get your championship coverage on ESPN.com:

• Finals page | Finals schedule
• Mavs Center | Blog | ESPN Dallas
• Heat Index | TrueHoop | Playoffs

Carlisle then uncharacteristically had a little fun with the media during his pregame interview session when he said that Caron Butler would fill the open roster spot.
He then added: "Just kidding."
Second-year guard Rodrigue Beaubois will be active for the second time in the Finals and third time in the playoffs. He has yet to play.
Butler has been out since he ruptured the patellar tendon in his right knee on Jan. 1 and underwent surgery days later.
It has been speculated, mostly by Butler, since the first round that he could possibly make a return before the end of the playoffs, but he still has not been cleared to participate in contact drills.
Jeff Caplan covers the Mavericks for ESPNDallas.com.
2011 NBA FINALS: MAVERICKS BEAT HEAT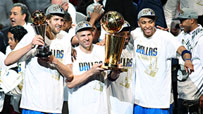 The Mavericks are world champions!
Mavs Playoff Center | Mavericks Blog
Heat Index | TrueHoop | Playoffs


Mavs win best-of-7 series, 4-2