Dirk Nowitzki: Antics were 'childish'
Updated:
June 12, 2011, 1:25 AM ET
By
Tim MacMahon
| ESPNDallas.com
MIAMI -- Dirk Nowitzki didn't find anything funny about the Miami Heat's Dwyane Wade and LeBron James coughing and cracking jokes about being sick in front of cameras, calling it "childish."
Windhorst: Time near for LeBron, Dirk

LeBron or Dirk? Mavs or Heat? The Finals are about to reach their climax and someone is going to have the hammer and someone is going to get hammered, writes Brian Windhorst. Dime
Wade and James didn't mention Nowitzki's name, but it appeared they were mocking the Dallas Mavericks superstar while walking out of the American Airlines Center following Thursday's shootaround, before Game 5 of the NBA Finals. That's certainly how Nowitzki, who battled a sinus infection that caused a 101-degree fever during Dallas' Game 4 win, perceived the incident when he watched the video.
"I just thought it was a little childish, a little ignorant," Nowitzki said before Saturday's practice at AmericanAirlines Arena. "I've been in this league for 13 years. I've never faked an injury or illness."
Wade, who referred to Nowitzki's sinus infection Thursday as "the fun-loving story of him being sick," claimed Saturday that he didn't pretend to cough.
"I actually did cough," Wade said. "And with the cameras being right there, we made a joke out of it because we knew you guys were going to blow it up. You did exactly what we knew.
"We never said Dirk's name. I think he's not the only one in the world who can get sick or have a cough. We just had fun with the cameras being right in our face about the blowup of the incident, and it held to be true. You blew it up."
NBA Finals on ESPN.com


The Mavericks defeated the Heat 4-2 to win the NBA title. Get your championship coverage on ESPN.com:

• Finals page | Finals schedule
• Mavs Center | Blog | ESPN Dallas
• Heat Index | TrueHoop | Playoffs

James did not clarify whether his cough was fake or not. He declined to discuss the incident.
"I'm not feeding into that," said James, who has been heavily criticized for performing well below his standards during this series. "If you guys want to feed into everything that not only myself or D-Wade or the Miami Heat do, I think that's a non-issue. There's bigger issues in this series than that."
Nowitzki, who is averaging 27.0 points and has consistently dominated in crunch-time during the series, agrees with that point. With the Mavericks up 3-2 in the Finals, Nowitzki's focus is solely on closing out the series to claim his first championship.
While the coughing and joking by Wade and James annoyed Nowitzki, he said it wouldn't influence his demeanor during Game 6.
"It's over to me," Nowitzki said. "It's not going to add anything extra to me. This is the NBA Finals. If you need extra motivation, you have a problem.
"So we're one win away from my dream, what I've worked for half of my life. This is all I'm really worried about. This is all I'm focusing on."
Tim MacMahon covers the Mavericks for ESPNDallas.com.
ESPNDallas.com
Joined ESPNDallas.com in September 2009
Covers the Dallas Cowboys and Dallas Mavericks
Appears regularly on ESPN Dallas 103.3 FM
2011 NBA FINALS: MAVERICKS BEAT HEAT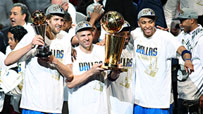 The Mavericks are world champions!
Mavs Playoff Center | Mavericks Blog
Heat Index | TrueHoop | Playoffs


Mavs win best-of-7 series, 4-2