Mavs 10-1 odds of winning 2012 title
Updated:
June 15, 2011, 9:06 AM ET
ESPNDallas.com
The Dallas Mavericks bucked the odds to become the 2011 NBA champions, and they'll have to do so again if they want to repeat in 2012.
The Mavericks, who beat the Miami Heat in Game 6 on Sunday to win their first NBA title, are fifth to win the 2012 title at 10-1 odds, according to the online site Bodog.
Three of the four teams with better odds were eliminated by the Mavericks during this postseason: the Heat (5-2), the Los Angeles Lakers (11-2) and the Oklahoma City Thunder (8-1). The Chicago Bulls have 6-1 odds.
The Mavericks, who finished with a 57-25 regular-season record and are only the third NBA team to win 50 games for 11 straight seasons, beat the Portland Trail Blazers, Lakers and Thunder to capture the Western Conference title and advance to the Finals.
2011 NBA Finals: Champion Mavericks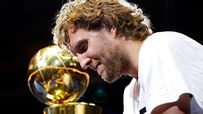 Review: Best of 2010-'11

Worst


Parade: Taking it to streets of Big D


Title Time: Mavericks' celebration


Download: Mavericks Wallpaper »

Game 1: Heat 92, Mavericks 84


Game 2: Mavericks 95, Heat 93


Game 3: Heat 88, Mavericks 86


Game 4: Mavericks 86, Heat 83


Game 5: Mavericks 112, Heat 103


Game 6: Mavericks 105, Heat 95


More: Mavs Center » Mavs Blog »
"You look at San Antonio, they win a championship [in 1999] and they're bounced in the first round the next year," Mavs president Donnie Nelson said. "I don't think this is Dirk [Nowitzki]'s last run or anything like that. If he keeps drinking from Jason Kidd's water cooler we'll be doing this for 10 more years. More than anything it's just so competitive that you just don't know.
"That's why this was so special. This was absolutely there for the taking and the guys grabbed it by the throat."
The Las Vegas Hilton lists the Mavericks in a third-place tie with the Lakers and Thunder at 7-1 odds to win the 2012 title, also behind the Heat (2-1) and Bulls (6-1).
"This is a special team," Mavericks coach Rick Carlisle said. "This is the most special team that I've ever been around, because it's not about what you can't do; it's about what you can do. It's not about what your potential shortcomings are; it's what we could accomplish as a group together. And it was just phenomenal to be around them."
2011 NBA FINALS: MAVERICKS BEAT HEAT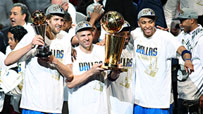 The Mavericks are world champions!
Mavs Playoff Center | Mavericks Blog
Heat Index | TrueHoop | Playoffs


Mavs win best-of-7 series, 4-2