Jason Kidd backs LeBron James
Updated:
June 15, 2011, 8:55 AM ET
By
Jeff Caplan
| ESPNDallas.com
DALLAS -- LeBron James admires Jason Kidd, his elder 2008 gold-medal winning Olympic teammate, as a mentor. That's a good thing because the newly crowned NBA champion has some advice for the scrutinized Miami Heat superstar coming off an underwhelming Finals performance.
2011 NBA Finals: Champion Mavericks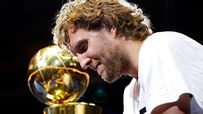 Review: Best of 2010-'11

Worst


Parade: Taking it to streets of Big D


Title Time: Mavericks' celebration


Download: Mavericks Wallpaper »

Game 1: Heat 92, Mavericks 84


Game 2: Mavericks 95, Heat 93


Game 3: Heat 88, Mavericks 86


Game 4: Mavericks 86, Heat 83


Game 5: Mavericks 112, Heat 103


Game 6: Mavericks 105, Heat 95


More: Mavs Center » Mavs Blog »
The Dallas Mavericks point guard finally won his first title after 17 seasons, ensuring that James remained ringless after his eighth season and first with the Heat after last summer's controversial "Decision."
"I will reach out to him. He's a good friend of mine," Kidd said Tuesday during the team's exit interviews. "I want him to have success and be successful. But, I think right now, it's just being patient and all the great ones had to be patient. They had to take their bumps or lumps, however you want to look at it.
"But, at the end of the day, they all found a way to win a championship. And I think at the end of his career, he'll have a couple championships."
Kidd said James was the first to congratulate him on the floor of the AmericanAirlines Arena after the buzzer sounded on Sunday night's Game 6 and the Mavs began to celebrate the franchise's first championship in their 31 seasons.
"He said that if there was anybody to lose to," Kidd said, "that it would be me."
On Tuesday, James, who averaged a playoff-low 17.8 points in the Finals and scored just 18 points in the fourth quarters of the six games, congratulated the Mavs on his website.
"Congratulations Mavericks on the championship ... especially Dirk (Nowitzki), J. Kidd, & (Jason) Terry who have done so much for our league and worked so hard to get here. They deserve all the credit for what they have accomplished ..."
In past seasons when he played for the Cleveland Cavaliers, James openly talked about wanting the team to trade for Kidd, who New Jersey dealt to Dallas at the 2008 trade deadline.
Kidd said James has to overcome the criticism and continue to work.
"It's like Dirk," Kidd said. "Dirk took his licks for losing in '06. It's just that now LeBron is in the same shoes as Dirk."
Jeff Caplan covers the Mavericks for ESPNDallas.com.
2011 NBA FINALS: MAVERICKS BEAT HEAT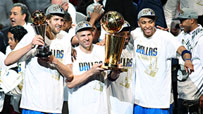 The Mavericks are world champions!
Mavs Playoff Center | Mavericks Blog
Heat Index | TrueHoop | Playoffs


Mavs win best-of-7 series, 4-2