Jason Terry puts sneakers up for sale
Updated:
June 17, 2011, 5:42 PM ET
By
Tim MacMahon
| ESPNDallas.com
The shoes Jason Terry wore while winning an NBA championship with the Dallas Mavericks are for sale.
Via Reebok.com, Terry is auctioning off the autographed Reebok Zig Slash sneakers he wore for most of the NBA Finals. The proceeds will go to the Jason Terry Foundation, the charity the Mavericks' sixth man set up in 2000. He said the money would be earmarked to fund his basketball camps and the Amateur Athletic Union teams he sponsors.
2011 NBA Finals: Champion Mavericks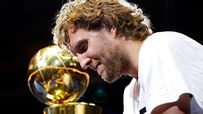 Review: Best of 2010-'11

Worst


Parade: Taking it to streets of Big D


Title Time: Mavericks' celebration


Download: Mavericks Wallpaper »

Game 1: Heat 92, Mavericks 84


Game 2: Mavericks 95, Heat 93


Game 3: Heat 88, Mavericks 86


Game 4: Mavericks 86, Heat 83


Game 5: Mavericks 112, Heat 103


Game 6: Mavericks 105, Heat 95


More: Mavs Center » Mavs Blog »
Reebok is billing the shoes as the ones Terry wore during last Sunday's Game 6, when he scored a game-high 27 points against the
Miami Heat
in the Mavericks' title-clinching victory. However, Terry said he wore the shoes for the last five games of the NBA Finals, changing pairs after the Mavs lost the series opener.
Terry, who averaged 18.0 points on 49.4 percent shooting in the Finals, agreed to auction off the shoes after a Reebok representative approached him with the idea to let a fan "take home a piece of history."
Otherwise, Terry would have kept the shoes and put them in a trophy case, as he did with the pair he wore while making an NBA playoff-record-tying nine 3-pointers in the sweep finale against the Los Angeles Lakers in the Western Conference semifinals. Terry acknowledged that he was a little hesitant to put the shoes on the auction block.
"It's hard, man, because to have a performance like that in a game of that magnitude, you want to keep everything," Terry told ESPNDallas.com, his voice still hoarse from celebrating. "Socks, headband, wristbands -- I've got all that stuff. But Reebok is my guys, so I'll go with whatever they want to do."
The high bid for the shoes was $1,400 at 5 p.m. ET Friday afternoon. The auction closes the night of June 26.
Tim MacMahon covers the Mavericks for ESPNDallas.com.
ESPNDallas.com
Joined ESPNDallas.com in September 2009
Covers the Dallas Cowboys and Dallas Mavericks
Appears regularly on ESPN Dallas 103.3 FM
Adidas Youth Dallas Mavericks Climalite Beta Rays Grey Long Sleeve Shirt Shop »