Lawyer: Title makes claim 'nonsense'
Updated:
June 23, 2011, 1:44 AM ET
By
Tim MacMahon
| ESPNDallas.com
DALLAS -- Mark Cuban handled his Dallas Mavericks' winning their first NBA championship with great humility, especially by the standards set during his 11 years as an outspoken -- and occasionally obnoxious -- owner.
However, Cuban couldn't resist rubbing it in the face of former Mavericks owner Ross Perot Jr. via the Dallas County courts system.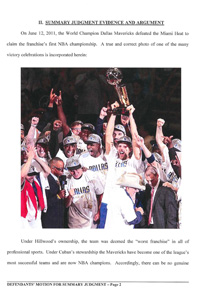 Courtesy: Fish & Richardson P.C.Mark Cuban's lawyers submitted this visual support Wednesday as part of a four-page court filing (see below) asking for a 2009 lawsuit filed by former owner Ross Perot Jr. to be dismissed.
Cuban's attorney Tom Melsheimer submitted into evidence Wednesday morning a document in support of his motion to dismiss a 2009 lawsuit filed by Perot's Hillwood Investment Properties.
The original lawsuit alleged that Cuban had made a "litany of questionable, business, financial and personnel decisions" with the Mavericks and had been "careless and reckless" running the franchise, causing Perot's real estate investments around the American Airlines Center to lose significant value. He requested that the organization be taken away from Cuban and run by a court-appointed person.
The legal brief filed on behalf of Cuban consisted of four paragraphs and one large color photo of the Mavericks celebrating their NBA championship, concluding that Perot's case should be dismissed.
"Under Hillwood's ownership, the team was deemed the 'worst franchise' in all of professional sports," the brief states. "Under Cuban's stewardship the Mavericks have become one of the league's most successful and are now NBA champions. Accordingly, there can be no genuine question that Hillwood's claims of mismanagement lack merit and Hillwood's claims should be disposed of on summary judgment."
Original Mavericks owner Don Carter, a courtside season-ticket holder whom Cuban invited on stage to accept the Larry O'Brien Trophy from commissioner David Stern after the Game 6 win over the Miami Heat, is included in the photograph. Perot still owns 5 percent of the franchise but doesn't attend games.
The brief includes the words "World Champion Dallas Mavericks" eight times, including twice in the one-sentence conclusion.
"For the reasons detailed above, the World Champion Dallas Mavericks and [Radical Mavericks Management] request this court grant summary judgment in their favor on all of Hillwood's claims and award the World Champion Dallas Mavericks and RMM such further relief they are entitled (although they are quite content at the moment)," the conclusion states.
Melsheimer acknowledged that the brief filed Wednesday had a tongue-in-cheek element. However, it also succinctly summed up their argument in the case.
"We thought it was ridiculous that anyone would suggest that the Mavs needed to be taken over and run by someone appointed by the courts," Melsheimer said. "The fact that a year later the Mavericks won a championship really makes the whole claim nonsense."
Perot was unmoved.
"Ross Perot Jr. remains an owner of this team ... and no one is more delighted in the team's successes on the court," Perot spokesman Eddie Reeves said Wednesday. "That's a different issue than the business matters that remain between Mr. Perot and Mr. Cuban."
The legal filing originally was reported by the Dallas Observer.
Tim MacMahon covers the Mavericks for ESPNDallas.com. Information from The Associated Press was used in this report.
ESPNDallas.com
Joined ESPNDallas.com in September 2009
Covers the Dallas Cowboys and Dallas Mavericks
Appears regularly on ESPN Dallas 103.3 FM
adidas Youth Dallas Mavericks climawarm On-Court Royal Hoodie Shop »