Commentary
Don't let his name fool you
Tweety Carter is dead serious about leading Baylor where it's never gone before
Updated:
April 8, 2010, 1:37 PM ET
By
Jeff Caplan
| ESPNDallas.com
NEW ORLEANS -- Baylor senior point guard Tweety Carter has the look and demeanor of an old soul.
He wears his hair military style, shorn in back and on the sides with growth on top. His eyes seem sullen and pensive. His face is still, emotionless. He sits at the dais behind a microphone patiently answering questions the day after Baylor won its first NCAA tournament game in 60 years and the day before he hopes to lead the program to its first-ever Sweet 16.
He is not smiling. His lips are pursed. He barely moves. His arms are folded in front of his broad shoulders and wide chest as he leans into the microphone. Each hand gently rests on a muscular biceps on the opposite arm.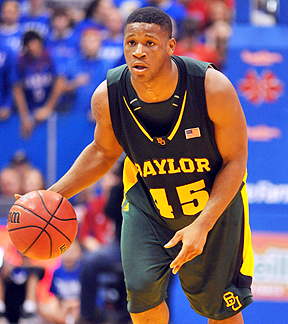 Denny Medley-US PRESSWIRETweety Carter moved to point guard this season and still raised his scoring average by four points to 15.7 and led the Big 12 with 6.1 assists per game.
To say Carter is focused, as each next game might always be his last, is an understatement. He refused to even allow himself the simple pleasure of thinking about guiding the once-beleaguered Bears to Houston next week to play on the grandest stage that any Baylor men's basketball player has ever experienced.
"To be honest, really I'm not. I'm focused on Old Dominion," said the 5-foot-11 Reserve, La., native. "We've got to get past them in order to make it to the Sweet 16. So we're just going to continue to prepare for them and continue to focus on them for right now."
The No. 3 seed Bears will face the No. 11 seed Monarchs, a defensive-minded club, in a second-round game Saturday at 4:50 p.m. (CT) at the New Orleans Arena. Neither program has ever advanced to a Sweet 16. The Monarchs defeated Notre Dame on Thursday for the school's second tournament win and first in 24 years.
Leave it to Carter to surprise a Texas reporter who asked him somewhat playfully if before the tournament he had even heard of Old Dominion or by chance seen it play. After all, ODU's location in Norfolk, Va., proved to be a popular trivia question among media members.
"I've seen them play a couple of times. Old Dominion is a good team," Carter said matter-of-factly. "They're big, long. It's a game that we've got to come out and play for 40 minutes again. So we're not looking past them at all."
Carter's fingerprints are all over the success the resurrected Baylor program has experienced over the past four seasons mostly because of his mindset. He became the first McDonald's All-American ever to come to Baylor, taking a chance on the Baptist school to try to do something "special."
This season he moved from shooting guard to point guard and promptly led the Big 12 in assists (6.1) while also increasing his scoring average by four points (15.7). His level-headed leadership on and off the floor is evident in how Baylor prepares and plays. It doesn't panic.
When Sam Houston State sprung a gimmicky triangle-and-two defense to limit Carter and LaceDarius Dunn's scoring chances, Carter recognized he'd have to find other ways to get the job done. It wasn't always pretty, but Carter took just three shots, got the ball to teammates and, most impressive, had just one turnover in 36 minutes against the Bearkats' pressure tactic.
"I thought I did a great job of not forcing anything and feeding the hot hand, and it was Ekpe Udoh [20 points]," Carter said. "The point guard scoring for me is not big. Winning is the most important thing, and I think we do a great job of winning."
Carter has proved to be the program's best recruiter. He is largely responsible for landing the Bears' other top players. Dunn, a dangerous junior shooting guard from Monroe, La., was familiar with Carter because of their home-state ties. Udoh, the 6-10 power forward who has pushed Baylor to unprecedented heights this season after transferring from Michigan, was shown around campus by Carter.
More on the Big 12, area colleges
ESPNDallas.com weighs in on issues facing Big 12 South teams, as well as Texas A&M, TCU, SMU, UNT and other area colleges. Blog
• Big 12 Blog
• Blog network: College Football Nation
Dunn and Udoh were asked to describe coach Scott Drew's energy as a recruiter and how he sold them on coming to Baylor.
Udoh answered first: "He's a great recruiter with the stuff that Baylor brings to the table, but for me it was really just Tweety. That was it for me."
Added Dunn: "[Drew] made me have that vibe for him. Like I said, Tweety, I talked to him before I came, so he was one of the reasons why I chose the school, to come play with him."
Seated next to both on the dais as they praised him, Carter still kept his arms folded, his lips pursed.
He has business -- and history -- ahead.
"I'm going to continue to get prepared for Old Dominion," Carter said. "That's our focus right now -- one game at a time."
Jeff Caplan covers colleges for ESPN Dallas. You can follow him on Twitter or leave a question for his weekly mailbag.
Under Armour Men's Baylor Bears Grey Ripped Net Basketball Tech Performance T-shirt Shop »
MORE MEN'S COLLEGE BASKETBALL HEADLINES