Commentary
Eyes of Pac-10, Big Ten, SEC on Texas
Updated:
June 8, 2010, 3:24 PM ET
By
Jim Reeves
| ESPNDallas.com
When all is said and done, when the deed has been committed and investigated and the yellow crime-scene tape removed, the realignment of college athletics may, on the surface, look in retrospect like a result from the old board game Clue.
We'll know that Col. Mustard (Big Ten commissioner Jim Delany?) did it, in the drawing room, with the lead pipe. Or maybe it was Professor Plum (Pac-10 commish Larry Scott?) with the candlestick in the billiard room.
[+] Enlarge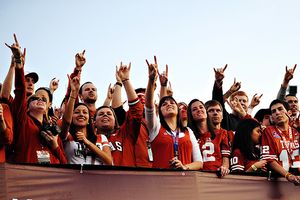 Mark J. Rebilas/US PresswireAfter all is said and done with conference realignment, the University of Texas will find itself in a better position. "We didn't start this," UT athletic director DeLoss Dodds said, "but if we need to finish, we'll finish it."
No matter the details, really. For most of us in Texas, the result will simply be this empty feeling of unsettling loss once again -- not as bad, certainly, as when the old Southwest Conference broke up, but another step in the same dizzying direction.
The University of Texas will win, of course. Texas always wins, because it carries the power: the power of big, big money. As athletic director DeLoss Dodds so succinctly summed it up the other day, "We didn't start this, but if we need to finish it, we'll finish it."
That wasn't a threat, mind you; just a promise, because there's no getting around the fact that the biggest gorilla in the room in this business is Texas/Longhorn Nation. They are what this is all about, because everybody -- the Big Ten, the Pac-10, the SEC -- all want Texas.
Let's face it: Without Texas, there is no Big 12. There are reasons Texas would prefer the Big 12 to stay alive. It's by far the biggest fish in the pond, and would be able to continue the pursuit of its own TV network. Texas has said it will stay as long as the conference is "viable."
Is it viable without Nebraska or Missouri, should they both bolt to the Big Ten? I think so, but the fact that the rest of the Big 12 (that means Texas) reportedly has given those two a Friday deadline to stay or go makes it sound as if the Longhorns aren't so sure. The consensus among college football analysts is that if the Cornhuskers and Tigers pick up their skirts and flee, Texas will conclude that the Big 12 isn't worth saving.
Personally, I say let both of them go, bring in Arkansas and TCU, and the conference won't even miss a beat. But the Longhorns will do what they've always done -- and that's whatever is best for Texas. Can't blame them for that. They are the straw that stirs this volatile collegiate cocktail.
More on the Big 12, area colleges
ESPNDallas.com weighs in on issues facing Big 12 South teams, as well as Texas A&M, TCU, SMU, UNT and other area colleges. Blog
• Big 12 Blog
• Blog network: College Football Nation
What I can't see is Texas in the Big Ten. Sure, there's a lot of money to be made there, but the Horns already own their own mint. They're going to make money whatever they do and wherever they go, and it doesn't have to be to Ann Arbor in late November. Consider the fact that last week the Big 12 announced that its members divided about $139 million in revenue in 2009-10. The Longhorns, meanwhile, brought in $138.5 million on their own in 2008-09.
An eastern division of the Pac-10 -- a Pac-16 -- makes more sense for Texas, though most fans in this state may not want to hear that, either.
By moving en masse with five other current Big 12 teams -- whether it's Colorado or Baylor as the sixth team probably doesn't matter much to Texas, beyond the political implications -- Texas retains its "big fish in a small pond" scenario in a division that would also include Arizona and Arizona State.
As far as competition, the biggest challenges would obviously come from Oklahoma within the division and from USC in the Pac-16 playoff game. That prospect obviously won't make the Longhorns flinch.
With the Pac-10's TV contract expiring soon, it would have the opportunity to cut a massive network deal, making it highly attractive to the Horns. And, of course, they can also negotiate their own cable network, etc., as part of any agreement.
[+] Enlarge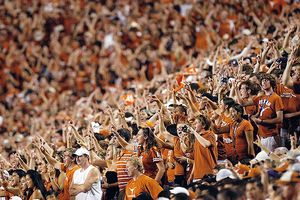 Ronald Martinez/Getty ImagesThe question is not who will hook the Horns; it's who will the Horns hook? And with an expiring TV contract, the Pac-10 is very attractive, bringing the opportunity to cut a massive network deal.
Far less likely is any alliance between Texas and the SEC for several reasons, the primary one being the disparity in how that conference looks at academics compared to the current Big 12, the Pac-10 or the Big Ten. Also, Texas would face a much tougher competitive road in a league that includes Alabama, Florida, Georgia and LSU.
Some seem to think Nebraska is the linchpin school here, that what the Huskers decide to do will determine the collegiate landscape for years to come. I beg to differ. The choice, as it should be, is with Texas.
If Texas wants the Big 12 to survive, with or without Nebraska, then it will survive and even flourish. That's how strong the Longhorns are in collegiate athletics. They can make this happen any way they want it to happen.
As fans, we are at Texas' mercy here. The Big 12 isn't the old SWC -- more's the pity -- but it's what we were left with in the aftermath of that great shake-up. It is ours, such as it us, and we have reluctantly been learning to make the best of it, even without TCU, SMU, Rice and Arkansas. It is what it is.
But the Pac-16 East? The Big Whatever South? The SEC West?
Sounds decidedly foreign to me -- which is why, when this is all over, I'll definitely want to know who did this dastardly deed.
What I know for sure is that Dodds is right. Texas will finish it, one way or the other.
Lead pipe, candlestick, rope, whatever.
Jim Reeves, a former columnist with the Fort Worth Star-Telegram, is a regular contributor to ESPNDallas.com.

MORE MEN'S COLLEGE BASKETBALL HEADLINES