Commentary
TCU's defense embarks on historic run
Stingy Horned Frogs on track to finish first in nation for record third straight season
Updated:
November 12, 2010, 1:03 PM ET
By
Jeff Caplan
| ESPNDallas.com
FORT WORTH, Texas -- One thing Jerry Hughes finds as enjoyable as his days leading the TCU defense is watching it.
The ferocious former Horned Frogs defensive end and first-round draft pick of the Indianapolis Colts in April -- TCU's first first-rounder since LaDainian Tomlinson in 2001 -- is cheering yet another dominant defense that is perched at the goal line of history.
[+] Enlarge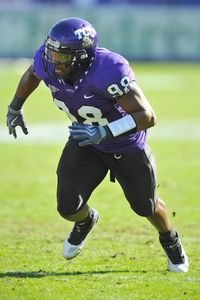 Manny Flores/Icon SMIDE Jerry Hughes, now with the Indianapolis Colts, helped lay the foundation for TCU's historic run.
Unless the nation's top-ranked defense, which allows just 215.5 total yards a game, runs into a boulder of kryptonite in the two regular-season games remaining, it will become the first since the NCAA began tracking stats in 1937 to finish No. 1 for three consecutive seasons. It would also become the first to lead the nation five times in all -- and all under the direction of one reluctant mastermind, coach Gary Patterson.
Boise State's No. 2-ranked defense, surrendering just 231.4 yards a game, will have to be near-immovable in its final four games to leap the Frogs.
"It would mean everything because that's one thing that we as a defense, when I was there, we wanted to be No. 1," Hughes said during a phone interview from Indianapolis. "And to just continue on the tradition of what TCU defense stands for -- being persistent, being focused, being ready to play and just being a nasty defense -- for those guys to carry on that tradition and to have the opportunity to finish No. 1 in the nation again, it would be a great feat."
Hughes -- along with the Arizona Cardinals' second-round pick, linebacker Daryl Washington -- started on the past two top-ranked units. The 2008 defense led the nation in rushing defense, first downs allowed and total yards. The 2009 unit led the nation in first downs and total yards and helped break TCU into the BCS.
The 2010 version is challenging both for supremacy. Entering Saturday's home finale against the offensive-minded San Diego State Aztecs (7-2, 4-1 Mountain West Conference), TCU (10-0, 6-0) leads the nation in at least five defensive categories: points allowed, first downs, passing yards, third-down conversion rate and total yards, which at 215.5 is two yards better than the '08 defense and more than 24 yards better than last season.
The ultimate trump card would be a berth in the BCS national championship game for the third-ranked Frogs.
Still, Patterson is sounding the alarm with those dangerous Aztecs coming to town. Quarterback Ryan Lindley leads the MWC in passing yards per game (250.4). Receivers DeMarco Sampson and Vince Brown rank one and two, respectively, in receiving yards. Running back Ronnie Hillman's 102.4 yards a game leads all MWC rushers.
Consistently dominant
TCU can become the first team to finish No. 1 in the nation in total defense for three consecutive seasons. Comparing the Horned Frogs' defensive statistics per game the last three seasons:
| | 2008 | 2009 | 2010 |
| --- | --- | --- | --- |
| Points | 10.9 | 12.8 | 8.5 |
| 1st downs | 12.1 | 12.4 | 12.0 |
| Rush yds | 47.1 | 80.2 | 93.6 |
| Pass yds | 170.7 | 239.7 | 121.9 |
| Total yards | 217.8 | 239.7 | 215.5 |
Patterson wouldn't answer how good he believed his defense to be before last week's date with then-No. 5 Utah. He said he'd have to wait and see. After the 47-7 mauling, Patterson was still slow to credit his defense for discombobulating the Utes' potent attack, allowing them just 199 total yards. Instead, he praised his offense for scoring so often and making the defense's day a veritable walk in the park.
"Not taking away anything from our kids," Patterson allowed. "They played very hard."
The Frogs are one of three teams, along with Boise State and Ohio State, to rank in the top 10 in both scoring offense and scoring defense. The defense, though, is taking dominance to an almost obscene level, allowing 8.5 points a game and a sick 3.8-point average in six conference games.
Since SMU scored 24 points on TCU and still lost by 17 in the non-conference finale on Sept. 24, the Frogs have issued 23 total points in those six league games, and never more than seven in any one. If the Frogs hold the Aztecs to fewer than 10 points, they'll join the 1990 Alabama defense with the nation's longest such streak.
During the past 20 seasons, only five other teams have allowed fewer than 10 points in at least five straight games. Two of them went on to win the national title.
Finally, with ammunition to support praise for the defense, Patterson finally doted on his stingy unit.
"This has been one of those groups that's been very interesting. Every day we practice going up to the game, they dial in closer and closer to understanding what they're going to get [from the opponent]," said Patterson, who gave an example of how he was able to make multiple on-the-fly adjustments against Air Force's difficult triple-option in that 38-7 victory.
"That was the most adjustments we've ever made with a defensive football team. ... I can tell you, we've had some great defenses, but we have never been one where we could adjust with the kids like we've been able to do with this group here.
"Basically, we coach it like a pro system."
This season's unit is an interesting mix of individuals who've blended seamlessly. There's stalwart seniors like free safety Tejay Johnson, Patterson's defensive quarterback, nose tackle Cory Grant and end Wayne Daniels. There's sophomore linebacker Tanner Brock, who as Patterson said, "has been in and out of my doghouse," but has put together an all-conference-caliber season playing alongside hard-hitting junior Tank Carder.
There's senior strong safety Colin Jones, who worked his way back into the starting lineup. There's the rare freshman contributor on Patterson's defense, end Stansly Maponga, who took over for the seemingly irreplaceable Hughes.
Collectively, Hughes said, they share two characteristics with past Patterson defenses: "Fast and tenacious."
Hughes should know. He epitomized the player Patterson recruits to his side of the football. Many never even played defense in high school. Hughes didn't.
More on the Big 12, area colleges
ESPNDallas.com weighs in on issues facing Big 12 South teams, as well as Texas A&M, TCU, SMU, UNT and other area colleges. Blog
• Big 12 Blog
• Blog network: College Football Nation
Hughes was a running back and wide receiver at Sugar Land (Texas) Stephen F. Austin High School. Bigger Texas schools recruited him, but none with the vision of transitioning the 200-pound high school senior to defensive end.
"They [TCU] had told me 'athlete,' " Hughes said. "When they said 'athlete,' I was thinking anything on the offensive side of the ball. I didn't envision defense at all. If you would have told me, 'You're going to go to TCU to be a defensive end and you'll be successful,' I probably would have laughed at you."
It's become Patterson's M.O. He recruits athletes with speed and a passion to work, then fits each one into a position. Then Patterson sets the ground rules.
"If you're going to play for his defense," Hughes said, "everybody has to be willing to go out there and go full speed, give it their all, chase after the football.
What we call it is we are hunting. We're the hunters. We're the pack of wolves.
"When you have all 11 guys out there hustling towards the football, it works out tremendously."
Historic, even.
Jeff Caplan covers colleges for ESPNDallas.com. You can follow him on Twitter or leave a question for his mailbag.
MORE COLLEGE FOOTBALL HEADLINES