Commentary
Mustangs hoping to take next big leap
Jones' plan ahead of schedule as SMU looks for first conference championship since '84
Updated:
December 2, 2010, 5:25 PM ET
By
Richard Durrett
| ESPNDallas.com
UNIVERSITY PARK, Texas -- It wasn't as if SMU coach June Jones arrived on campus complete with a power point presentation of his grand, five-year plan to revive the Mustangs' football program.
"It was all in my head," Jones said.
But he articulated clearly enough to the SMU brass what he felt was needed from the university and his coaching staff to make the Mustangs a top-15 program. Jones wanted five years to recruit the type of players needed to run his system and to instill a winning attitude.
[+] Enlarge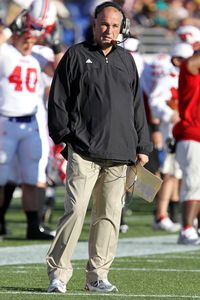 Mitch Stringer/US PresswireJune Jones has gone from a one-win season in his first year with SMU to playing for a conference title.
Three years in, the Mustangs are headed to Orlando on Saturday to face Central Florida in the Conference USA championship game. Not bad for a team that won one game in Jones' first season.
And Jones believes with quarterback Kyle Padron running the offense for two more years, he has a realistic chance to get the program into that upper echelon of the rankings.
"I think it's still a recruiting class and a half away from having the depth to be where we want to be," Jones said, "But I'm proud of the guys for hanging together and competing and learning how to win. That's what you're trying to develop."
Of course, you don't just go from a struggling team without a bowl appearance in more than two decades to an annual contender without reaching some intermediate goals along the way.
After going 1-11 in 2008, things changed dramatically in 2009. In the second game of the season, the Mustangs went on the road and defeated UAB to end a 17-game conference losing streak and a 15-game road losing streak. The Mustangs completed the season with the program's first bowl appearance in 25 years, beating up Nevada, 45-10, in the Hawaii Bowl to go 8-5. It was the largest turnaround in the NCAA in 2009.
That was just the first step in Jones' plan. The second was winning the West Division and advancing to the Conference USA championship game. He's now done that. The program could take another critical step by beating favored Central Florida for SMU's first conference title since sharing the top spot in the Southwest Conference in 1984.
[+] Enlarge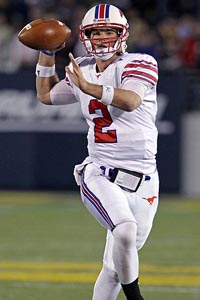 Mitch Stringer/US PresswireKyle Padron led SMU to a 7-5 record and is a big part of the the rebuilding process for the Mustangs.
"You get the publicity as it's one of the few games on TV this week," Jones said of playing in the title game. "To the recruits, it says that you are for real and that you have taken that next step."
That "next step" would not have happened without a come-from-behind road win at East Carolina.
SMU fell behind 14-0 in the first quarter. Padron was overthrowing passes and said he was too amped up and wasn't comfortable. But the Mustangs calmed down, and by the time the fourth quarter started they had a 14-point lead. They didn't hold it. East Carolina tied the score on a touchdown pass with 12 seconds left in regulation. Then SMU made the key plays. Running back Zach Line, a workhorse all season, scored on the opening possession of overtime to give the Mustangs the lead. Cornerback Richard Crawford, beat on the tying touchdown pass at the end of regulation, made an interception to end the game.
The win meant a stop for doughnuts on the way to the airport, a bit of a tradition under Jones after big victories. The team did it after beating UAB in 2009. The bus pulled over at a gas station, and a load of players and team members walked across the street and filed into a local Krispy Kreme.
"It was pretty awesome," Line said. "Those doughnuts tasted good. I think I put down five or six myself."
The dessert happened after a nice ending to an up-and-down season. The Mustangs are 7-5, but they didn't exactly get there with ease. SMU fell to UTEP, 28-14, in early November and dropped to 5-5 after the offense couldn't get anything going.
"We expected to win that game, and we were all kind of shocked on the plane going back," Padron said. "It was like a nightmare what happened in giving up that chance to win the conference. Fortunately, for us, we had a couple of teams lose. We had to get better that bye week and work on the little things."
More on the Big 12, area colleges
ESPNDallas.com weighs in on issues facing Big 12 South teams, as well as Texas A&M, TCU, SMU, UNT and other area colleges. Blog
• Big 12 Blog
• Blog network: College Football Nation
They did.
They beat Marshall at home behind 202 yards on 30 carries from Line and then got the dramatic road victory against East Carolina. That, coupled with Houston's struggles, shoved the Mustangs into the title game.
Now the task is a tough Central Florida team coached by George O'Leary, who was hired by SMU athletic director Steve Orsini before he went to the Hilltop and hired Jones. The Knights are No. 25 in the USA Today coaches poll and at 9-3 have led the East division from start to finish. UCF lost close games to NC State and Kansas State early in the season and lost just one conference game -- to Southern Miss at home. SMU must play mistake-free football and draw on their gritty road effort at East Carolina.
A win means the Conference USA championship and a trip to the Liberty Bowl in Memphis. Oh, and a bunch of doughnuts, too.
Richard Durrett covers colleges for ESPNDallas.com. You can follow him on Twitter or leave a question for his weekly mailbag.
MORE COLLEGE FOOTBALL HEADLINES