Commentary
Aggies' comeback story falls incomplete
A&M shows it's taken big step but has room for improvement in Cotton Bowl loss to LSU
Updated:
January 8, 2011, 5:03 PM ET
By
Richard Durrett
| ESPNDallas.com
ARLINGTON, Texas -- The Cotton Bowl was certainly ready for its prime-time slot, an appetizer of sorts before Monday's BCS National Championship Game. The game had a BCS feel, thanks in large part to a raucous sellout crowd and Cowboys Stadium, the house that Jerry built.
LSU looked comfortable in that environment, running over Texas A&M to a 41-24 win. Why wouldn't LSU feel at home under the bright lights? The Tigers have won two BCS championships, including one by the 2007 squad coached by Les Miles.
The Aggies, though, got off to a hot start -- they had a 10-0 lead in the first seven minutes -- and then couldn't stop LSU.
If anything, this Cotton Bowl showed that while the Aggies took a critical step in getting to the big stage, they've still got work to do.
Texas A&M was one of the great comeback stories of the season. It started 3-3 and 0-2 in the Big 12, and the Cotton Bowl wasn't on the minds of even the most ardent Aggies. But Mike Sherman, with his coaching seat starting to get warm, made wholesale changes.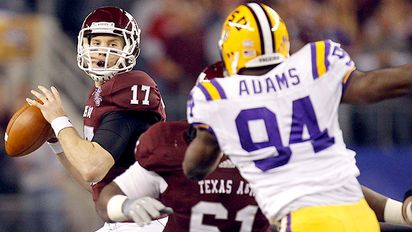 Derick E. Hingle/US PresswireRyan Tannehill and the Aggies couldn't provide a fitting ending at Cowboys Stadium to an inspiring comeback story.
And like a mechanic fixing a car with multiple problems, all of a sudden the repairs worked and the engine was humming.
Ryan Tannehill
was clicking as the new quarterback. The Aggies running game improved with
Cyrus Gray
putting up 100-plus rushing yards in each of the season's last six games.
But most important, the defense earned back the Wrecking Crew label. They held Oklahoma to 19 points. Nebraska managed just six. Texas mustered just 17 in the regular-season finale at home.
The Aggies rolled into the Cotton Bowl riding a six-game winning streak. LSU, meanwhile, lost the Sugar Bowl play-in game to Arkansas.
So the improving Aggies defense was supposed to be able to halt an inconsistent LSU squad that was second to last in the SEC in total offense. It didn't happen. By the time it was over, LSU had put 41 points on the board and left more on the field as the Tigers went into victory formation deep in Aggies territory with time expiring. It's the third-most points LSU put up this season (and that includes 51 against Louisiana-Monroe on homecoming weekend).
LSU ran the ball up the middle. It switched gears and got outside. No matter where they tried to run, the Tigers found daylight.
The Aggies were No. 1 in the Big 12 against the run, holding teams to 117 yards per game. LSU had 176 yards rushing -- at the half. Spencer Ware, Stevan Ridley and quarterback Jordan Jefferson ran all over the Aggies. When the seconds finally ticked off the clock in the fourth quarter, all three combined for 274 yards (Ridley and Ware both ran for more than 100 yards).
Part of that was because senior linebacker Michael Hodges, the Aggies' leading tackler, watched the final three quarters from the sidelines after spraining his ACL.
"He is the heart and soul of our defense in many ways," Sherman said. "At the same time, you can't use that as a reason why we didn't perform the way we should have been capable of performing. ... One guy gets hurt, another guy has to step in and make the play."
LSU played SEC-type football: Wear down the defense with a physical running game that chews the clock.
"I think our league is a league where you have to run the football to keep defenses at bay," Miles said. "We play in environments similar to this. We play at Florida, at Alabama, on the road at any number of places where we're used to playing in big games. I think when you get to the bowl season, that's an advantage for our conference. I think our guys, we're used to seeing quality teams. They get a lead on us, we understand how to play in tight quarters. It's just a matter of time."
Jefferson didn't get flustered after the Aggies took a quick lead. And he seemed to make the key plays at the critical moments. If it was a long third down or a play in which Jefferson had no open receivers, he still made something happen. LSU was 9-for-15 on third downs, much of that because of Jefferson.
"He was very instrumental in their rushing yardage," Sherman said. "Sometimes in pass coverage, rushing the quarterback, it's always hard to account for someone, particularly an athlete like Jefferson."
But Jefferson's arm hurt, too. When the Tigers saw A&M crowd the box, Jefferson threw the ball deep and over the secondary. He was accurate and in charge. Because of that, Jarrett Lee didn't get on the field until it was time to run the clock out.
More on the Big 12, area colleges
ESPNDallas.com weighs in on issues facing Big 12 South teams, as well as Texas A&M, TCU, SMU, UNT and other area colleges. Blog
• Big 12 Blog
• Blog network: College Football Nation
"I thought he was a complete quarterback," Sherman said of Jefferson. "I was no way indicating he was just a run-around athlete. I thought he threw the ball about as good as I've seen him throw on tape. I thought he was decisive, aggressive and accurate. He snuck a couple in there that I didn't think he was going to get in."
After LSU took a 28-17 lead at the half, the Tigers effectively ended the game with a 67-yard drive that took less than three minutes. The Aggies still fought, as they always do, cutting the deficit to 35-24 at one point, but they couldn't get any closer.
Sherman knows he can't let one loss discourage his team, which battled back from the rough start to earn its place in a BCS-like bowl.
"I told them before the game I was proud of them as a football team, and that doesn't change because we lost a football game," Sherman said. "I hope my wife still loves me, because we lost a football game. I hope it's not based on that. But when you don't finish it off like we didn't finish it off, there's great disappointment.
"At the same time I think when you look at the body of work that the guys put in this year collectively, the stretch run that they had, I think we'll be able to bounce back from this. We lost to a very good football team."
Richard Durrett covers colleges for ESPNDallas.com. You can follow him on Twitter or leave a question for his mailbag.
MORE COLLEGE FOOTBALL HEADLINES