Commentary
Strength in numbers for Marion, Terry
Updated:
November 11, 2009, 2:47 PM ET
By
Tim MacMahon
| ESPNDallas.com
DALLAS -- They hit it off when they met at the Jordan Camp in the summer of '98. They really bonded at the draft the next year, when their families hung out in Washington, D.C. They stayed tight throughout the next 10 years.
Now, Shawn Marion and Jason Terry are finally teammates.
"It's funny, because we've always talked about it," Terry said, as Marion sat next to him and nodded his head. "We're just waiting for it really to kick in and click in. We know it's about a month or two away, but it's going to be fun. It's fun now, but it's going to be a lot more fun as we go along."
[+] Enlarge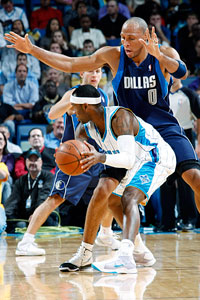 Layne Murdoch/NBAE/Getty ImagesShawn Marion has helped the Mavericks on defense, and Jason Terry has said that he's made other players more accountable on that end of the floor.
Marion and Terry have hung out every summer since they went ninth and 10th, respectively, in the 1999 draft. They've always been guarantees for each other's charity functions.
But it was a little bit different when they saw each other this summer. Terry wanted to talk business. He launched into a recruiting pitch to his free-agent friend, stressing how well Marion would fit with the Dallas Mavericks and how close they were to being contenders.
Marion, who had a lot of respect for the Mavericks and few options in a depressed free-agent market, made his way to Dallas weeks later after some creative negotiating by owner Mark Cuban and president of basketball operations Donnie Nelson.
When Terry heard the complicated four-team sign-and-trade deal was done, he called Marion and offered to give up his jersey number. They've both worn No. 31 since they were kids, although Marion had to go with No. 7 during his brief stint with the Miami Heat.
"I know how special it is for him," Terry said. "To me, it's special, but to have him on our team and make him comfortable early, that's what it's all about."
The NBA vetoed the offer, because the deadline for Terry to submit a request to change his number had come and gone.
But Marion, who went with number zero for his first season in Dallas, appreciated the gesture nevertheless. It's typical for new teammates to negotiate a deal, often for a lump sum or a pricey gift, to switch numbers. Terry never asked for a nickel.
"If he would have given it to me, I would have given him something," Marion said. "I don't know what, but I would have thought of something."
Terry, who planned to switch to No. 4 (three plus one), is just happy to be playing with Marion. Terry was convinced that Marion was the missing piece to making the Mavericks a contender, citing the swingman's versatility, defensive presence and ability to score without being a focal point of the offense.
More on the Mavericks

News, notes and analysis of the Mavericks from ESPNDallas.com's Tim MacMahon, Jean-Jacques Taylor and our team.
Blog » ESPN Dallas »

Marion's personality fits as well as his game with the Mavericks. He instantly added enthusiasm to the locker room. Plane trips often become the Matrix and Jet Show, with the duo busting jokes throughout the ride.
Marion is the self-appointed fashion police for the team. He's particularly tough on Dirk Nowitzki, whom Marion ranks with reserve forward James Singleton as the team's worst dressers.
"Dirk don't care," Marion said, shaking his head and giggling. "He'll throw anything on. He keeps it simple and he's consistent. I try to tell him, 'Dirk, you're making $20-something million, you need to get some new clothes.'"
But it's not all fun and games for Marion. Basketball is serious business to him.
Terry said the biggest difference Marion made has been his impact on the defensive end, where the Mavericks were mediocre last season and have been very good through six games this season. The fact Marion can guard almost any player in the league certainly helps. But he's also made the Mavs more accountable on defense, Terry said. Marion doesn't hesitate to bark at a teammate who isn't in the right spot.
The one-man fashion police department also serves as the defensive enforcer.
"Get this man a badge!" Terry hollered.
With that, the old buddies and new teammates cracked up laughing. The fun is just beginning.
Tim MacMahon covers the Mavericks for ESPNDallas.com. E-mail him at tim.macmahon@espn3.com
ESPNDallas.com
Joined ESPNDallas.com in September 2009
Covers the Dallas Cowboys and Dallas Mavericks
Appears regularly on ESPN Dallas 103.3 FM