Sources: BYU closer to independence
Updated:
August 18, 2010, 10:30 PM ET
By
Andy Katz
| ESPN.com
Brigham Young is moving closer to leaving the Mountain West Conference, becoming a football independent and rejoining the Western Athletic Conference in all other sports by a Sept. 1 deadline to withdraw from the MWC for the 2011 season, multiple sources said Wednesday.
"I'm not sure how it could stop now unless BYU gets nervous," one source with knowledge of the situation said.
The Cougars have been exploring the possibility since in-state rival Utah left the Mountain West for the Pac-10 earlier this summer.
If You Leave Me Now...

If BYU becomes the Football Bowl Subdivision's fourth independent, what happens to the Mountain West's quest for an automatic BCS bid? Andrea Adelson lays out the potential ramifications. Blog
BYU never received an invitation from the Big 12 to replace Colorado, as the Big 12 decided to stay at 10 members after losing the Buffaloes to the Pac-10 and Nebraska to the Big Ten.
According to sources, BYU would need approval from the Church of Jesus Christ of Latter-Day Saints, which owns the school, to make the change.
The Salt Lake Tribune reported Wednesday afternoon that approval will be sought Wednesday or Thursday, and that a news conference had been scheduled for early next week. That timetable may be moved up because of the reports coming out, the Tribune reported.
In response to the reports BYU released a statement saying: "We are aware of the many media reports and questions circulating about BYU's conference alignment. As Director of Athletics Tom Holmoe explained recently, BYU has been reviewing, and will continue to explore, every option to advance its athletic program. At this point, BYU has no further comment."
In an effort to keep BYU in the Mountain West -- a necessity to keep alive its pursuit of an automatic qualifying spot in the BCS -- the conference is considering all avenues, one source told ESPN's Joe Schad Wednesday.
This includes possible concessions to BYU on television rights, much the same way the Big 12 made concessions to Texas, and exploring all of its own television partner options.
BYU's possible move to independent status, sources said Wednesday, is not contingent upon the school getting a seat at the BCS table like football independent Notre Dame. Furthermore, BYU is aware that it might not be afforded the same status as Notre Dame in the BCS.
BCS executive director Bill Hancock told Schad Wednesday that he has spoken with BYU athletic director Tom Holmoe. BYU is interested to see if BCS presidents and chancellors would consider provisions to allow it automatic qualifying access.
Hancock said in an e-mail to ESPN.com that the BCS-member schools would "thoughtfully consider any request that comes in. Every school is eligible to be considered by a bowl for at-large selection if it is ranked in the top 14."
[+] Enlarge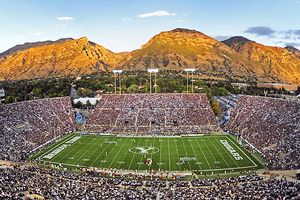 Mark J. Rebilas/US PresswireBYU is closing in on a decision to leave the Mountain West and become a football independent.
The payout for any team selected at-large this year will be $6 million, Hancock said.
Hancock said that "it's too soon to speculate" as to what decision the BCS presidents and chancellors would make.
Notre Dame automatically qualifies for a BCS spot if it finishes in the top eight in the final BCS rankings and has nine wins. But fellow independents Navy and Army do not have similar provisions, as each school would have to finish in the top two to reach automatic qualifying status.
Notre Dame automatically qualified for the BCS in 2006 and was an at-large selection in 2001 and 2007.
Among the factors BCS presidents and chancellors might consider regarding BYU are the tradition and value of Notre Dame to the BCS relative to any other independent that might leave its conference. Specific rules have not been written in BCS materials regarding a process by which a school that claims independence could earn special concessions.
As an independent, BYU would have a chance to make its own national schedule and qualify for a BCS bowl. If that occurred, the school would keep its share of bowl money, rather than split bowl revenue with the rest of its conference. That's an enticing proposition for the school.
Mountain West's BCS hopes
Halfway through a four-year evaluation cycle, the Mountain West Conference is right on track to earn a BCS automatic bid for its champion in the 2012 and 2013 football seasons, a source told ESPN.com.
But if BYU were to leave the Mountain West -- or even announce a plan to leave the conference -- anytime prior to the end of the 2011 football season, it could have a devastating impact on the MWC's quest for an automatic BCS bid.
Three criteria are being used to evaluate all conferences across the 2008-11 seasons, and BYU has been a big part of the Mountain West's performance so far in two of those categories.
The BCS looks at the ranking of each conference's highest-ranked team, the number of teams each conference has in the final BCS top 25 and the pre-bowl rankings of every team in the conference within the BCS computers. While BYU wasn't the league's highest-ranked team in either of the past two seasons, it has averaged a No. 15 final ranking in the BCS standings in addition to being a top-20 team both years in the computers.
Because each conference will be evaluated based on its known membership in January of 2012, the Mountain West will be able to use the performance of new member Boise State to offset the loss of Utah, which is departing for the Pac-10. But if BYU leaves, and the MWC can't produce an equivalent team to fill that void, it will take an exceptional effort by the rest of the conference over the next two seasons to keep BCS automatic-bid hopes alive.
In golf terms, the Mountain West is right on the projected cut line as it enters the second round of the tournament. Losing BYU would be similar to starting that round with a double-bogey on each of the first two holes.
In other words, there would be a lot of catching up to do.
-- Brad Edwards, ESPN.com BCS analyst
The WAC, according to sources, has assured BYU it will have a soft landing for all of its other sports, similar to the arrangement Notre Dame enjoys with the Big East, where it competes in all sports except football.
BYU would play four to six WAC programs in football every season, according to sources. The Cougars already play in-state rival and WAC member Utah State every season.
BYU's football team went undefeated (13-0) and was ranked No. 1 by The Associated Press in 1984 as a member of the WAC.
Landing BYU for men's basketball would be a major coup for the WAC, considering the Cougars have been to the NCAA tournament 25 times. BYU won 12 WAC titles during its run in the conference and plays in the 22,700-seat Marriott Center.
While BYU considers leaving the Mountain West, WAC members Fresno State and Nevada were approached by a Mountain West representative Tuesday about an invitation to the league, according to a source.
A source told Schad that Houston and UTEP also have been studied as possible additions to the MWC.
However, if a WAC school decides to go to the MWC, it will come at the expense of a costly buyout.
Once Boise State left, the remaining WAC members -- Fresno State, Louisiana Tech, New Mexico State, San Jose State, Hawaii, Idaho, Nevada and Utah State -- signed a $5 million buyout agreement that would be assessed to any member that left the conference within the next five years. The schools took that move to keep other members from following the Broncos to the Mountain West.
BYU, which would like to become the Notre Dame of the West, is seeking a separate television agreement for its football program. Notre Dame currently has a football deal with NBC.
According to independent multiple sources, BYU is in discussion with ESPN for its football rights. ESPN already has an agreement with the WAC to televise football and basketball.
BYU has its own national television network, BYU-TV, which is available on major satellite networks. BYU-TV is going to HD, and with the wide reach of the Mormon church, the Cougars could build national appeal, as Catholic-based Notre Dame has.
WAC commissioner Karl Benson said earlier this summer that the league "would give consideration to" taking back BYU in all other sports, were the Cougars to go independent for football. Benson declined to comment on this story.
BYU previously has considered going independent. But at that time, the option of being a football independent came with being independent in all other sports, making scheduling much more difficult. In this case, BYU's other sports would be protected by membership in the WAC.
Andy Katz is a senior writer at ESPN.com. ESPN college football reporter Joe Schad contributed to this report.
MORE COLLEGE FOOTBALL HEADLINES