ESPN.com's top five at each position
Originally Published:
November 10, 2010
ESPN.com
BEST IN THE BUSINESS
Last season, the center position seemed more talented and deep than ever. Now, the power forwards are taking center stage. That was the only position on this list in which all five players were unanimous choices. UConn was the only team to put two players among our picks for the best at each position, but Tennessee led the way with three overall selections. Baylor, Ohio State, Stanford and Xavier each had two players honored. The player listed first below was voted the top player at her position, as determined by a panel consisting of ESPN.com's Mechelle Voepel, Graham Hays, Charlie Creme and Melanie Jackson. The other four honorees are listed alphabetically.
Point guard
Shooting guard
Small forward
Power forward
Center
Danielle Robinson
Oklahoma
5-9, senior



She's faster with the ball than most are without it.
-- Charlie Creme
Tiffany
Hayes
Connecticut
5-10, junior



More than Moore's sidekick, Hayes has an uncanny knack of stepping up when UConn needs it most.
-- Melanie Jackson
Maya
Moore
Connecticut
6-0, senior



Her career has shadowed UConn legend Diana Taurasi's in so many ways.
-- Mechelle Voepel
Nnemkadi
Ogwumike
Stanford
6-2, junior



She's quicker, stronger, can jump higher and is smarter than you.
-- Graham Hays
Brittney
Griner
Baylor
6-8, sophomore



A sport-changing presence without even fully understanding her physical gifts.
-- Graham Hays
Skylar Diggins
Notre Dame
5-9, sophomore
Kachine Alexander
Iowa
5-9, senior
Elena Delle Donne
Delaware
6-5, sophomore
Danielle Adams
Texas A&M
6-1, senior
Kelley Cain
Tennessee
6-6, junior
Samantha Prahalis
Ohio State
5-7, junior
Angie Bjorklund
Tennessee
6-0, senior
Kayla Pedersen
Stanford
6-4, senior
Jessica Breland
North Carolina
6-3, senior
Jantel Lavender
Ohio State
6-4, senior
Jasmine Thomas
Duke
5-9, senior
Dawn Evans
James Madison
5-7, senior
Shekinna Stricklen
Tennessee
6-2, junior
Victoria Dunlap
Kentucky
6-1, senior
Ta'Shia Phillips
Xavier
6-6, senior
Courtney Vandersloot
Gonzaga
5-8, senior
Melissa Jones
Baylor
5-11, senior
Helena Sverrisdottir
TCU
6-1, senior
Amber Harris
Xavier
6-5, senior
Carolyn Swords
Boston College
6-6, senior
The following players received at least one vote from our contributors: Amy Jaeschke, Northwestern; Paris Johnson, San Diego State; Shenise Johnson, Miami; Italee Lucas, North Carolina; Kristen McCarthy, Temple; Sarah Miles, West Virginia; Jeanette Pohlen, Stanford; Chastity Reed, UALR; Sugar Rodgers, Georgetown.
2010-11 Season Preview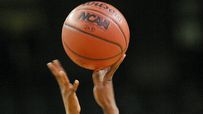 Get ready for 2010-11 with ESPN.com's women's college basketball preview.
Friday, Nov. 12
•
ESPN.com's Preseason All-Americans
•
Maya Moore three-peat: Preseason POY
•
Predictions: League winners, five contenders
•
Voepel: Baylor a Final Four favorite
Thursday, Nov. 11
•
Voepel: Summitt optimistic at Tennessee
•
Hays: Elite Eight losers back for more
•
Hays: Mid-major players to watch
•
Hays: Mid-major top 10 (and then some)
Wednesday, Nov. 10
•
Top five players at each position
•
Hays: 10 more players to watch
•
Voepel: VanDerveer just 'giddy' at Stanford
Tuesday, Nov. 9
•
Voepel: Coach G's Texas-sized task
•
Hays: Thomas, McCallie united at Duke
•
Hays: No keeping down Iowa's Alexander
Monday, Nov. 8
•
ESPN.com preseason top 10
•
Voepel: A look at 2010-11
•
Hays: UConn must be more than Moore
•
ESPN The Mag: Brittney Griner's ready