Commentary
Cowboys midseason report: Humble Pie
No matter how you slice it, the Cowboys have gotten their just desserts this season
Updated:
November 12, 2010, 12:43 PM ET
By
Tim MacMahon, Calvin Watkins
and
Bryan Broaddus
| ESPNDallas.com
IRVING, Texas -- It's a good thing the Cowboys didn't claim Randy Moss off of waivers. He really wouldn't have liked the food served at Valley Ranch these days.
Midseason Report: Humble Pie

Usually, we'd grade each unit by assigning stars for how well they performed. This year, with the Cowboys at 1-7, we decided to force each unit to eat Humble Pie. The worse the unit has performed, the more Humble Pie it will have to eat, with five being the worst.
• Cowboys Report » Cowboys Center »
"Oh, man, we've gotten two big servings of humble pie," nose tackle Jay Ratliff said. "We are humbled. We are definitely humbled."
That ought to be an understatement.
After all, this is a team that was hyped as contenders to play in the Super Bowl they'll host in their $1.2 billion home. They're an absolute mess at the midway point of the season, having lost five consecutive games to fall to 1-7 and get their coach fired.
So it's fitting that the Cowboys' midseason report focuses on their failures. ESPNDallas.com's Tim MacMahon, Calvin Watkins and ex-NFL scout Bryan Broaddus will cater the event, handing out the appropriate amount of humble pies (on a one to five scale) for each position group.
2010 Cowboys Midseason Report
Total pies:





Coaches

MacMahon: It's been so bad that stubborn Jerry Jones was forced to reverse field and fire a coach in midseason in the first time in his 22-year ownership tenure. No team in the NFL has a worse win-to-talent ratio than the sloppy, stupid, undisciplined Cowboys. As Wade Phillips admitted, that's a reflection on the coaches. Humble Pies: 5



Tom Pennington/Getty ImagesEx-Cowboys coach Wade Phillips

Watkins: The head coach was fired, the secondary and offensive lines have struggled and the development of the young talent is lacking. There are questions about Jason Garrett finding an identity for the offense and now he has the head coaching duties on his plate, it's unknown if he can handle it all. Humble Pies: 5

Broaddus: The truth is Jones fired his defensive coordinator, who just happened to be the head coach. Phillips' defense failed him in this trying season. He blindly protected players from blame when it came to poor tackling and execution, and it was Phillips' complete body of work that ultimately cost him his job. Phillips didn't help himself with his game management, especially poor decisions before the half in Washington and an ill-timed challenge in Green Bay that left him without a time out -- and the ability to challenge another call that surely would've been reversed. In the end, the GM had seen enough. Humble Pies: 5

Total pies:




Quarterbacks

MacMahon: The Cowboys rank fourth in the NFL in passing yards, but that's a misleading statistic. A lot of those yards came because the Cowboys were playing from behind late in the games. Tony Romo and Jon Kitna have combined for 13 picks -- more than any other team in the NFL has thrown except for the 1-7 Carolina Panthers. Humble Pies: 3



Matthew Emmons/US PresswireQBs Tony Romo and Jon Kitna

Watkins: Romo was knocked out in the first meeting vs. the New York Giants. He was playing fairly well (69.5 percent completion percentage and a 94.9 quarterback rating). Without him, the team relies on Kitna. While he's not as mobile, he can make the throws, yet his skill set isn't Romo's and with the season going haywire, Stephen McGee's development is stunted somewhat as the team plays Kitna. Humble Pies: 3

Broaddus: NFL QBs are measured by wins and losses. It's easy to point the finger and say they didn't get the job done. However, the Cowboys' QBs have been the least of the problems. Before his injury, Romo's numbers -- other than the interceptions -- weren't that bad. Kitna has stepped in and done a much better job than I ever thought he could after watching him in camp. The team may be 0-2 in his starts, but when he needed teammates to make plays, for the most part they haven't. What impresses me most is Kitna's ability to answer questions about the state of the team each day in the locker room. It takes a real pro to do that. Humble Pies: 3

Total pies:




Running Backs

MacMahon: You don't hear much talk about the Cowboys' three-headed running back monster these days. Tashard Choice has fallen out of the rotation, but it's not due to anything that Marion Barber or Felix Jones has done. The Cowboys rank 31st in the league in rushing (75.6 yards per game) and last in rushing touchdowns (2). Humble Pies: 4



Ray Carlin/Icon SMIRunning back Tashard Choice

Watkins: As a unit, the Cowboys average just 3.6 yards per carry and if the team doesn't average more than four yards per carry the rest of the season, it will mark the first time since 2005 it hasn't achieved that. Barber is the starter, but he's taken out after a handful of carries for Jones. It seems like a silly thing to do. In short yardage situations, Barber has been good but his failure to score twice inside the one-foot line earlier this season raised some questions. Humble Pies: 4

Broaddus: The running backs don't get a free pass, but it's a difficult job when the offensive line consistently doesn't do its job and there are unblocked defenders in your face or waiting for you in the hole. Jones has become a straight-line runner that hasn't created his own opportunities and doesn't look like the explosive runner he's been in the past. Barber has one decent run per game, but his real effectiveness is in short yardage -- and even then, it's been difficult. Choice is still waiting for his opportunity. Rookie Chris Gronkowski and tight end Scott Chandler have been used in the fullback role as point of attack blockers, but results have been limited. Humble Pies: 4

Total pies:




Offensive Line

MacMahon: The aging offensive line gets a large share of the blame for the Cowboys inability to run the ball. First-year starter Doug Free has been the best of the bunch. Center Andre Gurode and guard Leonard Davis have deteriorated from perennial Pro Bowlers to major parts of the problem. Overhauling the offensive line will be the top priority of the offseason for the personnel department. Humble Pies: 5



AP Photo/James D SmithCenter Andre Gurode

Watkins: It's battled injuries to starters Kyle Kosier and Marc Colombo. A backup, Montrae Holland, also suffered an injury. The play of Gurode and Davis is inconsistent. Doug Free, the left tackle, is the lone bright spot. The depth isn't much better and this is a unit that needs a serious overhaul in the offseason. Humble Pies: 5

Broaddus: A majority of the Cowboys' failures on offense can be pinned on the line's inability to secure, sustain and finish blocks. The play of Gurode and Davis has been most troubling. Both have played played slow-footed and lack ability to get to the second level in the running game. Defenses have attacked inside, exploiting them to create pressure. Free has more than been up to the challenge, turning what was viewed as a potential preseason weakness into a strength. Humble Pies: 5

Total pies:




Tight Ends

MacMahon: Jason Witten continues to be one of the most productive tight ends in NFL history, catching 45 passes for 506 yards and three touchdowns. But he commits too many penalties for a smart player, including three false starts this season. We're still waiting for Martellus Bennett's talent to translate into production. He hasn't scored a touchdown since his rookie season. Humble Pies: 2



AP Photo/LM OteroTight end Jason Witten

Watkins: Witten hasn't had the impact many thought he would have, and Bennett has two more catches (17) than he did all of last year. The loss of John Phillips (ACL surgery) during the preseason hurt a group the Cowboys figured would have an effect on the offense. Humble Pies: 3

Broaddus: If Phillips was part of this group, the rating would most likely be lower. Offensive line coach Hudson Houck told me in training camp that the loss of Phillips would be a huge blow to this team and to the squad's ability to run the ball. Witten is having to do so much more to compensate for Phillips' loss, lining up at fullback, H-back and inline. Bennett has better receiving numbers, but for his skill level and size, his production as a point of attack player should be much more dominant -- which it's not. Humble Pies: 3

Total pies:




Receivers

MacMahon: Miles Austin, the $54 million man, has been too inconsistent. He's sixth in the league with 657 receiving yards but leads the NFL with six drops, two of which turned into interceptions. Roy Williams, the $45 million man, still isn't worth that much money but has finally been a solid contributor (333 yards, five touchdowns). Rookie Dez Bryant still has a lot to learn, but he's one of the only reasons the Cowboys are worth watching these days. Second-year receiver Kevin Ogletree, who contributed late last season, reported to training camp with a sense of entitlement for some reason and is dangerously close to being cut. Humble Pies: 2



Brett Davis/US PresswireWide receiver Miles Austin

Watkins: Austin has six drops, Williams isn't in the gameplan as much and Bryant is still learning the offense. This group has been inconsistent whether it's the defense, quarterbacks or their own doing. Sam Hurd hasn't gotten better and Ogletree can't get on the field. Bryant has excellent hands, speed, body control and the attitude to play the position. He's the only thing worth watching right now. Humble Pies: 3

Broaddus: Despite all the preseason questions, this group has not disappointed. Austin, Williams and Bryant have combined for 106 catches and 11 TDs. Austin's struggled some with drops, but he's still one of the most dynamic players in the league. Williams' hard work in camp has paid off. Bryant continues to impress, not only with the ball in his hands but his ability to snatch it away from defensive backs. He's a future star in this league. Humble Pies: 2

Total pies:




Defensive Line

MacMahon: Jay Ratliff hasn't been nearly as disruptive as he was while earning trips to the Pro Bowl the previous two seasons. He has only one sack and no tackles for losses. Igor Olshansky and Marcus Spears are paid to stop the run and haven't performed well enough in that role. With Spears on injured reserve, Stephen Bowen has an opportunity to prove he can be a starter. Humble Pies: 3



Rich Kane/Icon SMINose tackle Jay Ratliff

Watkins: Three injured linemen -- Spears, Sean Lissemore and Jason Hatcher -- have depleted this group. Spears might have played his last game with the Cowboys, however the lack of progress in Hatcher could force the Cowboys to rethink their future plans. Bowen has played well at times, but Olshansky hasn't been consistent. Ratliff is having an off year for a man who was named an All Pro in 2009. Ratliff is still facing double-teams but not getting by them as much as last season. Humble Pies: 3

Broaddus: This group has been a total surprise. Olshansky, Spears, Hatcher and Bowen have all been huge disappointments, especially with Spears, Hatcher and Bowen playing under one-year deals. Teams have found a way to block these ends with their tackles, and it has allowed them to focus their inside blockers on Ratliff, who hasn't been nearly as dominant against inferior centers as I thought he would be. The one player that seemingly has made progress is rookie Josh Brent, who uses his power to fight through blocks and make plays. Humble Pies: 4

Total pies:




Outside Linebackers

MacMahon: DeMarcus Ware ranks among NFL sacks leaders with eight, but he hasn't been a dominant force. He has a team-high seven tackles for losses, but his end has been turned much more than in previous seasons. Anthony Spencer, who was outstanding down the stretch last season, disappears for long stretches now. This should be one of the top OLB duos in the league, but that hasn't been the case this season. Humble Pies: 3



Tim Heitman/US PresswireLinebacker DeMarcus Ware

Watkins: Ware continues to be one of the best pass rushers in the game, and while he's getting chipped and double-teamed at times, the Cowboys blitzes up the middle haven't opened the way for him to make more plays on the quarterback from the edge. Spencer has regressed somewhat, and while he did have a slow start in 2009, he came on strong in the finish. He has to do that again. Humble Pies: 2

Broaddus: Ware has not been as dominant against opposition that I felt he had the upper hand in most of the games this season. Spencer has once again been a difference-maker, but for the wrong reasons. When Spencer freelanced with technique, he usually came up aces. This season hasn't been as kind, which has put the defense in some bad situations. Humble Pies: 3

Total pies:




Inside Linebackers

MacMahon: Bradie James has been arguably the defense's most consistent player. He leads the Cowboys with 90 tackles, two forced fumbles and two fumble recoveries. Keith Brooking hasn't played as well as he did last year, but it's unfair to ask a 35-year-old to play practically every down like he's been doing. Rookie second-round pick Sean Lee's inability to crack the rotation has been a huge disappointment. Humble Pies: 3



Joel Auerbach/US PresswireLinebacker Bradie James

Watkins: James and Brooking are two proud inside linebackers who looked tired at times. They are both getting too many snaps, but the lack of development in rookie Lee is forcing the Cowboys to play the veterans more. James and Brooking can still play, but they need a break. Leon Williams hasn't pushed for more playing time with his work in practice. Humble Pies: 3

Broaddus: It was asking too much of Brooking to repeat his successes from 2009. You still see the passion, desire and effort, but the large number of plays and train wrecks have taken a physical toll. If you want to point the finger, look no further than believing in camp that Jason Williams, Leon Williams or Lee could help in a backup role. James and Brooking have given everything they have, but the Cowboys misevaluated where their help was going to come from. Humble Pies: 3

Total pies:




Cornerbacks

MacMahon: Terence Newman has played pretty well despite a painful strain in his rib area. Third-year corners Mike Jenkins and Orlando Scandrick have been easy pickings for opponents. Jenkins has had a horrific fall from Pro Bowl heights, leading the NFL in pass interference penalties and allowing more yards per attempt (10.7) than any other NFC player, according to Stats Inc. Scandrick has allowed the highest completion percentage (84) of cornerbacks targeted at least 25 times. No cornerback in the NFL has allowed more touchdowns than Scandrick's five on 25 attempts. Humble Pies: 5



Kim Klement/US PRESSWIRECornerback Mike Jenkins

Watkins: Jenkins is not having a good season, nor is Scandrick, the slot corner. Terence Newman, on the other hand, is having a good year despite playing with a rib injury. Teams are throwing more toward Jenkins, which puts him in position to make more plays, but he's not doing it. Scandrick has one of the toughest positions on the field, man-to-man with a speedy receiver in tight quarters, yet he's not consistent. The Cowboys went with just three corners out of training camp and it seems they should have had at least four. Humble Pies: 5

Broaddus: Going into this season, I thought Jenkins was going to make the Pro Bowl. I was dead wrong. Ron Wolf, my old boss with the Packers, used to say this: "If you see a player do it one time, he will be able to do it again." I have seen Jenkins cover better, and I have seen him make plays running with receivers that others had no chance to make. But now, I haven't seen him do it nearly enough. Where has it gone wrong? Corner is a demanding position that requires confidence. And in Phillips' defense, there often was no help. Opponents haven't been shy about attacking Jenkins because of his struggles. Humble Pies: 5

Total pies:




Safeties

MacMahon: The Cowboys cut Ken Hamlin because he didn't make enough plays. Gerald Sensabaugh and Alan Ball, who are both in the last years of their contracts, better prepare to search for employment elsewhere. They've combined for a grand total of one interception and three passes defensed. Their poor tackling has also been a problem. Undrafted rookie Barry Church should get more playing time to determine if he can be a long-term solution. Humble Pies: 5



Larry French/Getty ImagesSaftey Gerald Sensabaugh

Watkins: The Ball experiment has failed. He doesn't make enough plays on the ball and it seems he reacts too slow on plays. Sensabaugh wanted a new contract from the Cowboys. Well, his play in the first eight weeks hasn't made the front office rush to the bank and give him money for a new deal. Humble Pies: 5

Broaddus: Going into this season, I thought Ball would be able to take his corner skills and convert them into being a successful free safety. As with Jenkins, I was dead wrong.Humble Pies: 5

Total pies:




Specialists

MacMahon: Punter Mat McBriar is having a magnificent campaign (gross average of 47.1, net average of 41.5). But David Buehler is tied for 26th in the league in field goal accuracy, and all three of his misses were costly in close losses. He also has only six touchbacks on kickoffs after leading the league with 29 last season. Akwasi Owusu-Ansah was ineffective as a kickoff returner, but Dez Bryant is one of the NFL's best punt returners. Humble Pies: 3



AP Photo/Sharon EllmanPunter Mat McBriar

Watkins: McBriar has performed well (41.5 net average), but Buehler has struggled to make clutch kicks and at directional kicking. There were changes with several players to improve the kick return unit, but it hasn't helped. Bryant has two punt returns for touchdowns and Owusu-Ansah wasn't solid on kick returns. Bryan McCann had a nice debut vs. Green Bay on kick returns, so maybe the Cowboys solved that problem. Humble Pies: 4

Broaddus: Two of the three areas have been outstanding. The snapper is top flight, and the punter is one of the NFL's best. There were moments where questions came up about whether Buehler needed to be replaced as the field goal kicker, but the struggle has been on kickoffs. The ball is no longer consistently travelling into the end zone for touchbacks, and opponents are taking advantage of spotty coverage. Humble Pies: 2
Calvin Watkins, Tim MacMahon and Bryan Broaddus cover the Cowboys for ESPNDallas.com.
WEEK 10: COWBOYS 33, NY GIANTS 20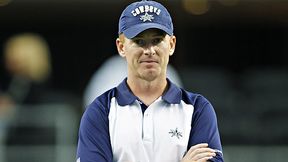 Follow ESPNDallas.com's coverage

of the Dallas Cowboys on Twitter
DALLAS COWBOYS CENTER
Check out ESPN Dallas' home for complete Dallas Cowboys coverage before and after each week's game, including analysis, commentary, videos, predictions, report cards, leaders, photos and more.
Cowboys Center »
MORE COWBOYS COVERAGE
NFL BLOG NETWORK