Commentary
Jerry Jones' method is madness
Owner's aggressive marketing of Cowboys weakens the product that he's selling
Updated:
September 21, 2010, 12:37 PM ET
By
Tim MacMahon
| ESPNDallas.com
IRVING, Texas -- You could have seen the Dallas Cowboys' epic failure in the home opener coming, as long as you paid for a JerryWorld tour during Friday's practice.
The Cowboys screwed up simple assignments while hundreds of fans, many of whom wore Chicago Bears gear, checked out the action on the field in the rare moments they weren't awed by the images on the 60-yard big screens. The poor practice was reflected in the Cowboys' sorry Sunday performance, coach Wade Phillips admitted.
But Phillips stressed that the practice's strange atmosphere -- by NFL standards, if not the Cowboys' -- didn't make a difference.
"Do I think practice in the stadium inhibited us in that game? I don't," Phillips said. "I think it's us getting ready and preparing the team as coaches."
[+] Enlarge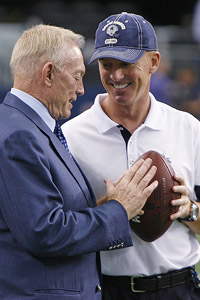 AP Photo/James D SmithJerry Jones runs the Cowboys his way, and that might not be the best thing for Jason Garrett and the coaching staff.
Make no mistake: Wade Phillips was referring only to the official members of the Cowboys' coaching staff. He certainly wasn't calling out owner/general manager/team president Jerry Jones, who fills some of the traditional roles of a head coach.
It might make sense for Jerry just to add the title of head coach, too, if he wasn't so busy with the marketing side.
That's part of the problem for the underachieving, overhyped 0-2 Cowboys. The man in charge at Valley Ranch makes marketing a priority over football far too often.
That's why the Cowboys are the only NFL team to twice be featured on the HBO series "Hard Knocks," a reality show whose mere mention makes many of the Cowboys' veterans cringe. There are enough distractions that come along with playing for America's Team without having television cameras chronicling every minute of training camp.
The Cowboys' training camp this summer wasn't featured on premium cable, but Jerry sure sold a ton of T-shirts while splitting time between San Antonio and Oxnard, Calif., with a quick stop at the $1.2 billion stadium squeezed in after the Hall of Fame Game in Canton, Ohio.
The Cowboys got diminishing returns during the five-week camp odyssey. This team essentially checked out after the five-hour train ride to San Diego, a trip chronicled by a "60 Minutes" crew that captured footage of Jones living it up in Hugh Hefner's old boxcar.
We were told not to worry after the Cowboys' starters played poorly in the preseason game against the Chargers and even worse in the dress rehearsal the next weekend against the Houston Texans. Never mind the mistake-filled walkthroughs during the last week of camp in Oxnard.
After an offseason full of Super Bowl hype, we were na´ve enough to actually be surprised by the Cowboys' lackluster start to the regular season. Two losses to nonplayoff teams have been marred by penalties, blown assignments and mental mistakes by a team that, as cornerback Mike Jenkins said, got caught up in its hype.
You could make the argument that the Cowboys need to be mentally tough enough to deal with the distractions that come with playing for an owner who wants constant attention for his team. You could make the argument that the Cowboys, especially the core players remaining from the 2008 crash, should be mature enough to handle the hype.
"We need to be focused as a team and organization on winning football games," strong safety Gerald Sensabaugh said. "Put it on that. Write that. We need to be focused as a team and organization on winning football games."
Key word: Organization. The dysfunction and distractions start at the top in Dallas.
Jones obviously wants to win. He aches every time the Cowboys lose. He'll just never admit that the carnival barker in him makes things unnecessarily complicated for the football men he pays handsomely to win on a weekly basis.
Sensabaugh was reluctant to speak his mind, offering only read-between-the-lines comments after several minutes of poking and prodding by reporters while his more high-profile teammates avoided the locker room Monday morning.
More From ESPNDallas.com

Breaking news, analysis, report cards, predictions ... everything you need to know about the Dallas Cowboys' matchups can be found right here. Cowboys Center
After all, Sensabaugh doesn't have a Pro Bowl pedigree, is playing on a one-year contract and wants a long-term deal. He doesn't want to be known as the dude who put the boss on blast.
And he doesn't want to make excuses. It ultimately comes down to players making plays, as Sensabaugh said repeatedly.
But Sensabaugh sees the talent on the roster, watches the film from two losses to lesser teams and knows something is seriously wrong. He can't just plug his nose and ignore the stench.
"There seems like there's brain farts everywhere," Sensabaugh said.
"Everywhere. Everybody. Last week, this week, what are we doing? What is this? We look like a circus, like a bunch of clowns out there."
Jerry can point to his three Super Bowl rings as proof that titles can be won his way.
But the odds are against the Cowboys winning another championship as long as he's running a three-ring circus at Valley Ranch and wherever else the Cowboys can draw a crowd.
Tim MacMahon covers the Cowboys for ESPNDallas.com You can follow him on Twitter or leave a question for his weekly mailbag.
ESPNDallas.com
Joined ESPNDallas.com in September 2009
Covers the Dallas Cowboys and Dallas Mavericks
Appears regularly on ESPN Dallas 103.3 FM
WEEK 2: BEARS 27, COWBOYS 20
Cowboys Team Center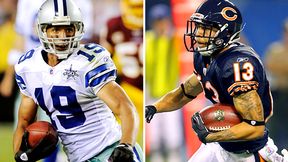 Follow ESPNDallas.com's coverage

of the Dallas Cowboys on Twitter
Get the latest news and analysis by checking out ESPNDallas.com's
Cowboys Blog
.
NEWS/COMMENTARY
SCOUT'S EYE: BROADDUS' BREAKDOWN
Former NFL scout Bryan Broaddus breaks down flim of practices for ESPN Dallas. Series »


NFL BLOG NETWORK
New Era Men's Dallas Cowboys 39Thirty Arch Mark Classic Hat Shop »