Commentary
Cowboys need to erase bitter taste
Week 3 stumble to Texans would be harder to swallow than preseason vanilla loss
Updated:
September 24, 2010, 10:01 AM ET
By
Tim MacMahon
| ESPNDallas.com
IRVING, Texas -- Let's get all the excuses for the Dallas Cowboys' lopsided preseason loss to the Houston Texans out of the way:
More From ESPNDallas.com

Breaking news, analysis, report cards, predictions ... everything you need to know about the Dallas Cowboys' matchups can be found right here. Cowboys Center
• The Cowboys' game plan had as much flair and creativity as a typical Wade Phillips news conference. The term used over and over around Valley Ranch was "vanilla," but that's an insult to a fine flavor.
• Houston was the final stop on a five-week, seven-city training camp/marketing tour odyssey for the Cowboys. Players shouldn't have been physically worn out after a week full of walkthroughs, but they appeared more concerned with welcome-home party plans than a meaningless preseason game.
• Oh, but the Texans certainly didn't consider it meaningless. Man, those folks in Houston take the Governor's Cup seriously! There's a school of thought that the quest for state supremacy serves as serious motivation for the Texans, and perhaps it goes even further than that. "Before you know it, they're going to be trying to claim that they're America's Team," Cowboys rookie receiver Dez Bryant said.
• Bryant and five starters -- left guard Kyle Kosier, right tackle Marc Colombo, defensive end Marcus Spears, inside linebacker Keith Brooking and strong safety Gerald Sensabaugh -- didn't play in the preseason dress rehearsal because of injuries. (Bryant is nursing a slight rib injury, but they'll all be available for Sunday's return game against the Texans.)
After the Texans pushed the Cowboys all over the turf in that August meeting, the Cowboys vowed that the result would be different when they returned to Reliant Stadium. It better be.
Forget all the sports radio hype in Houston, which has a football inferiority complex that dates to the days when the "Luv Ya Blue" Oilers coached by Phillips' father, Bum, were overshadowed by Tom Landry's team. This is a much bigger game for the 0-2 Cowboys than it is for the 2-0 Texans.
The situation is so dire for Dallas that Phillips, whose even-keeled demeanor is often confused for a complete lack of a personality, declared that the Cowboys needed to dial 911.
An 0-3 start doesn't guarantee doom, but it's a pretty safe bet. The last team to make the playoffs after losing its first three games was Phillips' 1998 Buffalo Bills, and I don't like the odds of lightning striking twice for one head coach.
The Texans, on the other hand, appear primed to make the playoffs for the first time in franchise history.
At the least, Houston has proven that its preseason pounding of the Cowboys wasn't a fluke performance. They whupped the defending AFC champion Indianapolis Colts even worse in Week 1 and enter the weekend with the league's top-ranked offense in yards (440.5 per game) and points (32.0).
The Texans have arguably the NFL's best players at their position in defensive end Mario Williams and wide receiver Andre Johnson. Quarterback Matt Schaub threw for 497 yards in last week's win over the Washington Redskins. Running back Arian Foster rushed for 231 yards in the opener.
This is no longer the NFL little sister in the Lone Star State. The Texans are favored by a field goal over the Cowboys for good reason.
"They've been doing everything really well," Cowboys outside linebacker Anthony Spencer said. "If we can come out and execute the things we can against them, and play well, and get the W, that'd be a big statement for us."
Winning the state championship would be a start for the Cowboys salvaging their season. Good thing they're game-planning this time around.
Tim MacMahon covers the Cowboys for ESPN Dallas. You can follow him on Twitter or leave a question for his weekly mailbag.
ESPNDallas.com
Joined ESPNDallas.com in September 2009
Covers the Dallas Cowboys and Dallas Mavericks
Appears regularly on ESPN Dallas 103.3 FM
WEEK 3: COWBOYS (0-2) AT TEXANS (2-0)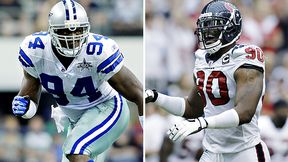 Follow ESPNDallas.com's coverage

of the Dallas Cowboys on Twitter
DALLAS COWBOYS CENTER
Check out ESPN Dallas' home for complete Dallas Cowboys coverage before and after each week's game, including analysis, commentary, videos, predictions, report cards, leaders, photos and more.
Cowboys Center »
MORE COWBOYS COVERAGE
Get the latest news and analysis by checking out ESPNDallas.com's Cowboys Blog.
Former NFL scout Bryan Broaddus breaks down film for the Scout's Eye series.
Submit questions for Calvin Watkins to answer in his weekly Cowboys Mailbag.
NFL BLOG NETWORK
Nike Youth Home Game Jersey Houston Texans Arian Foster #23 Shop »