Commentary
Dallas Cowboys ready to take control
Cowboys rally after horrible start and are poised to seize their playoff destiny
Updated:
October 5, 2010, 2:46 PM ET
By
Tim MacMahon
| ESPNDallas.com
IRVING, Texas -- With their season pushed to the brink of early disaster, the Dallas Cowboys pulled off an emotional win, the turning point in an NFC East championship season.
That was last year. And it could happen again.
The Cowboys already took the first tough step, delivering a dominant road performance in a 27-13 win over the Houston Texans to avoid a catastrophic 0-3 start. A team that went through the motions the first two weeks played with passion, fueled in part by special teams coach Joe DeCamillis' speech the previous night about surviving when his neck was broken in the May 2009 collapse of the Cowboys' indoor practice facility.
More on the Cowboys

Tim MacMahon, Todd Archer and Jean-Jacques Taylor have the Dallas Cowboys blanketed.
Blog » ESPN Dallas »
Top 50 Cowboys

Perhaps even more importantly, the Cowboys were also well prepared. It took a couple of losses to teams that had losing records last season, a players-only meeting and some changes in the practice routine. But the Cowboys approached practices with an all-business attitude, and it paid dividends on Sunday.
"If we do that," linebacker/captain Keith Brooking said, "there's not a lot of teams in this league that can beat us."
Coach Wade Phillips proudly reported that the Cowboys' next practice was the best bye-week workout of his tenure at Valley Ranch. He's given similar glowing reviews about the players' focus and intensity after every practice since.
Then again, this is the same coach who declared the 2008 team the best walkthrough squad he'd ever been around while they were in the process of going from Super Bowl contenders to playoff spectators.
(Sorry, didn't mean to let such pessimism sneak into this piece. I'm trying to focus on the bright side here. The Cowboys seem primed to build off the pre-bye beatdown they gave their Lone Star little brothers. Let's get back to the subject at hand.)
The circumstances of the pre-bye wins the last two seasons are different in a lot of respects. But there's a similar vibe around Valley Ranch.
The Cowboys came together while pulling out an overtime win over the winless Kansas City Chiefs last October. It certainly wasn't the prettiest win, but it allowed the Cowboys to avoid going into the Week 6 bye with a losing record. It served as a springboard for a four-game winning streak and a stretch of six wins in seven games.
While the Cowboys have a losing record right now, the butt-kicking they gave the previously unbeaten Texans served notice that the talent in Dallas might not have been overhyped after all. There's no question the Cowboys have the potential to make a playoff run in a conference that doesn't have a clear favorite, especially considering their 1-2 record leaves them only a half-game out of first place in the NFC East.
The schedule is certainly set up for the Cowboys to seize control of the division and their playoff destiny. Three of the next four games are at home. That's followed by a trip to Green Bay, where the Cowboys will face one of the teams they'll likely be fighting for home-field advantage in the playoffs. The defending Super Bowl champion Saints come to Arlington on Thanksgiving. The Cowboys will see the Eagles, their top threat in the division, twice in December.
Oh, there is one significant similarity to the Cowboys' pre-bye wins the last two weeks. They featured breakout performances by receivers.
That isn't to suggest that Roy Williams will have the impact that Miles Austin did last season. Austin got his first career start because Williams was nursing bruised ribs, set a franchise record for receiving yards in a game and scored two touchdowns, ending up on the bottom of a celebratory dogpile on the second. That October afternoon in Kansas City was the launch point for a Pro Bowl season. And the Cowboys believe there's much more of that to come from Austin, as evidenced by the six-year, $54 million contract extension he just signed.
Williams' five-catch, 117-yard, two-touchdown performance against the Texans marked the first time he's been worth his $9 million-per-year contract, which was signed the week after he was traded from Detroit in 2008.
With weapons in Austin, Jason Witten and Dez Bryant, the Cowboys don't need that type of production from Williams on a regular basis. But it's a huge bonus if Williams can force defensive coordinators to account for him in their game plans or take advantage of mismatches when they don't.
Michael Irvin wasn't wrong when he said it was like the Cowboys were playing 10 vs. 11 with Williams on the field. Just watch the playoff loss to Minnesota for evidence. Tony Romo ignored Williams all game despite the fact the Vikings used a 5-foot-9 backup cornerback to cover him.
But something has clicked with the Romo-Williams relationship. There's mutual confidence there now.
"I think it's just time," Williams said. "It finally got there. Finally."
And the Cowboys finally looked like a contender this season. Finally. The hunch here is that will continue after a week off.
Tim MacMahon covers the Cowboys for ESPNDallas.com You can follow him on Twitter or leave a question for his mailbag.
ESPNDallas.com
Joined ESPNDallas.com in September 2009
Covers the Dallas Cowboys and Dallas Mavericks
Appears regularly on ESPN Dallas 103.3 FM
WEEK 5: TITANS 34, COWBOYS 27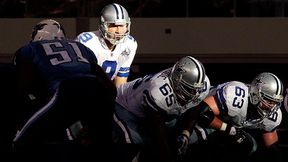 Follow ESPNDallas.com's coverage

of the Dallas Cowboys on Twitter
DALLAS COWBOYS CENTER
Check out ESPN Dallas' home for complete Dallas Cowboys coverage before and after each week's game, including analysis, commentary, videos, predictions, report cards, leaders, photos and more.
Cowboys Center »
MORE COWBOYS COVERAGE
Get the latest news and analysis by checking out ESPNDallas.com's Cowboys Blog.
Former NFL scout Bryan Broaddus breaks down film for the Scout's Eye series.
Submit questions for Calvin Watkins to answer in his weekly Cowboys Mailbag.
NFL BLOG NETWORK