Commentary
It's not Felix Jones' fault he fell behind
He's been surpassed by other backs in his draft class because Cowboys hold him back
Updated:
October 7, 2010, 2:28 PM ET
By
Tim MacMahon
| ESPNDallas.com
IRVING, Texas -- Did the Dallas Cowboys pick the wrong running back in the 2008 first round, or is Felix Jones egregiously underutilized?
The answer: Both, but the Cowboys have the opportunity to fix only one of those issues.
The statistical evidence strongly supports the case that the Cowboys could have drafted a better back. That's not necessarily a knock on Jones, who has flashed brilliance while averaging 6.2 yards per carry during his brief, injury-interrupted career. But the seven backs selected between Jones and fourth-rounder Tashard Choice have more career rushing yards than the 22nd overall pick.
Tennessee's Chris Johnson, the headliner of that group and the reigning NFL rushing champion, comes to town Sunday. He was taken two picks after Jones but has more than three times as many rushing yards and five times as many touchdowns. Pittsburgh's Rashard Mendenhall, Baltimore's Ray Rice and Kansas City's Jamaal Charles are other backs picked after Jones who are superior players at this point of their careers, although that isn't a point Jones and the Cowboys' decision-makers are willing to concede.
[+] Enlarge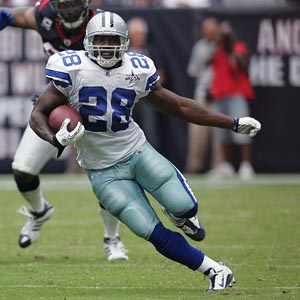 Brett Davis/US PresswireFelix Jones averages a gaudy 6.2 yards per carry in his career on a measly 7.3 carries per game.
"When I do get an opportunity, I do what I can," said Jones, a normally pleasant dude who seemed annoyed when pressed on this particular subject. "I really can't speak if they're doing better than me this week. I'm only granted what I'm given."
He isn't given a big enough portion of offensive coordinator Jason Garrett's game plans. Just ask owner/general manager Jerry Jones, the man ultimately responsible for choosing his fellow Razorback over Mendenhall. (The Cowboys, like many teams at the time, considered Johnson a tier below those backs despite the East Carolina product's blazing speed.)
Felix Jones, a much more dynamic threat than lead horse Marion Barber, has a career average of only 7.3 carries per game. That's exactly his average workload so far in 2010 despite a strong finish to last season, when he took advantage of an increased role while Barber was banged up.
Jones proved he can be more than a change-of-pace back in the final six games of last season, including the playoffs. He rushed for 475 yards on 79 carries during that span. He sealed the Cowboys' NFC East-clinching win over the Philadelphia Eagles with a 49-yard touchdown run. He followed that up with a 16-carry, 148-yard playoff performance against the Eagles, highlighted by a spectacular 73-yard touchdown run.
Hall of Famers Emmitt Smith and Tony Dorsett are the only backs in Cowboys history to rush for more yards in a playoff game, and they did that only once apiece.
It appeared Jones was on the verge of becoming the Cowboys' next star running back.
Yet Jones has a grand total of 22 carries for 88 yards during the Cowboys' 1-2 start. Jones is the consummate teammate and won't complain, but he doesn't need to go on a Terrell Owens-type rant for folks to see what's wrong.
"Everyone is in unanimous agreement -- with the staff, scouts, everybody involved -- that Felix needs to touch the ball more," Jerry Jones told KRLD-FM this week, echoing several previous statements he's made over the past year. "He's just too much of a threat, and that was our intention in preseason coming out, no matter whether he's certainly getting a chance in the running game but certainly in the passing game as well.
"I really look for you to see a lot more of Felix Jones."
Not surprisingly, head coach Wade Phillips seconded Jerry Jones' statement, although Phillips said Barber would remain the starter. Phillips pointed out that there are other players such as Miles Austin the Cowboys also want to get more touches, but it shouldn't be tough to do in this particular case.
More From ESPNDallas.com

Breaking news, analysis, report cards, predictions ... everything you need to know about the Cowboys' game against the Titans can be found right here. Cowboys Center
"With a running back, you can do it more because you have more control over that because you can just hand him the ball," Phillips said. "That's why we're saying that. We can hand him the ball a little more, and we'll try to do that."
Perhaps somebody might want to send a memo to the playcaller, who might not have been present for the unanimous vote. Garrett's roundabout answer didn't indicate that he intended to make getting the ball to Felix Jones much more of a priority than it's been.
"Felix will get his opportunities and Marion will continue to get his, and we'll just keep going," Garrett said.
Psst, Wade: Remember how you told us a few weeks ago that you had the right to do whatever you wanted with the offense? (Shoot, Jerry even gave his public stamp of approval!) This would be a pretty good time to assert that authority.
Barber has been just a guy since becoming a starter in 2008, averaging slightly less than 4 yards per carry. Jones is a game-changer whose potential is far from fully tapped.
There were better backs on the board when the Cowboys drafted Jones, but he's definitely the best at Valley Ranch right now. Nothing can be done about that draft now, but the Cowboys can correct the coaching mistake they make on a weekly basis.
Tim MacMahon covers the Cowboys for ESPNDallas.com You can follow him on Twitter or leave a question for his mailbag.
ESPNDallas.com
Joined ESPNDallas.com in September 2009
Covers the Dallas Cowboys and Dallas Mavericks
Appears regularly on ESPN Dallas 103.3 FM
WEEK 5: TITANS 34, COWBOYS 27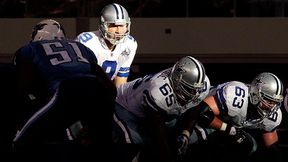 Follow ESPNDallas.com's coverage

of the Dallas Cowboys on Twitter
DALLAS COWBOYS CENTER
Check out ESPN Dallas' home for complete Dallas Cowboys coverage before and after each week's game, including analysis, commentary, videos, predictions, report cards, leaders, photos and more.
Cowboys Center »
MORE COWBOYS COVERAGE
Get the latest news and analysis by checking out ESPNDallas.com's Cowboys Blog.
Former NFL scout Bryan Broaddus breaks down film for the Scout's Eye series.
Submit questions for Calvin Watkins to answer in his weekly Cowboys Mailbag.
NFL BLOG NETWORK