Commentary
Wade Phillips' defense falls from grace
Cowboys defense ranks 27th in points allowed this season after leading NFL in 2009
Updated:
October 29, 2010, 12:03 PM ET
By
Tim MacMahon
| ESPNDallas.com
IRVING, Texas -- The Dallas defense played like Doomsday III down the stretch last season, when the Cowboys clinched the NFC East crown with the first consecutive shutouts in franchise history.
But that defense has contributed to Dallas' doom six games into this season.
Forget about Wade Phillips' flaws as a head coach for a moment. Jerry Jones didn't hire Phillips to be a stern disciplinarian. Phillips is here primarily because he had proven himself as one of the NFL's top defensive minds.
That means Phillips must be outstanding as a defensive coordinator to justify his existence at Valley Ranch. This defense is an epic failure, falling from allowing the fewest points in the NFC last season to ranking 27th in the league in that category.
More on the Cowboys

Tim MacMahon, Todd Archer and Jean-Jacques Taylor have the Dallas Cowboys blanketed.
Blog » ESPN Dallas »
Top 50 Cowboys

The Cowboys' special teams meltdowns and turnovers committed deep in Dallas territory have contributed to the opponents' increase from 15.6 to 25.3 points per game. But the Dallas defense has plenty of problems. It's suddenly vulnerable against the run and has only one player who consistently gets pressure on the passer. The safety play has been poor. Cornerback Mike Jenkins and outside linebacker Anthony Spencer, a pair of young players who seemed on the verge of stardom, have regressed significantly. And on and on.
Oh, Phillips would want us to mention that the defense played well in the loss to the Washington Redskins and the win over the Houston Texans. He'd prefer that we'd point out that the defense held the Minnesota Vikings and Tennessee Titans to low yardage totals while ignoring the fact that the Cowboys failed to force turnovers and committed crucial defensive penalties in those two losses.
The men in the defensive meeting rooms who are honest when they look in the mirror know they own a large share of the responsibility for the 1-5 record.
"I don't think we're playing good at all," linebacker Keith Brooking said. "It's something different every week as far as mistakes we have on the field."
The Cowboys desperately needed their defense to revert to 2009 form Monday night. They responded with a disastrous performance in the 41-35 loss to the New York Giants.
Granted, it's tough to win when your starting quarterback gets knocked out of the game. But the Cowboys made quick work of blowing a 13-point lead after Tony Romo's injury.
The defense melted down when its mental toughness was tested. In the span of a little more than 18 minutes, the Giants ran 27 plays for 279 yards and scored 31 points. The last two scores -- touchdowns by Giants receiver Mario Manningham and running back Brandon Jacobs -- were the worst tackling displays seen around these parts since the disgraceful Texas Stadium finale.
Phillips figured his guys ought to get a round of applause for trying hard. That's even more ridiculous than defensive end Igor Olshansky dancing to celebrate a couple of tackles with the Cowboys trailing by 18 during garbage time.
A few days later, Phillips declined to acknowledge that the onus is on the defense to carry the Cowboys to wins with Jon Kitna at quarterback. At least the defensive captains understand the situation.
"If guys don't score," linebacker Bradie James said, "they can't win."
That's what dominant defenses do when their team is forced to play a backup quarterback. Exhibit A: The Pittsburgh Steelers, who have allowed the fewest points in the NFL this season and went 3-1 while Ben Roethlisberger served his suspension.
It's a pretty simple concept to the man who employs Phillips and has spent several first-round picks and hundreds of millions of dollars to stock the defense with talent.
"When you have setbacks in one part of your game, the other part has to step up, just like the individual players do on that side of the ball," Jones said. "Yes, I expect them to step up. I sure do."
Of course, a lot of folks expected the Dallas defense to sustain their success from last season. It sure hasn't, and now it's all gloom and doom.
Tim MacMahon covers the Cowboys for ESPNDallas.com You can follow him on Twitter or leave a question for his mailbag.
ESPNDallas.com
Joined ESPNDallas.com in September 2009
Covers the Dallas Cowboys and Dallas Mavericks
Appears regularly on ESPN Dallas 103.3 FM
WEEK 8: JAGUARS (3-4) AT COWBOYS (1-5)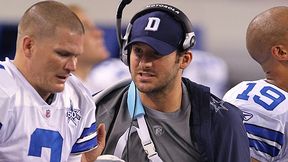 Follow ESPNDallas.com's coverage

of the Dallas Cowboys on Twitter
DALLAS COWBOYS CENTER
Check out ESPN Dallas' home for complete Dallas Cowboys coverage before and after each week's game, including analysis, commentary, videos, predictions, report cards, leaders, photos and more.
Cowboys Center »
MORE COWBOYS COVERAGE
Get the latest news and analysis by checking out ESPNDallas.com's Cowboys Blog.
Former NFL scout Bryan Broaddus breaks down film for the Scout's Eye series.
Submit questions for Calvin Watkins to answer in his weekly Cowboys Mailbag.
NFL BLOG NETWORK
Nike Men's Home Elite Jersey Dallas Cowboys Tony Romo #9 Shop »