Commentary
Rivals and friends? Isn't that unhealthy?
Owners' awkward relationship is just one of the Cowboys-Redskins storylines to watch
Updated:
September 8, 2010, 7:47 PM ET
By
Matt Mosley
| ESPN.com
The longest preseason since the 1960s has finally ended and the Dallas Cowboys are preparing to play a real game Sunday night in the greater Washington area, which unfortunately includes Landover, Md.
More From ESPNDallas.com

Breaking news, analysis, report cards, predictions ... everything you need to know about the Dallas Cowboys' matchups can be found right here. Cowboys Center
Will Sunday night's game live up to this past Monday's game at FedEx Stadium between Boise State and Virginia Tech? I highly doubt it, because neither team has a quarterback like Kellen Moore. But with all the questions swirling around these two teams, it should be an intriguing matchup. Before I head out to Valley Ranch to visit with Donovan McNabb via the miracle of the conference call, let's take a look at what I think are the top five storylines heading into Sunday's game.
If you're so inclined, please respond to this column in the "comments" section so that editors will continue to run it each Wednesday.
1. The Cowboys have to prepare for a new-look 3-4 defense that may or may not feature two-time All-Pro defensive tackle Albert Haynesworth. In case you've been hiding under a rock (or were watching the Rangers), Redskins coach Mike Shanahan and Haynesworth have engaged in a stare-down over the past several months. This has culminated in a situation where someone on the coaching staff appears to be leaking information to the Washington Post about (audible gasping noises!) Haynesworth's poor play in the preseason finale.
On Tuesday, McNabb put an interesting spin on this story when he suggested on ESPN 980 that the Redskins "could not win without" Haynesworth on the field. Perhaps Donovan missed this whole thing about the head coach not being able to stand the sight of Haynesworth. Obstructed View will keep a close eye on this situation.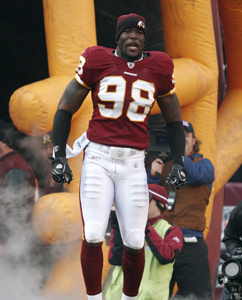 Getty ImagesRedskins linebacker Brian Orakpo might be looking to take out his disgust for the Cowboys on Dallas' offensive line Sunday night.
2. Keep your eye on this matchup between Cowboys LT Doug Free and Redskins Pro Bowl OLB Brian Orakpo, a frequent guest on "Galloway and Company." Orakpo is a former University of Texas star who grew up in Houston hating the Cowboys. He makes no secret of the fact that he plays with a little extra fire in this game.
Rak, as those of us in the blogging community like to call him, will try to use speed early in the game to set up his devastating bull rush. Free moves his feet really well for a 6-foot-8 man who appears to be slightly stooped, but I think he's vulnerable to power. Let's keep our eye on this matchup throughout the game.
3. This is the part where I talk about the red zone, so please skip to No. 4 if this topic has already destroyed your soul. The Cowboys picked up right where they left off at the end of the '09 season -- by struggling in the red zone. Quarterback Tony Romo told a couple of us in camp that Jason Garrett has added some new wrinkles in the red zone that "you guys are going to enjoy." Maybe that means Garrett will mix in a throw to the tight end every now and then around the goal line. Or maybe they'll try to run the ball into the end zone with the svelte Marion Barber or the bruising Felix Jones.
4. Why does it annoy me so much that Jerry Jones and Dan Snyder are good buddies? Here's why I have a new respect for Eagles owner Jeff Lurie. The man looked me in the eye recently (for a bit too long) and let it be known that he's not really a Danny Snyder fan. And I think it's a healthy thing for NFC East owners not to care for each other's well-being. But this week we've had to read that tired story of how the Snyders and the Joneses vacation together in the summer. Could someone spare me the sordid details?
[+] Enlarge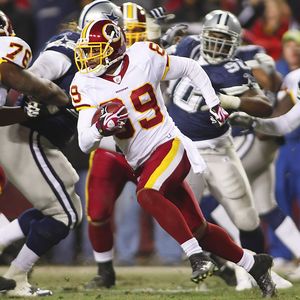 Geoff Burke/US PresswireCowboys fans are well aware of the havoc that Redskins receiver Santana Moss can cause when the ball is thrown his way.
Other than signing off on the Texas Giant at Six Flags, Snyder hasn't made a lot of great decisions over the years. But while shooting a Papa John's commercial with the smarmy Snyder, Jones launched into this speech about how he couldn't believe Snyder hadn't won a Super Bowl by now. Jerry, please tell us you were simply patronizing Snyder and not being serious. Why is it hard to believe Snyder hasn't won a Super Bowl when pretty much every move he's made over the past decade has blown up in his face? But really, he seems like a neat guy.
5. If you're a Cowboys fan, your biggest worry Sunday night has to be lil' Santana Moss. This guy loves playing the Cowboys more than any other team. And if you put him in a national TV situation on a Sunday or Monday night, things can get out of hand. I'll never forget future bankrupt quarterback Mark Brunell finding a streaking Moss (with his clothes on) for two late touchdowns in a Redskins' comeback win over the Cowboys.
Moss recently told me that he's been watching film of how Redskins offensive coordinator Kyle Shanahan used Andre Johnson in Houston. The younger Shanahan, who doesn't have the creepy perm grin of his father, thinks Moss is capable of doing a lot of the same things that Johnson accomplished with the Texans -- and that's a scary thought for Dallas cornerbacks Terence Newman and Mike Jenkins.
Please clip and save this column (if you have a printer) and refer to it after the game to see if my checklist had any relevance to the outcome.
Matt Mosley covers the NFC East for ESPN.com and the Dallas-Fort Worth sports scene for ESPNDallas.com.
2010 KICKOFF: COWBOYS AT REDSKINS
Cowboys Team Center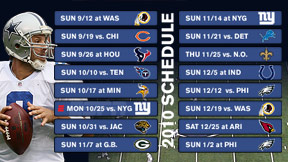 Follow ESPNDallas.com's coverage

of the Dallas Cowboys on Twitter
Get ready for the season opener by following the action on ESPNDallas.com's
Cowboys Blog
.
NEWS/COMMENTARY
SCOUT'S EYE: BROADDUS' BREAKDOWN
Former NFL scout Bryan Broaddus breaks down flim of practices for ESPN Dallas. Series »


NFL BLOG NETWORK