Commentary
Williams more involved in playoff win
Updated:
January 14, 2010, 2:19 PM ET
By
Calvin Watkins
| ESPNDallas.com
IRVING, Texas -- Roy Williams is a talented receiver who has vastly underachieved this season for the Dallas Cowboys.
But the Cowboys made a concerted effort to get Williams the ball last week, something that was lacking in the final stretch of the 2009 regular season. He finished with five catches for 59 yards in the Cowboys' 34-14 victory against the Philadelphia Eagles in the NFC wild-card game.
And as the Cowboys enter their NFC divisional round game versus the Minnesota Vikings on Sunday, it seems Williams is poised to help the team move forward in the postseason.
In some ways, Williams was relaxed after the Eagles game. And with the Cowboys going to him on two of their first three pass plays, maybe quarterback Tony Romo and offensive coordinator Jason Garrett have gained more confidence in the receiver.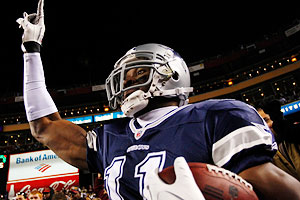 Geoff Burke/US PresswireRoy Williams was third on the team with 38 receptions this season for 596 yards and seven TDs. After catching just two passes total in the final three regular-season games, Williams caught five for 59 yards in the wild-card victory against the Eagles.
Maybe Williams even gained some confidence in himself?
"I didn't gain any confidence," Williams said. "If you look at the film against Philly, that's when I get balls -- when they blitz. The second time we played them, I didn't get any balls because they didn't blitz."
In the first game against the Eagles, Williams was targeted eight times and had five catches for 75 yards with no touchdowns. In the regular-season finale against Philadelphia, Williams had one pass thrown his way, and it was a misread by either the quarterback or wide receiver.
Williams ended the game without a reception. Eagles coach Andy Reid was asked why the Eagles didn't blitz as much in the second meeting, which supports Williams' theory.
The Eagles blitzed several times last week, sending defenders from different angles to force Romo to rush his throws. Williams was targeted eight times in the playoff win.
So, what does Minnesota do that could lead him to get more receptions?
"Nothing."
More on the Cowboys

Tim MacMahon, Todd Archer and Jean-Jacques Taylor have the Dallas Cowboys blanketed.
Blog » ESPN Dallas »
Top 50 Cowboys

Williams finished third on the team in catches (38) -- one more than No. 3 receiver Patrick Crayton -- and fourth in yards (596). He had two games without a catch and four more with just one. It would seem that's not what a man who signed a six-year contract worth $45 million is supposed to do on a regular basis.
But Williams has to have hope.
Miles Austin and Jason Witten can't do it alone in the passing game. At some point, Williams has to help the offense, and his efforts against the Eagles last weekend could be a catalyst. The running game and the increased production of Crayton down the stretch has taken some pressure off Williams.
Meanwhile, the Cowboys haven't needed Williams to make plays. The offense is averaging nearly 400 yards per game and 6.3 yards per play.
"It's just our offense," Williams said. "There's so many different personnel as far how many receivers are out there. The running backs, we use them. The tight ends, we use them. It's just our offense. The coordinator generates who goes where and who does what. It's the quarterback's job to throw it to the open person. We've been doing that pretty good the last couple of weeks."
In two of his last three games in the Metrodome, Williams suffered injuries while with the Detroit Lions. He sustained a neck stinger in 2006. In 2007, he injured a knee. Williams had two catches for 23 yards there in his final game for the Lions in 2008.
But Williams has had his moments against the Vikings. He has two 100-yard games against them and two others with more than 70 yards receiving.
While those were against different defenses, the Cowboys expect Williams to contribute in some way Sunday.
"The thing that makes this football team is their front seven," Williams said of the Vikings. "They can create pressure with just four people, the down linemen, so it's going to be a big matchup for our offensive line this week."
It could be an even bigger game for Williams.
Calvin Watkins covers the Cowboys for ESPN Dallas. You can follow him on Twitter or leave a question for his weekly mailbag.
ESPNDallas.com
Calvin Watkins joined ESPNDallas.com in September 2009. He's covered the Cowboys since 2006 and also has covered colleges, boxing and high school sports.
NFL PLAYOFFS: THE ROAD TO MIAMI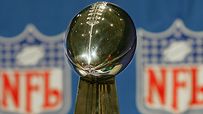 The Cowboys next face the Minnesota Vikings on the road to Super Bowl XLIV (Feb. 7, Miami).
VIKINGS 34, COWBOYS 3
MUST SEE / HEAR
COMMENTARY/BLOGS
MORE DIVISIONAL ROUND COVERAGE