Commentary
Cowboys' core could remain the same
Updated:
January 19, 2010, 5:38 PM ET
By
Calvin Watkins
| ESPNDallas.com
IRVING, Texas -- The Dallas Cowboys enter the offseason with 13 restricted free agents, among the highest totals in the NFL.
With owners opting out of the current collective bargaining agreement last year, it forced several players to lose their status of becoming unrestricted free agents. It also made the 2010 season an uncapped year.
Some would believe the Cowboys are willing to just spend wildly.
That appears doubtful because the team has heavy decisions to make regarding several key players, and owner Jerry Jones likes the core group of this team.
Cowboys' Free-Agent Situation
The current collective bargaining agreement changes how teams conduct their business this offseason. The Cowboys have 13 restricted free agents, and just one unrestricted free agent.
| Unrestricted FA | Comment |
| --- | --- |
| G Montrae Holland | Did not play at all this season and might not return |
| Restricted FA | Comment |
| WR Miles Austin | Could give him a long-term deal or make him prove his worth again |
| DE Stephen Bowen | Wants to come back, and team values him on the defensive line |
| CB Cletis Gordon | Likely returns; team expects him to vie for special-teams time |
| DE Jason Hatcher | Good season after a slow start attributed to offseason surgeries |
| WR Sam Hurd | Will come back, but other receivers could take his spot on roster |
| LT Pat McQuistan | Team likes his ability and he should return in 2010 |
| OL Duke Preston | Will hang around one more season. His ability to play two positions helps |
| C Cory Procter | He can also play guard and did a decent job on special teams |
| S Gerald Sensabaugh | Nice free-agent pickup wants 3-year deal; Cowboys thinking shorter |
| NT Junior Siavii | Gave the team a spark off bench, but struggled late in the season |
| DE Marcus Spears | Played well and team could give him two more years |
| PK Shaun Suisham | Didn't sound as if he were expected to return |
| S Pat Watkins | Second-leading tackler on special teams has a place on the roster |
| Exclusive rights FA | Comment |
| CB Alan Ball | Played well when Ken Hamlin was hurt, should come back |
| LB Steve Octavien | Needs to step up his level of play next year |
One of those big decisions is regarding wide receiver Miles Austin, who enters the offseason as the team's leading receiver with 1,320 receiving yards and a team-leading 11 touchdowns.
Austin surpassed Roy Williams as the No. 1 wideout on the team, and is somebody whom quarterback Tony Romo trusts. What to do with Austin, who is a restricted free agent, is a big question.
The Cowboys could place a franchise tender on Austin for about $6 million. If a team signed Austin, it would have to give the Cowboys a first-round pick as compensation.
But Williams' poor play in his two seasons with the Cowboys gives the organization reason to pause. The Cowboys don't want to lose Austin, but they aren't sure if he can duplicate his breakout 2009 performance. The Cowboys could treat Austin as they did quarterback Tony Romo in 2007. After Romo earned a Pro Bowl berth in 2006, the Cowboys didn't sign him to an extension until October 2007.
"I'm not worried about my contract," Austin said before the season ended. "I just worry about playing and I let my agent handle that."
Under normal conditions, the Cowboys would be in a difficult spot. But with 2010 being an uncapped season, paying big money to Williams and Austin isn't that much of a concern. Williams' contract calls for him to get a guaranteed $9.5 million bonus and a $3.4 million base salary for 2010. If the Cowboys want to cut Williams, they still have to pay him based on the terms of the contract.
Williams said he doesn't expect to get cut this offseason. But if he continues to play badly, he wouldn't be surprised if that happened in 2011, if there's football that season.
If the Cowboys believe Austin is ready for stardom, they have to make decisions regarding Doug Free, who just finished his third season, and veteran Flozell Adams.
Adams is due a $2.5 million roster bonus in June. If that's picked up, he will receive a base salary of $5 million. That's a lot of money for a left tackle who will be 35 next season. The Cowboys could replace Adams with Free, who played well at right tackle in the seven games Marc Colombo missed because of injury. Free, who gave up just one sack, was benched when Colombo returned in the postseason.
Against the Vikings, Free replaced Adams, who left in the second quarter with a right calf injury. The entire offensive line failed to consistently protect Romo, who was sacked six times.
Jones, however, was pleased with Free's overall progress this season. In the last few weeks of the year, the Cowboys practiced Free at both tackle spots.
Stephen Bowen, Jason Hatcher and Marcus Spears are three defensive linemen coming off career years. Spears, the starting defensive end, had his rookie contract end this year. Bowen and Hatcher are backup linemen who played well this season. Bowen finished third on the team with 35 quarterback pressures.
More on the Cowboys

Tim MacMahon, Todd Archer and Jean-Jacques Taylor have the Dallas Cowboys blanketed.
Blog » ESPN Dallas »
Top 50 Cowboys

"I wish everybody could stay together, but you never know in this business," Hatcher said. "That would be my perfect idea, to keep everybody together. I'm not thinking about my contract. I think about my kids and moving them. I got a 10-year-old and a 6-year-old, and they've made friends and it will be hard to move them away. I got to make that decision if things come along if I have to go elsewhere."
When the Cowboys signed safety Gerald Sensabaugh, it was to improve the strong safety spot. He played well this season. He had only one interception, but he was third on the team with 10 passes defensed and sixth in tackles with 81.
But as a restricted free agent, Sensabaugh may find it tough to get a long-term deal -- something he desires.
"I'd love to come back, but I don't know about that one-year tender thing. I'm done with that," Sensabaugh said. "I don't want to test the market. I will do my best to stay here. I had a great time here and played some good football here, and I like the direction of this team."
The Cowboys have a running game that gained 2,103 yards. Under their current three-man rotation, those are the numbers this team wants to have again.
However, since becoming the full-time starter in 2008, Marion Barber hasn't played a season without getting hurt. He is scheduled to get a $4 million roster bonus and a $3.8 million base salary. That's a lot of money for a running back who hasn't rushed for 1,000 yards in a season during his career.
The Cowboys could part ways with Barber and give Felix Jones the starting job. The 2008 first-round pick has battled injuries in his brief career, but he was healthy toward the end of the 2009 season while Barber wasn't.
Any decision that is made in the next few weeks -- whether it's to give Austin a new deal, move Adams out for Free, or even part ways with Barber -- could still leave the Cowboys' core intact. Last year, they added five new players to the defense, but if they retain the bulk of their defensive players who are restricted free agents, they might benefit from a chemistry and financial standpoint.
Calvin Watkins covers the Cowboys for ESPN Dallas. You can follow him on Twitter or leave a question for his weekly mailbag.
ESPN.com
Calvin Watkins covers the Houston Rockets and the NBA for ESPN.com. He joined ESPNDallas.com in September 2009. He's covered the Dallas Cowboys and Texas Rangers as well as colleges, boxing and high school sports.
COWBOYS '09: THE LAST ROUNDUP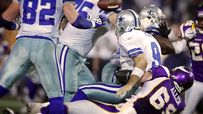 The Dallas Cowboys' season came crashing down after losing to the Minnesota Vikings in the divisional round, 34-3.
COWBOYS SEASON WRAPUP
MUST SEE / HEAR
Nike Men's Home Game Jersey Minnesota Vikings Greg Jennings #15 Shop »