Commentary
Emmitt's roots run from home to Hall
Updated:
February 4, 2010, 11:52 AM ET
By
Calvin Watkins
| ESPNDallas.com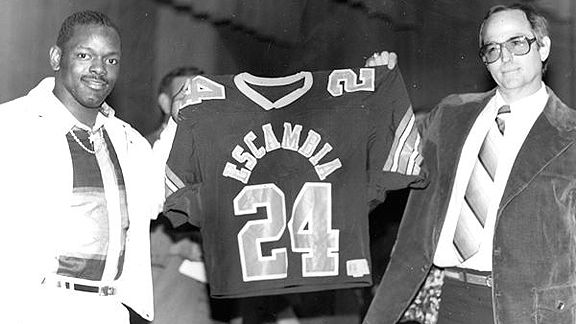 ESPN RISEEmmitt Smith left his mark on Escambia High School in Pensacola, Fla. He had his jersey retired, the weight room bears his name and the sign outside the school brags "Home of Emmitt Smith."
PENSACOLA, Fla. -- You pretty much know everything there is to know about
Emmitt Smith
.
You know that he's the NFL's all-time leading rusher with 18,355 yards. That he set an NFL record with 164 rushing touchdowns in his career, won four rushing titles and the league's MVP award in 1993.
You also probably know he won the "Dancing with the Stars" title in 2006. And you might even know that his wife's name is Pat.
But visit a two-story, four-bedroom home in this sleepy town near the Florida-Alabama border, and you understand there's much more behind Emmitt Smith III than you already know.
Visit the man and woman living in this home that has 12 small bushes neatly seated in front. Talk to his parents, Mary and Emmitt Smith II, and hear all the stories about one of the best running backs the NFL has ever seen.
Ask Mary Smith about the day when Emmitt thought he was Superman and jumped off a couch. Talk to Uncle Von and listen to him rave about how Emmitt loves to eat his barbecue. Walk with one of his high school coaches and let him show you a wooden sign describing what a dean thought of Emmitt.
On Saturday, Emmitt will be elected into the Pro Football Hall of Fame, the highest honor a professional player can receive. Several family members who were there when he first carried a football will again be there to witness this moment.
"I never had any doubts," Emmitt II said. "I knew from the moment he had that football that he could play. He just had this gift."
[+] Enlarge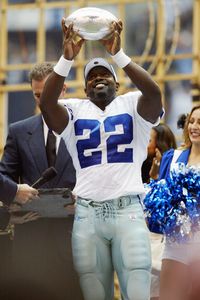 Stephen Dunn/Getty ImagesEmmitt Smith is the NFL's all-time leading rusher with 18,355 yards and scored an NFL-record 164 rushing touchdowns. The Cowboys icon will be elected into the Pro Football Hall of Fame on Saturday.
Emmitt, Scoey or Superman?
When Emmitt Smith III was born, his mother wanted to name him after stand-up comedian Scoey Mitchell.
But in wanting to keep the boys' names starting with the letter E, Mary chose Emmitt. But the Smith family called him by his nickname, Scoey.
The house originally had two bedrooms, and Emmitt shared it with his parents, three brothers and two sisters. The house, which had plenty of land in the back, originally belonged to Emmitt's grandparents, and it expanded as Emmitt II's family grew.
In that home, Emmitt III ran all over the place.
"You know that scar he's got on his forehead?" Mary Smith said. "One day he ties a towel around his neck and jumped off the couch and crashes into a wall. Superman."
Emmitt loved playing football with his older cousins, and he enjoyed playing other sports, including baseball and basketball. Longtime friend and world champion boxer Roy Jones Jr. remembers losing to Emmitt in a middle school basketball game while growing up.
"It's incredible to know that your homeboy is going to the Hall of Fame," Jones said.
Clean living and hefty expectations
Emmitt liked football so much that the kids would go to grandma's house to play after Sunday school. But he was always clean when he came home.
"Kinda," said Emmitt II. "What he would do was turn his pants inside out so we wouldn't know his pants were dirty. We get the kids home and wonder why this boy was so clean."
Once he was old enough to play football, the Smith family had a problem. Emmitt was tall enough, but he was too heavy.
"He had big thighs," said Emmitt's oldest sister, Marsha. "He was active, never got in any trouble. Always the bigger kid of his age group. The clothes we got for him were always bigger."
"

I never had any doubts. I knew from the moment he had that football that he could play. He just had this gift.

"

-- Emmitt Smith II on his son, NFL
all-time rushing leader Emmitt Smith III
Emmitt had to lose weight, so he wore a plastic sweat suit before games to help.
Emmitt's athletic ability was so good that his high school coach, Dwight Thomas, visited him at Brownsville Middle School to make sure he was coming to Escambia High School.
While in high school, Emmitt turned around the football program. Escambia, which hadn't had a winning season in nearly 20 years, won two state titles while he was there.
Leaving his mark at Escambia
By the time Emmitt left for the University of Florida, he was already a legend ... and still is to this day. At the bottom of the blue-and-white Escambia High School sign, it says "Home of Emmitt Smith."
Inside the school is the Emmitt Smith Weight Room. On a warm February day, several high school students were inside lifting weights donated by Emmitt. There are three pictures on the wall inside the facility -- one of Emmitt wearing his No. 24 Escambia jersey, one of him wearing his No. 22 Florida Gators jersey, and another of him in his familiar No. 22 with the Cowboys.
Outside the weight room, there is another sign -- a wooden one donated by retired dean Delores Morris. It reads: "Great accomplishments for filled dreams and breaking records begin with a burning desire to achieve. As a student there was no doubt in Emmitt Smith's mind that he would enter the record books. The rest of the story is, of course, history."
[+] Enlarge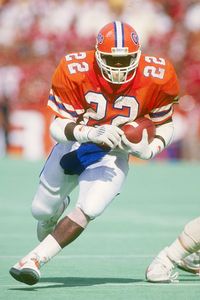 Allen Dean Steele/Getty ImagesEmmitt Smith loved playing football with his older cousins as a child, was recognized for his ability and burst into the national spotlight with the Florida Gators.
Emmitt developed a bond with several of the high school coaches here, including current head coach Jimmy Nichols.
The Nichols family has gone on cruises with the Smiths. And last year, when Trent Richardson -- a highly touted running back that reminded some in this town of Emmitt Smith -- was looking to pick a school, one phone call was made.
"I asked Emmitt to talk with him," Nichols said. "I didn't want Emmitt to tell him what school to go to or anything. Just talk to him."
Richardson had a good telephone discussion with Emmitt, and he made his choice. No, it wasn't the University of Florida. He chose Alabama instead.
"He didn't tell him what school to go to; he wouldn't do that," Nichols said. "They talked about life after football and making sure you're taken care of."
Family first ... always
Despite all the success Emmitt had as a high school and college player, he has never forgotten about his family.
His youngest brother, Emory, 35, tells a story of how his Pop Warner team won a championship game over another area team and some high school kids wanted to fight over it.
"Emmitt locked them up," Emory said.
What do you mean locked them up?
"I mean big brother grabbed both of them and had them up against the gate," he said. "He was always about protecting his family. All the time."
Marsha remembers a time when she would go out socially with her brother and notice something.
"He always looked out for me," she said. "If a guy wanted to talk to me, he made sure he was a gentleman. He always did the right thing, never wanted anything in return."
Emmitt is described by his family as loyal, reserved ... even shy. Always a sharp dresser, Mary said Emmitt's first suit was a zoot suit with the wide shoulders given to him from her father, Clifford Clemmons. Mary said she still has the suit to this day.
Recipe for success: Home cooking
Other than playing golf, Emmitt's passion since retirement has been cooking. It might have started as young boy. While visiting his aunt and uncle in Detroit, 3-year-old Emmitt was given a hot link sausage by his aunt, Geraldine Brown.
Emmitt shook his head and started sweating because he couldn't handle the spicy sausage. Or so they thought. He asked for another one.
"

He always looked out for me. If a guy wanted to talk to me, he made sure he was a gentleman. He always did the right thing, never wanted anything in return.

"

-- Marsha Smith, sister of NFL
all-time rushing leader Emmitt Smith III
Emmitt's uncle, William Von Brown, is the cook of the family. He makes ribs, pigs feet, hamburgers, gumbo ... anything. The meat on his pigs feet just falls off the bone, and Emmitt can't get enough of it.
Emmitt still calls Uncle Von to talk about a special marinade for his ribs.
"He told me, 'Uncle Von, I got my own secret for this marinade,'" Uncle Von said. "He tells me he puts a little Jack in it."
Jack?
"Yeah, that's all I can tell you."
In the home where he grew up are pictures of him, his brothers and sisters, grandkids and other family members. But hanging on a brick wall in the living room -- just a half step from a flat-screen television -- are the awards.
Pop Warner, middle school, high school, college and NFL awards. Photos of him posing in a jersey with that smile of his. Even a few baseball and basketball trophies.
The Smith home looks normal on any given day. Parked in the driveway is the white Lexus that Emmitt got for his mom and the black Corvette he got for his dad.
The Smiths say they are simple down-home people who love their son. Proud of what he's accomplished thus far.
Calvin Watkins covers the Cowboys for ESPN Dallas. You can follow him on Twitter or leave a question for his weekly mailbag.
ESPNDallas.com
Calvin Watkins joined ESPNDallas.com in September 2009. He's covered the Cowboys since 2006 and also has covered colleges, boxing and high school sports.