Commentary
Free primed to take over for Adams at LT
Updated:
April 11, 2010, 1:27 PM ET
By
Calvin Watkins
| ESPNDallas.com
With the draft two weeks away, this week's mailbag has people questioning whether Tony Romo is getting old. Wow. I didn't know turning 30 meant you're getting old.
One person even asked whether the Dallas Cowboys should trade Romo for Donovan McNabb. Why not trade Romo for JaMarcus Russell?
Some of you are concerned about replacing Flozell Adams and Ken Hamlin. You're not alone. The Cowboys are worried about this, too. Doug Free is the man to take over for The Hotel. Is Free ready? Yes, he is.
We get our weekly trade questions about Roy Williams and Marion Barber, and we confirm a rumor about the Cowboys moving camp to California. Maybe Dr. Dre can show up this year. Miles Austin is already there ready for camp. Now to the mail.
Ask Calvin Watkins

ESPNDallas.com's Calvin Watkins covers the Dallas Cowboys. You can send questions and comments to his mailbag.
• ESPNDallas.com
Q: Tony Romo is about to turn 30 years old. Would it be a good idea for a team like the Dallas Cowboys to draft, let's say, Colt McCoy in the second round, make him the No. 2 quarterback and groom him to replace Romo? Romo is relatively healthy, and if he goes down it is probably only for two or three games. Older quarterbacks normally lose their mobility first. -- Kris Johannsen (Allen)
A: I thought being a 30-year old quarterback wasn't a big deal. But then I looked up Troy Aikman's career. All of his Super Bowl titles were in his 20s, and after he turned 30 he went 1-3 in the postseason and battled injuries. Then I decided to look at Tom Brady. When he turned 30 in the summer of 2007, he led the New England Patriots to a 16-0 record with a career-high 50 touchdown passes, but his team lost to the New York Giants in the Super Bowl. The next year, Brady was hurt in the season opener and missed the year with a severe knee injury. Last year, he returned full-time and got the Pats back to the postseason, where they got hammered by the Baltimore Ravens in the first round.
This brings us to Romo. While I think he's in the prime of his career, he was pretty healthy last year. We'll have to see if this continues with a new left tackle (Doug Free) protecting him in 2010. I don't believe drafting McCoy now helps the future. The Cowboys have too many other needs: safety, inside linebacker, offensive line and corner. Maybe next year getting a quarterback in the draft will help.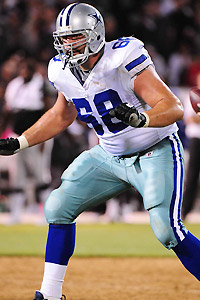 Kyle Terada/US PresswireDoug Free will likely start the season at left tackle now that the Cowboys have released Flozell Adams.
Q: What do we plan to do about the left tackle situation? Free came in and played like a starter for Marc Colombo, but in the Minnesota game he looked like a rookie. This has to be the year we win it all. We already had protection problems with a five-time Pro Bowler. Who is gonna come in and keep Romo upright? -- Brian Kiser (Modesto, Calif).
A: Doug Free will start the season at left tackle, unless the Cowboys move up and get one of the better tackles in the draft. It's doubtful that happens. Free played very well last year and graded higher than Colombo, according to some in the front office. There is an unknown about Free because we really don't know if he can play on the left side. But the coaches think he can, and that's all that matters.
Q: Why would you not trade Roy Williams to get Colt McCoy and Dez Bryant? I'm happy if we draft Jordan Shipley. -- Max Moreno (Midlothian, Texas)
A: The Cowboys are not trading Roy Williams. Not happening. So stop the madness. His contract is too large for a team to be willing to make a deal for him. As for Dez Bryant, he will not fall to the 27th pick. (I say this with confidence). Jordan Shipley, I do like. He could have an impact, but I'm not sure if he'll be around in the second and third rounds for the Cowboys.
Q: I'm guessing this is a long shot, but, what are the chances of offering Marion Barber and Roy Williams to scoop Brandon Marshall? I'd gladly have Felix Jones as our starting running back. -- Derek (Davie, Fla).
A: Marshall's agent tried to get the Cowboys to work a deal with Denver two years ago. But the Cowboys worked a trade for Williams instead. It will be hard to trade Williams because of the amount of money he's owed. As for Barber, now that he's gotten his $4 million roster bonus, trading him could be easier. However, he's due about $24 million on the remaining years of his contract. That portion of his contract has to get reworked if anything serious is to happen. Felix Jones will probably get a shot to become the starter this year.
Q: Calvin, Tony Romo needs to use his legs more effectively. He limits our offense by trying to be a full-time pocket passer. The year we went 13-3, he was amazing using his legs to escape pressure to run up the field. In the Vikings' loss, he never got control, and they made him pay with his legs with all the blitzing. He's hurting our team by not using all of his gifts that made him so successful in the past. -- Juan Little (Miami)
A: I love Miami. Good city. Now to the question at hand. Romo is fine. There's nothing wrong with Romo moving around, and when he does it's only because the pocket is crashing around him. Most good quarterbacks are able to slide around the pocket to keep plays moving. Romo did that last year.
Q: Sir, I believe that the wise first-round choice for my Dallas Cowboys would be Terrence Cody, the defensive tackle from Alabama. The prospects of moving Jay Ratliff to his natural defensive end position and with Anthony Spencer and Cody holding down the middle next to Igor Olshansky … wow! That front line would make our linebackers and secondary better and would keep opposing offensive coordinators and head coaches up all night. What say you sir? -- Soup (United States Air Force in San Pedro, Calif.)
A: I think the Cowboys like Ratliff where he is at starting nose tackle. If there's any change on the defensive line it would probably occur at one of the end spots. The team would like to push starter Marcus Spears -- he had a nice year -- to see if Stephen Bowen or Jason Hatcher can take his spot. Cody is a nice player, but I'm not sure if the Cowboys think he's better than Ratliff to force them to push him to end.
More on the Cowboys

Tim MacMahon, Todd Archer and Jean-Jacques Taylor have the Dallas Cowboys blanketed.
Blog » ESPN Dallas »
Top 50 Cowboys

Q: I heard a little rumor that it's a good probability the Cowboys might come to Oxnard, Calif. for training camp. How true is that? If you know anything about that let me know! Thanks. -- Rene805 (Oxnard, Calif).
A: The Cowboys will come to Oxnard, Calif., for the second portion of training camp. The Cowboys will start camp in San Antonio, probably around July 24, and spend two weeks there. It's undetermined when the team will head west following the Hall of Fame game in Canton, Ohio. When the team gets there, it will most likely be for about a week to 10 days, with a preseason game in San Diego.
Q: With Flozell Adams and Ken Hamlin gone, what do you think the team will do in the draft? As a lifelong Cowboys fan, I've seen Jerry Jones move up and down with draft day trades. Do you see him pulling out any tricks this year? -- Jamie (Dallas)
A: Expect the team to draft either a tackle or a safety in the first round. Yes, the Cowboys have Doug Free ready to take over, and I believe he will be fine, but if they can't grab one of the top three safeties in the first round going with an offensive lineman isn't a bad thing. There are depth issues on the offensive line and the team needs to address those; however, finding a replacement for Hamlin is important.
Q: If you could trade Romo for McNabb, would you do it? -- Mardi B (Cedar Hill)
A: So many of you are down on Tony Romo. Why, I don't know. He's entering the prime of his career. Donovan McNabb is 33. At the start of the 2008 season, I said McNabb was better than Romo and was proved right. At the start of last year, I thought the same thing. But when the season was over, Romo proved to be the better quarterback. McNabb is a great quarterback: five NFC title games, one Super Bowl, all the franchise records, etc. But I would take Romo right now over McNabb. I would turn down all trade offers for McNabb that involved Romo.
Q: Is Miles Austin not at camp yet? I hear he's in California working out. How can you be working out when your quarterback's not there? Seems like his head's starting to swell -- aka, T.O. Jr. I hope not. Also, who do you really think the Boys will draft with their first pick? -- J. Waterman (Belmont, N.H.)
A: JW, Miles Austin is in the Los Angeles area chilling. No big deal. The workouts the last two weeks were voluntary. Do the Cowboys want him at the workouts? Sure. Should he be there? Of course. Is it a big deal? No.
Now if Austin misses the mandatory organized team activities and minicamps, then we have a problem. Austin had a fantastic year, but he can't be a one-hit wonder. If that's the case, the Cowboys have big issues in their passing game. I don't believe Austin is getting a big head. He seems pleasant and a joy to be around. If that changes, I'll let you know.
Calvin Watkins covers the Cowboys for ESPN Dallas. You can follow him on Twitter or leave a question for his weekly mailbag.
ESPNDallas.com
Calvin Watkins joined ESPNDallas.com in September 2009. He's covered the Cowboys since 2006 and also has covered colleges, boxing and high school sports.
Fathead DeMarco Murray Wall Graphic Shop »