Commentary
Cowboys face tough decision
First-team offense needs more work, but is it worth exposing them to risk of injury?
Updated:
August 30, 2010, 2:12 AM ET
By
Calvin Watkins
| ESPNDallas.com
Tony Romo has not played in a preseason finale since 2006.
That year, Drew Bledsoe was the starting quarterback, Bill Parcells was the coach and the Cowboys played in Irving.
Things have changed, and Romo is the starting quarterback, Bledsoe is somewhere in Wyoming (we think), and Parcells is in South Beach.
Oh yeah, and the Cowboys play in a $1.2 billion stadium in Arlington.
But things might come full circle for Romo because his current coach, Wade Phillips, said he is contemplating playing his starters in the preseason finale versus Miami on Thursday night.
[+] Enlarge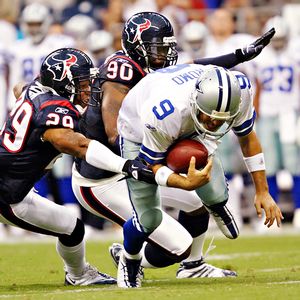 Thomas Campbell/US PresswireTony Romo has thrown only one touchdown pass this preseason, and he's been intercepted twice and sacked five times.
It's because the Cowboys' first-team offense has struggled. In 13 preseason possessions; Romo has led the first team to just one touchdown drive. That's one fewer than Jon Kitna, his backup.
"I always want to play," Romo said following Saturday's 23-7 loss to the Houston Texans. "If Coach wants to put me in Thursday, I'm all for it. Personally, I can never get enough reps because you always want to be pushing the envelope in that regards, but it's the coach's decision."
Last season, it took Romo until the second possession of the preseason to produce a touchdown drive.
In 11 possessions last year, Romo produced four touchdown drives. Romo was able to take a night off to close the preseason, and the Cowboys went on their merry way into the 2009 season.
Not so fast in 2010.
The Cowboys are struggling to handle the blitz, make plays on the ball with their receivers or run the ball with efficiency.
Romo is also off-kilter with his passes and audibles.
What may have symbolized the entire preseason was a play that occurred in the second quarter. Romo changed a play at the line of scrimmage and Felix Jones didn't hear it. Romo's pitch missed Jones because he expected a handoff. Jones tried to scoop the ball but bobbled it, allowing Texans linebacker DeMeco Ryans to recover it.
On the sideline after the play, Jones spoke with Romo. Then Jason Witten spoke to running backs coach Skip Peete and Jones.
Romo said the crowd noise made it difficult for Jones to hear that the play got changed at the line of scrimmage.
After watching the fumble live then listening to the players explain why it happened, you have to wonder if Romo and his teammates are going to apply for jobs with BP after they retire.
Saturday night was scheduled as the final appearance for the Cowboys' first-team offense and defense before the start of the regular season. It was the Cowboys' final time to leave the preseason with some goodwill.
"This dress rehearsal sucked," Patrick Crayton said. "It's one of those things. We got our tails whipped. We got a Texas butt-whipping."
Jason Garrett, the offensive coordinator, is always one to speak about execution despite not following a specific game plan. That's fine, we don't expect him to do devise game plans for preseason games.
But the offense needs positive results, regardless of whether you're following a game plan. And if the starters play Thursday, it comes with some risks for Garrett and Phillips.
If the Cowboys don't score a touchdown on their first or second possession, what then? Do you sit the starters down going into the regular-season opener at Washington with so little accomplished?
Then there's the injury factor.
More on the Cowboys

Tim MacMahon, Todd Archer and Jean-Jacques Taylor have the Dallas Cowboys blanketed.
Blog » ESPN Dallas »
Top 50 Cowboys

Owner/general manager Jerry Jones said the team is interesting in playing rookie receiver Dez Bryant in the preseason finale versus the Dolphins. Bryant is ready to play in the regular-season opener, and the Cowboys are just being cautious with a possible return in the preseason as he recovers from a right high ankle sprain.
What if he reinjures his ankle playing with the first team? Say another starter gets hurt?
Jones wants his offense to produce some points because he realizes how good it can be. There is so much talent here with Romo, Roy E. Williams, Miles Austin, Witten, Felix Jones and Bryant to work with. But he doesn't want to lose anybody from a physical standpoint. He's in a difficult situation.
There is this thought that the Cowboys can just turn it on once they get to Landover, Md., and beat up the Redskins.
After seeing four preseason games, it appears doubtful, at least right now.
"Emotion is a lot of the game and flying around is a lot of the game and I didn't see a lot of that," Phillips said of his group. "We don't want to make excuses. We want to play better."
Calvin Watkins covers the Cowboys for ESPNDallas.com. You can follow him on Twitter or leave a question for his weekly mailbag.
ESPN.com
Calvin Watkins covers the Houston Rockets and the NBA for ESPN.com. He joined ESPNDallas.com in September 2009. He's covered the Dallas Cowboys and Texas Rangers as well as colleges, boxing and high school sports.
2010 PRESEASON: DALLAS COWBOYS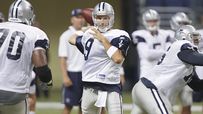 Follow ESPN's NFL coverage on Twitter
The Cowboys have wrapped up the preseason, and now march toward their ultimate goal. Follow the action on ESPNDallas.com's
Cowboys Blog
.
NEWS/COMMENTARY
POSITION BATTLES
ESPN Dallas is monitoring the hot spots as players compete for starting jobs and roster spots at Cowboys training camp. Series »


SCOUT'S EYE: BROADDUS' BREAKDOWN
Former NFL scout Bryan Broaddus breaks down flim of practices for ESPN Dallas. Series »


RANKING THE ROSTER
NFL BLOG NETWORK
Nike Youth Away Limited Jersey Dallas Cowboys Tony Romo #9 Shop »