Commentary
Frustration begins to rattle Cowboys
Disbelief sets in over 1-3 start, but play in loss against Titans lends record credence
Updated:
October 11, 2010, 1:50 AM ET
By
Calvin Watkins
| ESPNDallas.com
ARLINGTON, Texas -- The quarterback sat behind a microphone trying to compose himself.
The Dallas Cowboys fell to 1-3 following a difficult 34-27 loss to the Tennessee Titans on Sunday afternoon. You could tell Tony Romo was angry. You could tell he doesn't believe this is happening.
"This is very hard to swallow right now," he said. "I'm really, really frustrated."
If you thought 0-2 was bad, check out 1-3.
According to Elias Sports Bureau, 367 teams have started a season 1-3 since 1933 and only 31 of those have reached the postseason. That's 8.4 percent.
The Cowboys have started with such a record six times in their history and reached the playoffs just once when doing so.
"We're going to be digging out of this all season," Romo said. "This is a long process. Stacking together wins, I was hoping that today was going to be a good start after the bye but it obviously wasn't."
You can blame all sorts of reasons for the Cowboys' 1-3 record. There's the interceptions. Romo threw one off the hands of tight end Martellus Bennett and another off a tipped pass on a play that saw Alterraun Verner jump the route and pick him off.
You could also blame the lack of discipline this team shows. Dallas was penalized a season-tying 12 times for a season-high 133 yards.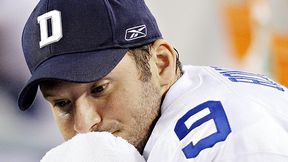 AP Photo/Mike FuentesTony Romo seemed incredulous over the Cowboys' 1-3 start to the season.
"We need to cut down on the penalties and be more disciplined," nose tackle Jay Ratliff said.
One of the penalties was a silly one in which Marc Colombo did a celebratory chest bump with Jason Witten following a game-tying touchdown in the fourth quarter. Colombo lost his balance and fell down flipping over, drawing an unsportsmanlike conduct penalty.
Coach Wade Phillips called the penalty unacceptable. It forced the Cowboys to kick off from the 15-yard line, and the Titans' Marc Mariani returned the gift 73 yards to the Cowboys' 5.
Tennessee would score when Chris Johnson dove into the end zone with 3:28 to play for a 34-27 lead.
The Cowboys had nothing left after that. They couldn't get to the Titans' half of the field on the next two possessions. The Cowboys ended their day when Romo's final pass landed in the hands of middle linebacker Stephen Tulloch.
There's more.
Overcoming 1-3
Since 1933, 367 teams have started the season 1-3. Only 31 have made the postseason. These are the last eight to have made it. None won a championship.
Year Team
2008 Minnesota Vikings
2007 San Diego Chargers
2005 Chicago Bears
2004 Green Bay Packers
2002 Atlanta Falcons
2002 Tennessee Titans
2002 New York Jets
2002 Pittsburgh Steelers
Right guard Leonard Davis was benched in the first half and he returned in the third quarter only when his replacement, Montrae Holland suffered a swollen right eye, limiting his vision.
Davis wasn't alone in his poor play. Romo was sacked a career-high six times. David Buehler missed a potential go-ahead 40-yard field goal in the third, although he made a chip-shot 26-yarder to tie the score in the fourth quarter.
Cornerback Mike Jenkins was called for two pass interference penalties on the first drive of the game. Orlando Scandrick turned his head away from the play when the ball was in the air on the first touchdown pass of the game.
Frustrating. Hard to accept. Tough to swallow. These are just a few of the descriptions that came out of the Cowboys' locker room after the loss.
Phillips seemed to be in disbelief. He told his team that he was frustrated and expected the players to feel the same way.
He wouldn't get into specifics, just emphasizing his frustration.
"A lot comes out when you're frustrated, but I think it needs to," he said.
A 1-3 mark has other ramifications for the Cowboys in the NFC East. Washington's victory over Green Bay pushed it to 3-1 in the conference and 2-0 in the division. The New York Giants, left for dead after a 1-2 start, have won consecutive games and are 2-0 in the conference.
The Philadelphia Eagles threw their hat in the ring and are in three-way tie for first place in the division at 3-2 overall with Sunday night's win over the San Francisco 49ers.
The Cowboys are in last place less than two months in the season.
More From ESPNDallas.com

Breaking news, analysis, report cards, predictions ... everything you need to know about the Dallas Cowboys' matchups can be found right here. Cowboys Center
"This is tough, especially with the rest of the division," Witten said. "But I wouldn't say we're out of it. I think this isn't ideal and this isn't what we anticipated. I think we know we're still a confident team and we need to play better. We know we need to play better. Nobody is giving up."
Giving up isn't the issue, it's the Cowboys' inability to win games they're supposed to win. Can we expect the Cowboys to knock off the Minnesota Vikings next week on the road, or play well against the Giants the following week?
September and early October used to be the easy part of the Cowboys' schedule. This team was supposed to be at least 3-1 or 2-2. Now, it's 1-3 and facing incredible odds to reach the postseason.
"At this point in time, it's not about trying to find answers, it's more so about trying to find the problem," cornerback Terence Newman said. "What is the problem? How do you put your finger on it? It's one of those things you have to look at from a mass standpoint."
Calvin Watkins covers the Cowboys for ESPNDallas.com. You can follow him on Twitter or leave a question for his weekly mailbag.
ESPNDallas.com
Calvin Watkins joined ESPNDallas.com in September 2009. He's covered the Cowboys since 2006 and also has covered colleges, boxing and high school sports.
WEEK 5: TITANS 34, COWBOYS 27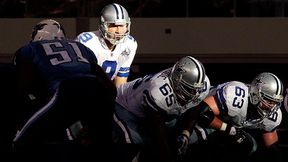 Follow ESPNDallas.com's coverage

of the Dallas Cowboys on Twitter
DALLAS COWBOYS CENTER
Check out ESPN Dallas' home for complete Dallas Cowboys coverage before and after each week's game, including analysis, commentary, videos, predictions, report cards, leaders, photos and more.
Cowboys Center »
MORE COWBOYS COVERAGE
Get the latest news and analysis by checking out ESPNDallas.com's Cowboys Blog.
Former NFL scout Bryan Broaddus breaks down film for the Scout's Eye series.
Submit questions for Calvin Watkins to answer in his weekly Cowboys Mailbag.
NFL BLOG NETWORK
Nike Men's Away Elite Jersey Dallas Cowboys Tony Romo #9 Shop »