Commentary
Cowboys rally behind backup Jon Kitna
Updated:
October 27, 2010, 1:34 PM ET
By
Calvin Watkins
| ESPNDallas.com
IRVING, Texas -- It's never good when a football team inserts a backup quarterback.
Never.
It either means the coaching staff made a mistake selecting the starter or he got injured.
In the Cowboys' case, Tony Romo went down with a fractured left clavicle on Monday night and will probably miss eight weeks of the 2010 season.
Jon Kitna, a man with 14 NFL seasons and 4,147 pass attempts under his belt, will be asked to make this season manageable beginning Sunday against the Jacksonville Jaguars.
The Cowboys are not asking Kitna to lead the team to the postseason, especially given their 1-5 record.
But one thing is certain: It appears the Cowboys will rally around Kitna.
"We're lucky to have Jon," Romo said. "He's had a lot of success in the league. He's had some really great seasons. He's going to step in and he's going to do a great job for this football team. We're going to rally around Jon and he's going to put together some really great games."
Game-by-game projections
| Dallas Cowboys | % w/Romo | % w/Kitna | % Diff |
| --- | --- | --- | --- |
| Jacksonville | 83.3 | 65.4 | -17.9 |
| @G. Bay | 43.3 | 22.6 | -20.7 |
| @NYG | 47.9 | 26.3 | -21.6 |
| Detroit | 88.3 | 69.3 | -19.0 |
| N.Orleans | 50.8 | 29.0 | -21.8 |
| @Ind. | 41.7 | 18.7 | -23.0 |
| Phila. | 63.0 | 41.1 | -21.9 |
| Wash. | 78.2 | 61.6 | -16.6 |
| @Arizona | 80.5 | 63.1 | -17.4 |
| @Phila. | 49.1 | 24.3 | -24.8 |
| Average | 62.6 | 42.1 | -20.5 |
In his two seasons after a trade sent him from the Detroit Lions to the Cowboys for cornerback Anthony Henry, Kitna has ingrained himself in the locker room.
He's one of the main card players, having won a few locker-room titles in the Spades tournament. He also plays dominoes. He competes with linemen, running backs, wide receivers and linebackers.
The players like him and believe in him almost as much as they do in Romo.
"Tony is our starter but Kitna is just as good," said close friend Roy Williams, who played three seasons with Kitna in Detroit. "We are going to work this week in practice so we can get the timing down with the receivers. But I have complete faith in him. I have played with him for three years and I know how good he is."
Coach Wade Phillips said Kitna, despite his age (38), throws the ball with plenty of zip and has good arm strength. He's not as mobile as Romo, and that's a concern, but Kitna's experience and physical gifts give the Cowboys hope with 10 weeks remaining in the regular season.
Romo vs. Kitna
Cowboys chances to make playoffs
Cowboys
% w/Romo
% w/Kitna
% Diff
Make Playoffs
19.5
1.5
-18
Wins
(Wk 8-17)
6.26
4.21
-2.05
The last time the Cowboys turned to a backup, 2008, Brad Johnson didn't have the physical tools. He couldn't make the deep throws or the out routes. The Cowboys had to change the offensive game plans, instituting shorter routes in the hopes of winning games.
Johnson finished 1-2. By the time Romo returned, it was evident the Cowboys needed a newer, fresher Brad Johnson.
In stepped Kitna, who walks with confidence around the locker room, talks in a deep voice and has a son that wears a Marion Barber jersey.
Kitna acts like a quarterback and a leader. When there's trouble with the Cowboys' offense or the team overall, reporters seek out his take on what's going on.
"You have to give Jon credit, he is a veteran and he works hard every day," tight end Jason Witten said. "He understands the game and he has had success as a starter."
Witten said the team isn't worried about trying to rally behind a man who hasn't started a game since 2008, because Kitna "will hold up his end, and we have to do the same on ours."
In training camp, Phillips said he thought Kitna could start for most NFL teams. As the Cowboys and the rest of the NFL move toward the final two months of the year, Phillips' words could ring true if Kitna produces some wins.
More on the Cowboys

Tim MacMahon, Todd Archer and Jean-Jacques Taylor have the Dallas Cowboys blanketed.
Blog » ESPN Dallas »
Top 50 Cowboys

"I'm not going to see anything that surprises me and the game is not going to be too big for me," Kitna said. "I'm prepared to lead this football team for however many weeks that is. It's not something that I'm scared of. I wished this opportunity hadn't come. It's bad for Tony and it's bad for this football team that it happened, but it's here."
"I have confidence in myself and my teammates, and we'll get some things ironed out and we'll see things on the same wave length and go forward."
Calvin Watkins covers the Cowboys for ESPNDallas.com. You can follow him on Twitter or leave a question for his weekly mailbag.
ESPNDallas.com
Calvin Watkins joined ESPNDallas.com in September 2009. He's covered the Cowboys since 2006 and also has covered colleges, boxing and high school sports.
WEEK 7: NY GIANTS 41, COWBOYS 35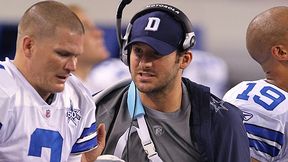 Follow ESPNDallas.com's coverage

of the Dallas Cowboys on Twitter
DALLAS COWBOYS CENTER
Check out ESPN Dallas' home for complete Dallas Cowboys coverage before and after each week's game, including analysis, commentary, videos, predictions, report cards, leaders, photos and more.
Cowboys Center »
MORE COWBOYS COVERAGE
Get the latest news and analysis by checking out ESPNDallas.com's Cowboys Blog.
Former NFL scout Bryan Broaddus breaks down film for the Scout's Eye series.
Submit questions for Calvin Watkins to answer in his weekly Cowboys Mailbag.
NFL BLOG NETWORK