Commentary
Cowboys' Wade Phillips is who he is
Coach isn't going to start screaming and yelling to try pulling team out of losing ways
Updated:
November 6, 2010, 4:42 PM ET
By
Calvin Watkins
| ESPNDallas.com
IRVING, Texas -- Wade Phillips is undergoing his toughest stretch as a head coach.
His Dallas Cowboys are 1-6, winless at home and in the middle of a four-game losing streak.
Phillips has lost his starting quarterback, Tony Romo, until at least December. His running game is ranked next to last in the league. Phillips' defense -- his speciality -- is ranked 14th overall.
Fans and media members are calling for his firing and the man who makes that decision, Jerry Jones, says he won't do it. Jones says the organization is on Plan B.
People in coaching who know Phillips best say he's still doing the right things, but some years, the odds are against you.
[+] Enlarge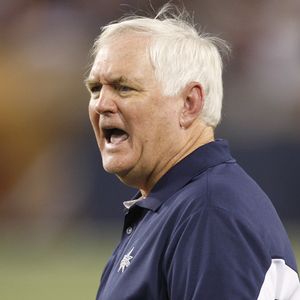 AP Photo/Andy KingIt's not in Cowboys coach Wade Phillips' nature to scream at his players.
"I don't think you become a bad coach overnight ... just like you don't become a good coach overnight," said Dan Reeves, a former NFL head coach and close friend of Phillips. "I don't think all of sudden Wade has become a bad coach. I think the most difficult thing in any sport is to get off a losing streak, and when things are going well, it's easy. When things are going tough, it's hard to get it turned around."
Reeves spent 23 seasons as head coach with the Denver Broncos, New York Giants and Atlanta Falcons, taking the Broncos to three Super Bowls and the Falcons to another.
He follows the Cowboys closely because his son-in-law, Joe DeCamillis, is the team's special teams coordinator. The Cowboys tried to hire Reeves as a coaching consultant in 2008, but talks bogged down over the number of hours he would work.
Reeves wouldn't speculate as to what he would do to help Phillips fix the Cowboys, but one thing he said he wouldn't do is change his personality.
There are concerns that Phillips is too laid back for this team. In fact, some would say he needs to yell and scream. Phillips says he's not going to change. Several players agree that he shouldn't.
Outside linebacker DeMarcus Ware said cussing out players is not going to help.
"You have to be yourself," Reeves said. "Everybody says Wade needs to be this. He needs to be more demonstrative. He needs to be hollering and screaming. That's not Wade."
So Phillips has decided to focus on fundamentals. He says it's as simple as catching the ball or holding the block long enough so a running back gets through the hole. These are the little things Phillips said he hasn't seen while spending days dissecting game film.
Jim Fassel, another good friend of Phillips, is now coaching the United Football League's Las Vegas franchise. Fassel, who took the New York Giants to a Super Bowl, said when things go bad, coaches need to get tougher on their players. That's what he did with the Giants.
More From ESPN Dallas

Everything you need to know about the Cowboys' game against the Packers can be found in our Team Center.
• Check out the Cowboys blog
"You build enough relationships with those players that [if] you start riding them pretty hard, they will respond to you," Fassel said. "They're going to want to play for you and they want to play and to win."
Phillips relies on the players to police themselves and expects some problems to be corrected without him having to say anything. Former Cowboys safety Darren Woodson said that former coach Jimmy Johnson would run the tape of a bad play over and over again during film sessions, without saying anything, to get his point across.
Phillips has been known to use a similar approach. But any approach could be too late for this group of players, who seem to have tuned out their coach.
"Wade is a teacher and a good football coach," Reeves said. "If he tried to be something different he'd be a phony, and Wade is not that way. He's got them in the playoffs. His record speaks for itself."
Calvin Watkins covers the Cowboys for ESPNDallas.com. You can follow him on Twitter or leave a question for his weekly mailbag.
ESPN.com
Calvin Watkins covers the Houston Rockets and the NBA for ESPN.com. He joined ESPNDallas.com in September 2009. He's covered the Dallas Cowboys and Texas Rangers as well as colleges, boxing and high school sports.
WEEK 9: COWBOYS (1-7) AT PACKERS (6-3)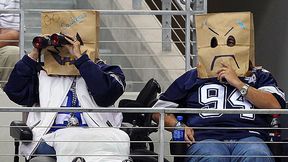 Follow ESPNDallas.com's coverage

of the Dallas Cowboys on Twitter
DALLAS COWBOYS CENTER
Check out ESPN Dallas' home for complete Dallas Cowboys coverage before and after each week's game, including analysis, commentary, videos, predictions, report cards, leaders, photos and more.
Cowboys Center »
MORE COWBOYS COVERAGE
Get the latest news and analysis by checking out ESPNDallas.com's Cowboys Blog.
Former NFL scout Bryan Broaddus breaks down film for the Scout's Eye series.
Submit questions for Calvin Watkins to answer in his weekly Cowboys Mailbag.
NFL BLOG NETWORK
New Era Men's Dallas Cowboys Sideline Authentic 59fifty White/navy Fitted Hat Shop »