Commentary
Jason Garrett is a definite change
Differences between interim head coach and departed Wade Phillips are loud, clear
Updated:
November 9, 2010, 7:52 AM ET
By
Calvin Watkins
| ESPNDallas.com
IRVING, Texas -- One of the differences between Wade Phillips, the deposed coach of the Dallas Cowboys, and Jason Garrett is the way they talk.
Phillips talks in low tones with a slight Texas twang.
Cowboys Candidates

Ten possible candidates to become the Cowboys' next full-time coach, with odds and comments by ESPNDallas.com's Calvin Watkins.
John Fox: 2-1
Jones family loves the Carolina coach, but he has to finish the season first
Jason Garrett: 5-1
The front-runner if he can turn the 1-7 season around into a positive
Jim Harbaugh: 8-1
A dark horse who is young and will make players accountable
Jon Gruden: 10-1
A tough hire; he might prefer to coach in the Midwest
Mike Zimmer: 10-1
He knows the Cowboys' way of doing things but has never been a head coach
Brian Schottenheimer: 12-1
An up-and-coming coach who seems to push players, especially the quarterback
Bill Cowher: 20-1
Cowher wants power to come out of retirement, but Cowboys might not give it to him
Leslie Frazier: 30-1
A defensive-minded coach who is quiet and firm
Rob Ryan: 45-1
Fiery defensive coordinator who comes from a good coaching family
Tony Dungy: 100-1
He likes retirement, but will the lure of the Cowboys bring him back?
Garrett, who became the first interim coach in franchise history Monday, speaks loudly. He commands the room in a way the Cowboys haven't seen the past four years.
Whether this will help the team fix its 1-7 record and end a five-game losing streak, Dallas' longest since 1997, is uncertain.
When Cowboys owner and general manager Jerry Jones said it was time for a culture change at Valley Ranch, he moved out Phillips and his folksy way of doing things, and pushed in Garrett, the kid born in Abington, Pa., who played high school football in Chagrin, Ohio, and later attended Princeton.
"We're all disappointed with how this season has started," Garrett said. "I think players understand that at the end of the day, it's a bottom-line business. You have to win. You have to win in this league."
Garrett, 44, will remain the offensive coordinator, a job he's held since 2007.
The Cowboys had no choice but to make this call.
Phillips, while a good man who is an excellent football coach, failed in trying to push the Cowboys to an elite level.
It's unknown whether Garrett can do what Phillips couldn't. Jones is giving him eight weeks to turn things around, and then he'll evaluate the process.
"There'll be some changes that I think will be tangible that people in our organization will notice right from the start," Garrett said. "I think over time those changes will be implemented into our football team. They won't be drastic changes. I just think the personality of the leader will come through a little bit. That's in any organization."
Garrett didn't act like he was an interim coach Monday night, as he called himself the head coach of the Dallas Cowboys.
When asked whether this is an interim job, he said, "I look at it as embracing an opportunity."
Jones said he'd see how the team performs under Garrett over the last eight games before making a decision whether to remove "interim" from his job title.
"He does have the opportunity to get the job long term," Jones said.
There is a perceived rift between Garrett and some offensive and defensive players. It probably stems from the Terrell Owens era.
More on the Cowboys

Tim MacMahon, Todd Archer and Jean-Jacques Taylor have the Dallas Cowboys blanketed.
Blog » ESPN Dallas »
Top 50 Cowboys

Watching Garrett at Monday's news conference, you got the feeling he doesn't care whether the players like him, as long as they practice and play hard, because that's all that matters.
While Phillips might be noted for trying to be a father figure to some players, Garrett is more like the older brother who has the good credit, marries the pretty girl and does things the right way.
If the players don't like Garrett, so what.
At 1-7, they have no choice.
"Wade is no longer the coach," Garrett said. "I am the coach, and what we're going to do going forward is get ready to have a great meeting, a great walk-through and a great practice on Wednesday, and give ourselves a chance to beat the Giants on Sunday."
Calvin Watkins covers the Cowboys for ESPNDallas.com. You can follow him on Twitter or leave a question for his weekly mailbag.
ESPNDallas.com
Calvin Watkins joined ESPNDallas.com in September 2009. He's covered the Cowboys since 2006 and also has covered colleges, boxing and high school sports.
COWBOYS FIRE WADE PHILLIPS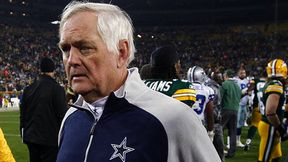 Follow ESPNDallas.com's coverage

of the Dallas Cowboys on Twitter
CHANGING OF THE GUARD
DALLAS COWBOYS CENTER
Check out ESPN Dallas' home for complete Dallas Cowboys coverage before and after each week's game, including analysis, commentary, videos, predictions, report cards, leaders, photos and more.
Cowboys Center »
MORE COWBOYS COVERAGE
Get the latest news and analysis by checking out ESPNDallas.com's Cowboys Blog.
Former NFL scout Bryan Broaddus breaks down film for the Scout's Eye series.
Submit questions for Calvin Watkins to answer in his weekly Cowboys Mailbag.
NFL BLOG NETWORK