Commentary
Cowboys lack consistency on defense
A unit that was viewed as a strength last season has been part of this team's undoing
Updated:
December 17, 2010, 6:28 PM ET
By
Calvin Watkins
| ESPNDallas.com
IRVING, Texas -- Once a strength, the Dallas Cowboys' defense has turned into a liability at times and is part of the reason this team is 4-9.
The Cowboys' defense gave up 250 points last season, good for second-fewest in the NFL. That number has skyrocketed to 366 this season, second-highest in the league and 39 points away from tying the franchise record for most points allowed in a season.
The reasons for the defense's demise are numerous, but when asked why the unit has struggled to stop opponents on a consistent basis, DeMarcus Ware, the team's most dangerous defensive player, could only muster "No comment."
The Cowboys have allowed 30 or more points seven times this season and are 1-6 in those games. They have given up an average of 28.5 points the past four weeks.
Paul Pasqualoni, who took over as defensive coordinator for the departed Wade Phillips, offered his thoughts as to why the defense has given up so many points.
"We have to do a better job of making them kick field goals," he said. "We've got to do a better job of not giving up big plays. Our frustration has been the big plays that put it in the red zone, and we're awfully close in the red zone, [we] just haven't been on third down as good as we need to be."
In the past three weeks the Cowboys have faced some of the better offenses in the league in the New Orleans Saints, who scored 30 points in a win; the Indianapolis Colts, who scored 35 in an overtime loss; and the Philadelphia Eagles, who put up 30 in a victory.
This week the Cowboys face the offensively challenged Washington Redskins, who have all sorts of problems, including at quarterback with Donovan McNabb. Washington ranks 16th in total offense and has the seventh-worst run game in the league.
"We played well against those teams, but we didn't play good enough against those teams, especially with them putting up all those points," Ware said. "But playing the Washington Redskins, you know it's going to be a hard game."
Pass rush, secondary play and big plays are key reasons the Cowboys have struggled.
Ware, who leads the team with 9.5 sacks, faces constant double-teams. Nose tackle Jay Ratliff, who was tied for third with 33 quarterback pressures last season as an All-Pro, has faced pressure up front from centers and guards and has only eight sacks this year.
In addition to the Cowboys' two best pass-rushers getting shut down, Stephen Bowen, Anthony Spencer and Jason Hatcher have also struggled to reach the quarterback on a consistent basis. The Cowboys changed their scheme from a blitzing attack in the first eight weeks of the season to a conservative one with fewer players rushing the passer and more zone coverage.
"We're not sending the extra guys," Ware said. "It's usually six on four the majority of the time. Sometimes they keep the tight end in [to block], sometimes they don't. You've just got to beat your man."
The secondary has had its own issues, especially at safety. Earlier in the year it seemed free safety Alan Ball reacted late on passes, but he's played better recently. On the first play of the Eagles game last week, Michael Vick completed a deep pass to DeSean Jackson. Ball ran from the middle of the field to tackle Jackson and prevented a touchdown. The previous week against the Colts, Mike Jenkins was two steps behind Reggie Wayne on a deep ball, but Ball reacted well, came over to help and intercepted Peyton Manning.
But those plays are few and far between from a secondary that has allowed 27 touchdown passes this year.
Jenkins missed breaking up a pass to Jackson that turned into a 91-yard score in the fourth quarter of a tight game.
A struggling defensive team has to stop big plays to fix itself. That's something the Cowboys failed to do on a consistent basis. Of the 11 pass plays of 20 or more yards allowed, seven have gone for touchdowns.
"We have got to do everything we can do to minimize the big play, to minimize the explosive gain," Pasqualoni said. "You have to stop the big plays, which to me are the plus-20 runs and the plus-40 passes. You have to minimize the explosive gains."
The Cowboys are hopeful that the final three weeks of the season will provide them with some comfort regarding their defense. They will face two struggling teams in Washington and Arizona before taking on Vick again in the regular-season finale.
"I look at every offense as a potent offense," Ball said. "Every offense has a playmaker, maybe five. This is the NFL, so everybody has guys that can make plays. That's how I look at it every week."
Calvin Watkins covers the Cowboys for ESPNDallas.com. You can follow him on Twitter or leave a question for his mailbag.
WEEK 15: COWBOYS vs. WASHINGTON REDSKINS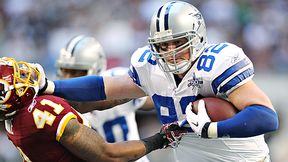 Follow ESPNDallas.com's coverage

of the Dallas Cowboys on Twitter
DALLAS COWBOYS CENTER
Check out ESPN Dallas' home for complete Dallas Cowboys coverage before and after each week's game, including analysis, commentary, videos, predictions, report cards, leaders, photos and more.
Cowboys Center »
MORE COWBOYS COVERAGE
NFL BLOG NETWORK