Commentary
Cowboys choose wisely with OT pick
Tyron Smith's athleticism, lofty goals just what team needs to revitalize offensive line
Updated:
April 29, 2011, 3:18 AM ET
By
Calvin Watkins
| ESPNDallas.com
IRVING, Texas -- The Dallas Cowboys did the right thing Thursday night.
It was a beautiful thing.
With the ninth pick of the first round, the Cowboys didn't get cute but they didn't look for a safe pick. They didn't select someone with a huge risk off the field, but rather a player with tremendous potential on it.
The Cowboys selected Tyron Smith, the offensive tackle from USC.
He was considered the best tackle in the draft. With the team needing to get younger and more athletic on the offensive line, it was time to make this move.
[+] Enlarge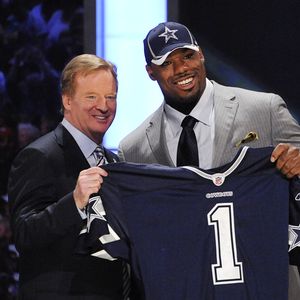 Howard Smith/US PresswireCowboys first-round pick Tyron Smith can play both tackle positions on the offensive line.
Hudson Houck, the Cowboys' offensive line coach/running game coordinator, had given Smith the highest grade among all the players at his position.
"One of the highest from an athletic standpoint," Houck said. "This guy is a real good athlete now and he's got great recovery, great change of direction and he can really run. When he gets out in the open he will hit you and keep running, and he's proven that."
Team officials also liked Boston College's Anthony Castonzo, who started more college games (40-24) than Smith.
Smith is the better pick because he's 20, healthy, recovered from knee problems and has tremendous upside in that he can play both tackle spots. Houck was raving about Smith's ability to handle a bull rush, his strength and how he uses his long arms with his 65-inch wingspan to get positive grades to protect his quarterback.
Out of 859 snaps for the Trojans in 2010, Smith recorded 100 pancake blocks and 13 touchdown-resulting blocks while allowing zero pressures and one sack. He received an 86.4 grade percentage for the season.
Smith has set lofty goals for himself, goals that stunned some reporters.
"I think I can get better every year and its going to take a lot of hard work," Smith said. "I think I have the potential to be a Pro Bowler and be a Hall of Famer."
It was just time for the Cowboys to make this move.
More on the Cowboys

Tim MacMahon, Todd Archer and Jean-Jacques Taylor have the Dallas Cowboys blanketed.
Blog » ESPN Dallas »
Top 50 Cowboys

For as good as he's been, Marc Colombo's body is starting to betray him. He missed the past three preseason games and the season opener because of knee problems last season. In 2009, Colombo missed seven games because of a broken left fibula and high ankle sprain.
Colombo is also due a $2.6 million option bonus by the 15th day of the league calendar. Whenever the 2011-12 league calendar starts, Colombo will get a phone call thanking him for his services.
It's nothing personal, just business. Smith will be asked to move in as either the starter at either right or left tackle in 2011 and if you're worried about rookies playing the offensive line, get over it.
The Pittsburgh Steelers started Maurkice Pouncey 16 games at center last year. Trent Williams started 13 games at left tackle for the Washington Redskins. Bryan Bulaga started 12 games for the Super Bowl champion Green Bay Packers at right tackle. Rodger Saffold started 16 games for the St. Louis Rams.
It doesn't mean these players will emerge as Hall of Famers. It just means teams need to move on from high-priced veterans who are on the backside and get younger.
Dallas did the right thing Thursday night, and it appears Smith is willing to deal with the expectations of being a highly regarded pick who wants to be a Hall of Famer.
"Not so much pressure, that's just the expectations teams have for you coming in," Smith said. "They expect you to work hard and you don't get drafted that high for a reason, and I'm willing to work hard for them."
Calvin Watkins covers the Cowboys for ESPNDallas.com.
COWBOYS NFL DRAFT 2011
COWBOYS DRAFT ORDER
| | | |
| --- | --- | --- |
| 1 | #9(9) | Tyron Smith, OT, USC |
| 2 | #8(40) | Bruce Carter, OLB, N. Carolina |
| 3 | #7(71) | DeMarco Murray, RB, Oklahoma |
| 4 | #13(110) | David Arkin, G, Missouri State |
| 5 | #12(143) | Joshua Thomas, CB, Buffalo |
| 6 | #11(176) | Dwayne Harris, WR, E. Carolina |
| 7 | #17(220) | Shaun Chapas, FB, Georgia |
| 7 | #49(252) | Bill Nagy, C, Wisconsin |
MORE COVERAGE