Cowboys look for offensive consistency
Updated:
October 22, 2009, 7:32 PM ET
Associated Press
IRVING, Texas -- Marion Barber darted outside and scooted past the New York Giants defense before pulling up lame 10 yards shy of the go-ahead touchdown.
The Dallas Cowboys scored anyway, but that 35-yard Barber run a month ago was the last time their offense had all the key parts in the same game. That's supposed to change Sunday against Atlanta, a playoff contender and the first of five straight NFC opponents.
More on the Cowboys

Tim MacMahon, Todd Archer and Jean-Jacques Taylor have the Dallas Cowboys blanketed.
Blog » ESPN Dallas »
Top 50 Cowboys

The Cowboys had their best rushing day in 16 years in that 33-31 loss to the Giants. They're No. 2 in the NFL at 420 yards per game even though they've been without some combination of Barber (thigh, thumb), backup running back Felix Jones (knee) and receiver Roy Williams (ribs) the past three games.
Still, doubts persist because they had one offensive touchdown in a win over Carolina and didn't score at all in the final three quarters of a loss to Denver. A thrilling 26-20 overtime victory at then-winless Kansas City wiped out the memory of two more quarters without a touchdown to start that game.
"Turnovers and penalties. Those are the only things that kept us from being undefeated at this point," Williams said. "One game we had too many penalties and one game we had too many turnovers."
Those only partly explain why the Cowboys are scoring touchdowns on less than half their trips inside the 20, putting them in the bottom half of the league. While Tony Romo wasted a go-ahead scoring chance with a crucial interception in Denver, he also failed twice from the Broncos' 2 in the final seconds with a chance to tie.
"We've just got to do things a little better," Romo said. "Either I've got to put it in there a little better, someone has got to catch the ball. We've had a few things that weren't perfect. But when it gets going, it will get going in a hurry, I think."
Offensive coordinator Jason Garrett took most of the heat for the final breakdown in Denver because both throws went to fourth receiver Sam Hurd when he was covered by All-Pro cornerback Champ Bailey. The critics also noted that tight end Jason Witten, always a Romo target in pressure situations, stayed in to block.
Garrett didn't have Williams and Jones for that final sequence against the Broncos. He won't have that excuse against the Falcons, assuming other health issues don't arise.
"To be the [No. 2] offense and not have the points to show for it ... that's an area we've worked on," Witten said. "You have to get there first, but when we do, we have to take advantage of those."
Even if Barber, Williams and Jones play, there will be limitations.
Barber broke his left thumb two weeks ago against Kansas City and will probably need protection. Williams said he was healthy, but did so with a wry smile. Sure enough, coach Wade Phillips said the ribs were cracked and he expected the receiver to play with soreness. Jones probably will wear a knee brace for the first time.
Regardless of whether all of them are out there, Witten said it's time for some consistency.
"There are 10 to 12 possessions in a game," he said. "You can't afford to give away two or three of them like we have in the past."
Phillips is often one to accentuate the positive, which means pointing out his team's lofty yardage total. But he's quick to acknowledge the shortcomings, too.
"We need to throw the ball on third down or need to move the ball in the red zone for touchdowns," he said. "That's our emphasis."
The win over the Chiefs was the model of inconsistency for Dallas. A pair of long touchdown passes to Miles Austin -- one late in regulation and the other in overtime -- put the Cowboys at 498 total yards. Austin set a franchise record with 250 receiving yards. But before Tashard Choice ran 36 yards for a touchdown in the third quarter, the Cowboys were sputtering in all phases.
Romo says Dallas just has to "stay the course."
"We're too good of an offensive group not to continue to grow and get better as a unit," he said.

Copyright 2009 by The Associated Press
NFL WEEK 7 PREVIEW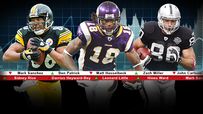 PICKS
POWER RANKINGS
MNF: Eagles at Redskins
FINAL WORD
HOT READ: JaMarcus Russell
UNDERACHIEVERS
STOCK WATCH: Fallers, risers
COLUMNS/BLOG POSTS
SCOUTS INC.
Nike Infant Away Game Jersey Dallas Cowboys Tony Romo #9 Shop »