Commentary
Report card: Grading Cowboys' offense
Calvin Watkins hands out his final grades for Tony Romo and the Cowboys' offense
Updated:
January 21, 2010, 11:04 AM ET
By
Calvin Watkins
| ESPNDallas.com
Coach Wade Phillips will return for the 2010 season, and the Dallas Cowboys will attempt to build on a 12-6 campaign (including playoffs) that saw them win the NFC East title for the second time in three seasons.
Wide receiver Miles Austin, quarterback Tony Romo, nose tackle Jay Ratliff and linebacker DeMarcus Ware had fantastic seasons. But there were bad seasons from Roy Williams and kickers Shaun Suisham and Nick Folk. And then there was an uneven year from running back Marion Barber.
We hand out the final grades of the season, starting Tuesday with the Cowboys' offense. On Wednesday, we'll grade the Cowboys defense:
Report Card: Calvin Watkins' final grades for the Dallas Cowboys' offense





QB Tony Romo

Forget about the playoff loss to the Vikings for a moment and marvel at how improved Tony Romo was in 2009. He threw the same number of touchdowns (26) as he did in 2008, but his career-low nine interceptions stand out more. He compiled a 3-2 mark down the stretch and won a playoff game. Romo's career-high 4,483 yards broke the single-season franchise mark he set in 2007. Leadership was lacking, but he stepped up this season, asking to be the holder when Mat McBriar struggled while Nick Folk was kicking field goals.






RB Marion Barber

Marion Barber rushed for 932 yards, the second-highest total of his career, but he struggled with injuries for the second consecutive season. In the second game, he injured his thigh, causing him to miss one game and play at less than 100 percent for about a month. He also played the last three weeks of the season with a swollen bursa sac in his left knee. It seemed the Cowboys lost confidence in Barber's short-yardage skills; in the playoff loss to the Vikings, they elected to attempt a field goal instead of going for it on fourth-and-1.






RB Felix Jones

The more carries Felix Jones got, the better he became. If the Cowboys release or trade Barber, Jones will become the lead back. Yes, he did get hurt again, missing two games with a knee injury, but he averaged more than 4 yards per carry the last four weeks of the season when healthy. He also rushed for 148 yards in the playoff victory over the Eagles when Barber reinjured his knee. The Cowboys could project Jones as the starter very soon.






RB Tashard Choice

Maybe the grade should be higher, but Tashard Choice didn't get enough carries on a consistent basis to totally show what he can do. He had just 20 carries since November, and they were mainly in the Razorback formation and on some third-down plays. The Cowboys trusted Choice on pass protection, and he's the most complete back of the trio. Yet he will remain No. 3 unless something changes at the top of the depth chart.






FB Deon Anderson

He played through some knee pain for most of the season yet still was an effective blocker. Cowboys coaches have confidence in Deon Anderson's skills but worry about his health. He tied for fourth on the team in special-teams tackles with 12, and his energy on that unit is helpful.






WR Roy Williams

He said his quarterback and offensive coordinator lost confidence in him. He's right. Roy Williams didn't get many plays called for him late in the season, and none in the loss to the Vikings. Williams was frustrated by not getting the ball, and he finished with a team-high eight drops this season. He did have seven touchdown receptions, but he had three zero-catch games, including the playoff loss, and four games with just one. His route-running, hands and chemistry with Tony Romo must improve.






WR Miles Austin

This season was a remarkable story for the undrafted free agent from Monmouth University who will go to the Pro Bowl for the first time in his career. Miles Austin led the NFC and was third overall in the league with 1,320 receiving yards. He set a franchise record with an NFL season-high 250 receiving yards in an overtime win at Kansas City. Austin took over the No. 1 receiver job from Roy Williams as he showed a great ability to break tackles and earn trust from Tony Romo.






WR Patrick Crayton

He lost his starting job to Miles Austin, but that was OK because Patrick Crayton was more trusted than Roy Williams. Crayton, who went back to the No. 3 wideout spot, had some effective games this season. He had 135 yards receiving on four catches in the season opener and four catches for 99 yards as the Cowboys clinched the NFC East title in the regular-season finale. He's not as fast as Austin or as big as Williams, but he does a good job of getting open and catching the ball.






WR Sam Hurd

This grade comes mainly from the special-teams portion of his job. Sam Hurd led the team with 19 special-teams tackles, including 17 solos. His speed and ability to wrap up made him a trusted player to special-teams coordinator Joe DeCamillis. As a receiver, Hurd was good at blocking on run plays, especially sweeps.






WR Kevin Ogletree

The Cowboys like Kevin Ogletree's speed and his ability to make people miss. The wide receiver screens that offensive coordinator Jason Garrett called for him worked well against defenses that did not expect him to get the ball. He needed to practice with more consistency to gain more playing time, but Cowboys owner Jerry Jones said Ogletree has a bright future and could compete for the No. 3 receiver spot next season.






TE Jason Witten

He finished with more than 1,000 receiving yards for the second time in his career. To get there was a struggle. Jason Witten didn't really start to break out until November, when he had five catches for 107 yards versus Oakland on Thanksgiving Day. As the season wore on, Witten picked up three 100-yard games in the last six weeks of the regular season. The tight end finished with his lowest yards-per-catch average (11) since his rookie season (9.9), but he's still an effective offensive weapon.






TE Martellus Bennett

Marty B. had a strong training camp, leading many to believe it would carry over into the regular season. It didn't. Martellus Bennett missed two games with a concussion and had five games in which he had no catches. He did block well, according to coaches and scouts, but he looked lost during the season, sometimes running the wrong route or getting out of his breaks slowly. In the playoff loss, he caught three passes for 27 yards. He tied for second on the team with five drops.






TE John Phillips

While Martellus Bennett recovered from a concussion, John Phillips stepped in and gave the team confidence that it could use him in the future. Phillips had three catches for 40 yards in the win over New Orleans, including a big one in the fourth quarter. The Cowboys used him in two- and three-tight end sets this season, and he will compete with Bennett for more playing time next season.






OL Flozell Adams

Coaches were pleased with how 34-year-old Flozell Adams, the line's oldest member, played this season. Could he play better? Sure. Is Doug Free going to compete for the left tackle job next season? Sure. But Adams still contained some of the better pass-rushers in the game for most of the season. His leg whips on opposing players bothered many, but there was no denying how hard he played. It was disappointing that he missed the second half of the loss to the Vikings with a right calf strain.






OL Kyle Kosier

He enters the final year of his contract looking to prove himself yet again. Kyle Kosier, the left guard, isn't the biggest name on the line, but he's played consistent most of the season. He bounced back this season after surgery to repair a hairline fracture in his right foot. His chemistry with Flozell Adams was missed.






OL Andre Gurode

Andre Gurode earned his fourth consecutive Pro Bowl berth at center with a good season. There were times he was overmatched but not on a regular basis. One thing the Cowboys like about him is he's started in 106 of 116 games in his career. Consistency is what's important on the offensive line, and Gurode provided it.






OL Leonard Davis

"Bigg" was named to his third consecutive Pro Bowl this year. The 6-foot-6, 353-pound right guard mauled defenders this season, but there were times he didn't seem very athletic on run plays. When the Cowboys lost right tackle Marc Colombo for seven games, Davis helped third-year player Doug Free get comfortable at the position. Durability is one thing you can say about Leonard Davis. He hasn't missed a game since the 2005 season, when he was with Arizona.






OL Marc Colombo

Marc Colombo missed seven games because of ankle surgery and fractures in his leg. There was some doubt about whether he would come back this season, but he played right tackle versus the Eagles in the wild-card game. Against the Vikings, he struggled to contain defensive end Ray Edwards. Colombo is a physical presence, but he was held back by injuries this season.






OL Doug Free

In the seven games he played in place of Marc Colombo, Doug Free allowed only one sack. Coach Wade Phillips was asked why Free should head to the bench when Colombo returned from injury, and some scouts and front-office people think Free outplayed Colombo this season. In the last two weeks of the season, the Cowboys had Free practicing at left tackle. Free might get his shot to replace Flozell Adams next season.






OL Cory Procter

Cory Procter played mainly on special teams and took over at center when Andre Gurode injured an ankle at Philadelphia on Nov. 8. Procter can be relied upon to play center and guard, but he hasn't taken the next step to challenge for a starting job.
The following players were not given grades because they didn't play at all or not enough:
Jon Kitna
,
Stephen McGee
,
Pat McQuistan
,
Montrae Holland
and
Duke Preston
. Practice squad players were not graded.
ESPNDallas.com
Calvin Watkins joined ESPNDallas.com in September 2009. He's covered the Cowboys since 2006 and also has covered colleges, boxing and high school sports.
COWBOYS '09: THE LAST ROUNDUP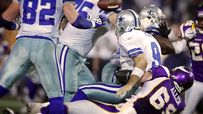 The Dallas Cowboys' season came crashing down after losing to the Minnesota Vikings in the divisional round, 34-3.
COWBOYS SEASON WRAPUP
MUST SEE / HEAR
ESPN FAN SHOP