Jones confirms Phillips will return
Updated:
January 20, 2010, 6:21 PM ET
By
Calvin Watkins
| ESPNDallas.com
ARLINGTON, Texas -- Not only is head coach Wade Phillips returning for the 2010 season, he might be with the Dallas Cowboys even longer.
Cowboys owner and general manager Jerry Jones told ESPN that he's working on a contract extension for Phillips. The team has already decided to pick up Phillips' team option for 2010, but Jones wants the coach back for 2011 as well.
More on the Cowboys

Tim MacMahon, Todd Archer and Jean-Jacques Taylor have the Dallas Cowboys blanketed.
Blog » ESPN Dallas »
Top 50 Cowboys

"I'm certainly interested in Wade being back, and everything is a go," Jones said Tuesday. "We had a long visit about that and all matters of our team [Monday]. We'll have a couple more meetings before we meet with our media."
Jones has been consistent in saying he values what Phillips has done for the team this season, especially the defense. Yet he didn't make any announcements regarding a contract extension until Tuesday.
"We've got to work out the details of what we want to do besides the option, but I want him back," Jones said on ESPNEWS. "I said that early in the season before we got on the run that we got on at the end."
Phillips was unavailable for comment. His agent, Gary O'Hagan, declined comment when asked about his client's contract status.
The Cowboys' official Web site had a story saying that Phillips would receive a three-year extension, but Cowboys spokesman Rich Dalrymple said the story was incorrect, would be taken down and that nothing long term has been decided.
Calvin Watkins covers the Cowboys for ESPN Dallas. You can follow him on Twitter or leave a question for his weekly mailbag.
ESPNDallas.com
Calvin Watkins joined ESPNDallas.com in September 2009. He's covered the Cowboys since 2006 and also has covered colleges, boxing and high school sports.
COWBOYS '09: THE LAST ROUNDUP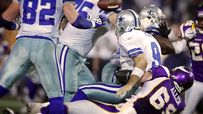 The Dallas Cowboys' season came crashing down after losing to the Minnesota Vikings in the divisional round, 34-3.
COWBOYS SEASON WRAPUP
MUST SEE / HEAR