2011 logo is first of NFL's standard look
Updated:
February 5, 2010, 2:01 AM ET
By
Calvin Watkins
| ESPNDallas.com
FORT LAUDERDALE, Fla. -- The North Texas Super Bowl Committee and the NFL unveiled the logo for Super Bowl XLV on Thursday morning, displaying Cowboys Stadium in the background with the Vince Lombardi Trophy sitting on top of the Roman numerals for the game.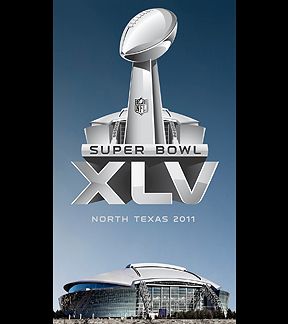 Courtesy of The NFLThe Super Bowl XLV logo was unveiled for the 2011 game at Cowboys Stadium.
There is a new logo for every Super Bowl, but starting with the 2011 Super Bowl, the theme of the logo will basically remain the same. The only differences from year to year are the stadium backdrop and the Roman numerals for the game.
NFL officials looked at eight designs before recently finalizing their choice. The NFL didn't present it to North Texas officials until last week.
"It's a unique mixture of icons that represents what this whole thing is all about. It's well done," said Bill Lively, the president and CEO of the North Texas Super Bowl XLV Host committee. "We've approached our mission not just for 45 but for many, many [Super Bowl] games to come."
The NFL also announced it's changing its postseason logo system and trophies.
The AFC and NFC Championship Game trophies will change from a brown base with an 'A' or 'N' on top of it surrounded by players layered on a wall, to silver trophies in the make of a football.
Playoff logos also will change to reflect the football as a trophy.
All of the new logos and trophies will take effect starting with the 2010 season.
"We feel that 45 is a special year," said Mark Waller, chairman of marketing for the NFL. "It feels like it's the perfect time to launch it."
Calvin Watkins covers the Cowboys for ESPNDallas.com.
SUPER BOWL XLIV
Who will supplant the Steelers as champions? The Colts and Saints will square off in Super Bowl XLIV on Sunday in Miami.
SUPER BOWL PREDICTIONS
HOT READ: Playing with pain
HALL OF FAME
OUTSIDE THE LINES: CONCUSSIONS
COMMENTARY/BLOGS
SCOUTS INC. TALE OF TAPE
MORE SCOUTS INC.
SPORTSNATION