Source: Cowboys willing to deal Hurd
Updated:
April 23, 2010, 2:01 AM ET
By
Calvin Watkins
| ESPNDallas.com
IRVING, Texas -- The Dallas Cowboys will entertain offers for backup wide receiver Sam Hurd, a source said Thursday night.
More on the Cowboys

Tim MacMahon, Todd Archer and Jean-Jacques Taylor have the Dallas Cowboys blanketed.
Blog » ESPN Dallas »
Top 50 Cowboys

Hurd, who led the Cowboys with 19 special teams tackles in 2009, hasn't developed as quickly as a receiver. Last season, he caught just seven passes for 121 yards with one touchdown.
As of now, the Cowboys' depth chart has Miles Austin, Roy Williams, Patrick Crayton, Kevin Ogletree, Manuel Johnson, Jesse Holley and Hurd.
The issue is that Hurd wants to play on offense more, and that might not happen with the Cowboys drafting Dez Bryant.
Calvin Watkins covers the Cowboys for ESPNDallas.com. You can follow him on Twitter or leave a question for his weekly mailbag.
ESPNDallas.com
Calvin Watkins joined ESPNDallas.com in September 2009. He's covered the Cowboys since 2006 and also has covered colleges, boxing and high school sports.
2010 COWBOYS SCHEDULE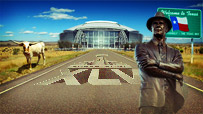 The NFL released the full 2010 regular-season schedule Tuesday. Among the Cowboys highlights: An opener in Washington that is one of five prime-time contests.
NFL Schedule
Schedule strength | NFC East analysis
NFL Nation analysis | Cowboys Blog
SCHEDULE (All times CT)
NEWS
ANALYSIS
VIDEO/INTERACTIVE