Commentary
Sizing up the Cowboys' depth chart
Updated:
April 26, 2010, 1:49 AM ET
By
Calvin Watkins
| ESPNDallas.com
Now that the NFL draft is over, here is the Cowboys' projected depth chart:
OFFENSE
---
QUARTERBACK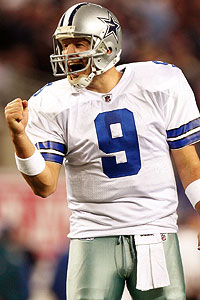 Ronald Martinez/Getty ImagesTono Romo just turned 30 and is in his prime.
Tony Romo:
Coming off one of his best seasons, and after turning 30 is entering his prime
Jon Kitna: Trusted backup isn't going anywhere, and he's a sounding board for Roy Williams
Stephen McGee: Coming off injuries, so the team wants to see what he can do in camp
RUNNING BACK
Felix Jones: The team hasn't announced it yet, but he will eventually take the No. 1 spot over
Marion Barber: Is determined to go injury-free in 2010 while holding his starting job
Tashard Choice: Wants more playing time but won't get it with Barber on the roster
Herb Donaldson: Spent last year on the practice squad and could do so again
Deon Anderson: The fullback has a job as long as he's healthy
WIDE RECEIVER
Miles Austin: The No. 1 receiving threat, but has to prove he's not a one-hit wonder
Roy Williams: Two bad seasons has put his playing time and future in doubt
Dez Bryant: The rookie moves into the No. 3 spot and is expected to make an impact
Patrick Crayton: Seeks a trade but not getting bites, so trusted veteran could stay
Kevin Ogletree: Team has high hopes thanks to his speed and playmaking ability
Sam Hurd: Ace special teams player who wants out as his role gets reduced
Manuel Johnson: A year away from pushing someone for an active roster spot
Jesse Holley: The realty show winner needs another year to learn
TIGHT END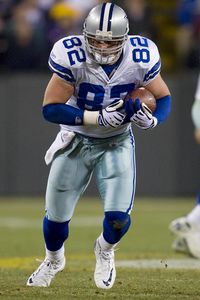 Jeff Hanisch/US PresswireJason Witten is coming off his second career thousand-yard season.
Jason Witten:
One of the top players on the team and Romo's favorite target
Martellus Bennett: Must step up his game once the regular-season starts
John Phillips: Cowboys like his potential; fighting Bennett for playing time
LEFT TACKLE
Doug Free: When Flozell Adams was cut, Free was given the task of playing left tackle
Pat McQuistan: He might get a position change if the club thinks he can't handle this spot
LEFT GUARD
Kyle Kosier: In the final year of his contract, he's a strong force inside
Cory Procter: He's also the backup center and is steady
RIGHT GUARD
Leonard Davis: Cowboys hinted he could move to tackle; he's strong where he is
Travis Bright: Still developing his game, probably a few years away
CENTER
Andre Gurode: The Pro Bowler remains a constant strength
RIGHT TACKLE
Marc Colombo: Hoping to play injury-free in 2010; one of the nastiest on the line
Robert Brewster: Missed last year with an injury; team would like to see what he can do
Sam Young: The rookie can play both tackle spots; he's a backup for now
DEFENSE
---
LEFT END
[+] Enlarge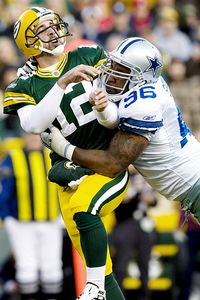 Jeff Hanisch/US PresswireMarcus Spears had 50 tackles, 2.5 sacks and tied his career best with 16 quarterback pressures last season.
Marcus Spears:
Is worried about a trade but must maintain his starting gig
Jason Hatcher: Coaches looking to see if he can challenge Spears for the starting job
Marcus Dixon: Cowboys expect him to step up to active roster this year
NOSE TACKLE
Jay Ratliff: The best player on the defensive line and second best on the defense
Junior Siavii: Could use more playing time, but is doing well when he gets in
RIGHT END
Igor Olshansky: Was a solid contributor last year, and the expectations are the same
Stephen Bowen: He's the nickel guy who could challenge for more playing time
Sean Lissemore: The seventh-round pick will get some time to develop
STRONGSIDE LINEBACKER
Anthony Spencer; Emerged as a force last year, has to do it again
Victor Butler: Earned a starting spot for one game and was benched quickly
Curtis Johnson: Cowboys need to see more of him in 2010
WEAKSIDE LINEBACKER
DeMarcus Ware: The superstar linebacker is looking for an injury-free year
Brandon Williams: Needs to show the coaches what he can do when healthy
MIKE MIDDLE LINEBACKER
Bradie James: The inside linebacker is the heart and soul of the defense
Sean Lee: The rookie will challenge to become the nickel linebacker
Bobby Carpenter: Currently is the nickel linebacker but is looking over his shoulder
Steve Octavien: Will get some special teams time
MO MIDDLE LINEBACKER
[+] Enlarge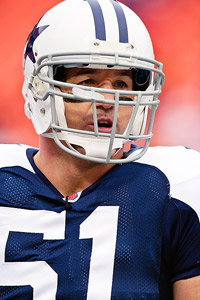 Jeff Moffett/Icon SMIKeith Brooking has been effective but will turn 35 in October.
Keith Brooking:
Is getting older, so just how long can he go?
Jason Williams: Looks for playing time while staying healthy
Stephen Hodge: If he's healthy enough, he will play special teams
Donovan Woods: Battling for a roster spot
LEFT CORNERBACK
Terence Newman: Coming off a Pro Bowl season and is steady
Orlando Scandrick: The slot corner got better in the second half of last year
Jamar Wall: The young player could see some special teams time
RIGHT CORNERBACK
Mike Jenkins: Is getting better and better
Cletis Gordon: Is going to get a chance to play special teams
Marquis Floyd: Spent last year on practice squad, might be headed there again
FREE SAFETY
Alan Ball: If they don't get a veteran, it's his job to lose
Mike Hamlin: Wrist injury slowed his development; he's healthy now
Akwasi Owusu-Ansah: The fourth-round pick won't be around until camp
STRONG SAFETY
Gerald Sensabaugh: Wants long-term deal and will probably get it
Pat Watkins: A strong special teams player who is counted on in a pinch
SPECIALISTS
FIELD GOAL KICKER
David Buehler: He will get his chance to win the job
Connor Hughes: If he can't beat out Buehler, he will be sent home
PUNTER
Mat McBriar: Strong but is not satisfied
PUNT RETURNS
More on the Cowboys

Tim MacMahon, Todd Archer and Jean-Jacques Taylor have the Dallas Cowboys blanketed.
Blog » ESPN Dallas »
Top 50 Cowboys

Dez Bryant:
Has the physical skills to make plays here
Patrick Crayton: If Bryant can't do this, Crayton gets the job back
Terence Newman: Has the speed for this spot but is better at corner
KICK RETURNS
Felix Jones: Increased playing time might take him out of this role
Miles Austin: Has the speed for this spot, but …
Dez Bryant: This guy might take it over
Akwasi Owusu-Ansah: Very good in college, could be in the pros too
Cletis Gordon: He will get a strong look
LONG SNAPPER
L.P. Ladouceur: Very good at what he does
HOLDER
Mat McBriar: He hated doing this job, but he might have to do it again
Tony Romo: He hates this job
Patrick Crayton: Former college quarterback
ESPN.com
Calvin Watkins covers the Houston Rockets and the NBA for ESPN.com. He joined ESPNDallas.com in September 2009. He's covered the Dallas Cowboys and Texas Rangers as well as colleges, boxing and high school sports.
2010 COWBOYS DRAFT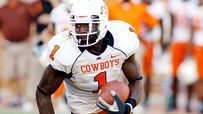 The Cowboys traded up to draft Oklahoma State receiver Dez Bryant in the first round and picked up Penn State linebacker Sean Lee in the second round.
NFL draft coverage »
Report card »
|
Grade them »
|
Blog »
NEWS / BLOGS / COLUMNS
AUDIO / VIDEO
Nike Men's Home Elite Dallas Cowboys Jason Witten #82 Jersey Shop »