Alex Barron apologizes to Roy Williams
Updated:
September 14, 2010, 9:15 AM ET
By
Calvin Watkins
| ESPNDallas.com
IRVING, Texas -- Dallas Cowboys wide receiver Roy E. Williams didn't get to be the hero, but he did get an apology from the teammate whose penalty wiped out his potential game-winning touchdown catch on the final play of Sunday night's game.
On the plane ride home, right tackle Alex Barron told Williams he was sorry for making the mistake that nullified the 13-yard reception that could have reversed the result of the Cowboys' 13-7 loss to the Washington Redskins.
More From ESPNDallas.com

Breaking news, analysis, report cards, predictions ... everything you need to know about the Dallas Cowboys' matchups can be found right here. Cowboys Center
Barron was called for holding Redskins outside linebacker Brian Orakpo as time expired and quarterback Tony Romo got the ball to Williams in the end zone.
"He sat right next to me on the plane, and I just dapped him up," Williams said Monday afternoon. "I told him don't worry about [it]. He said he was sorry for taking the TD away, and I said it happens. It's going to be magnified and yada, yada, yada."
Barron was not available for comment Monday, and on Sunday night he said he wasn't going to talk about the penalty.
He mentioned that the Redskins didn't do anything on defense that surprised him, but he knew he needed to improve his game.
"Got to work on some things, man," Barron said.
More from ESPN.com, ESPNDallas.com

The new-look Redskins defense delivered its first signature play at the end of the first half, and ultimately stripped the Cowboys of their dignity, ESPN.com's Matt Mosley writes. Blog
---

The Cowboys might have been mistaken for contenders before Sunday's loss, but their Super Bowl aspirations took a backseat to a comedy of errors, ESPNDallas.com's Calvin Watkins writes. Story
---

Pathetically enough, Sunday's 13-7 loss actually represented progress for the Cowboys' underachieving offense, ESPNDallas.com's Tim MacMahon writes. Story
---

Analysis, predictions ... everything you need to know about the Cowboys-Redskins matchup can be found right here.
Cowboys Center
The Cowboys were called for 12 penalties for 91 yards in the loss. It was their most penalties since an Oct. 11 overtime victory against Kansas City last season, when they were penalized 13 times for 90 yards.
Barron was called once for holding in 2008 while with the St. Louis Rams, but since then he's been flagged 10 times for holding, the most in the NFL.
Barron's status as the starting right tackle is in doubt, with regular starter Marc Colombo recovering from knee surgery.
Phillips said Colombo is expected to return to practice Wednesday and noted his playing status for the Week 2 game vs. Chicago is uncertain.
If Colombo can't return, it's quite possible Barron will remain in the starting lineup.
When the Cowboys traded underachieving linebacker Bobby Carpenter to St. Louis for Barron, it gave two struggling former first-round picks a fresh start.
The Rams released Carpenter before the start of the season, and he was signed by the Miami Dolphins. He started in the season opener Sunday, recording one tackle.
Barron didn't have a quiet debut with the Cowboys, but Williams said he was supportive of a teammate who committed three holding calls, two in the fourth quarter.
"Offensive linemen hold every game," Williams said. "Receivers drop balls every game. It's part of football. You don't want it to happen in that situation, but I mean, it happens."
Calvin Watkins covers the Cowboys for ESPNDallas.com. You can follow him on Twitter or leave a question for his weekly mailbag.
ESPNDallas.com
Calvin Watkins joined ESPNDallas.com in September 2009. He's covered the Cowboys since 2006 and also has covered colleges, boxing and high school sports.
2010 KICKOFF: COWBOYS AT REDSKINS
Cowboys Team Center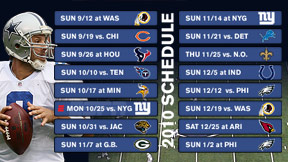 Follow ESPNDallas.com's coverage

of the Dallas Cowboys on Twitter
Get ready for the season opener by following the action on ESPNDallas.com's
Cowboys Blog
.
NEWS/COMMENTARY
SCOUT'S EYE: BROADDUS' BREAKDOWN
Former NFL scout Bryan Broaddus breaks down flim of practices for ESPN Dallas. Series »


NFL BLOG NETWORK