Jay Ratliff's grandparents die in fire
Updated:
September 23, 2010, 9:20 AM ET
By
Calvin Watkins
| ESPNDallas.com

Ratliff
Dallas Cowboys nose tackle Jay Ratliff will miss practice Wednesday and Thursday to attend the funeral of his grandparents, who died in a tragic house fire last week in Hahira, Ga.
Arletha Ratliff, 74, died while trying to save her disabled husband, Willie, 84, during an early evening house fire Sept. 15 as firefighters tried to save the couple, according to published reports.
Authorities said Willie Ratliff, a double amputee, was in a hospital bed. Firefighters' efforts to get inside the house to save the couple were prevented by the intense fire, smoke and extreme temperatures.
"They found my grandparents, and my grandmother was, I guess, holding my grandfather," Ratliff said, according to KRLD-FM in Dallas. "She climbed back in bed, like if they can't get him out, she's not leaving him."
The cause of death was smoke inhalation.
"It just took awhile to get in and locate them, and by that time they passed away," Hahira Fire chief Dwight Bennett told WALB-TV.
Willie Ratliff was a World War II veteran and Arletha Ratliff a hospital aide.
"Knowing they was in the house, you know, and they couldn't get to them and get 'em out," Lemodis Lawrence, the couple's nephew, told WCTV-TV. "Just the thought of it really hurts me."
More on the Cowboys

Tim MacMahon, Todd Archer and Jean-Jacques Taylor have the Dallas Cowboys blanketed.
Blog » ESPN Dallas »
Top 50 Cowboys

Authorities determined the fire was caused by an electrical shortage in a washing machine.
Jay Ratliff, who graduated from Lowndes High School in Valdosta, Ga., knew of the deaths before the Cowboys' game against the Chicago Bears on Sunday. The two-time Pro Bowler finished with two tackles in the 27-20 loss.
Ratliff will fly to Georgia for the funeral on Cowboys owner and general manager Jerry Jones' private jet. He is expected to play in Sunday's game at Houston.
"That goes a long way with my family. He doesn't know how much I appreciate that. That means a lot to me," Ratliff said.
Ratliff also said of his teammates: "They've really been incredible in this time. Just all the support, cards, the pats on the back, letting me know I'm not alone."
Several of Ratliff's closest friends on the team -- Andre Gurode, Stephen Bowen and Marcus Spears -- declined to comment Wednesday, saying it was a family matter.
"It was really a tough week for him," Cowboys coach Wade Phillips said. "Football is certainly important, but there are more things in life and so it was a real tough week for him. It was good for him to be around this football team in a tragedy like [that] 'cause he had a lot of friends and people supporting him."
Calvin Watkins covers the Cowboys for ESPNDallas.com. You can follow him on Twitter or leave a question for his weekly mailbag.
WEEK 3: COWBOYS (0-2) AT TEXANS (2-0)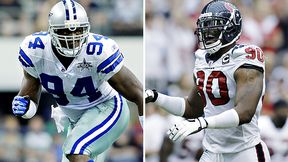 Follow ESPNDallas.com's coverage

of the Dallas Cowboys on Twitter
DALLAS COWBOYS CENTER
Check out ESPN Dallas' home for complete Dallas Cowboys coverage before and after each week's game, including analysis, commentary, videos, predictions, report cards, leaders, photos and more.
Cowboys Center »
MORE COWBOYS COVERAGE
Get the latest news and analysis by checking out ESPNDallas.com's Cowboys Blog.
Former NFL scout Bryan Broaddus breaks down film for the Scout's Eye series.
Submit questions for Calvin Watkins to answer in his weekly Cowboys Mailbag.
NFL BLOG NETWORK