Cowboys bench Leonard Davis in loss
Updated:
October 11, 2010, 1:15 PM ET
By
Tim MacMahon
| ESPNDallas.com
ARLINGTON, Texas -- Dallas Cowboys right guard Leonard Davis, who was selected to the past three Pro Bowls and is the highest-paid offensive lineman in franchise history, is in danger of losing his starting job after being benched during Sunday's loss.
More From ESPNDallas.com

Breaking news, analysis, report cards, predictions ... everything you need to know about the Dallas Cowboys' matchups can be found right here. Cowboys Center
Backup Montrae Holland replaced Davis late in the first half of the 34-27 loss to the Tennessee Titans. Davis allowed two sacks to Titans defensive tackle Jason Jones to cause the coaching staff to bench him.
"When they pulled me out, I wasn't upset at them," said Davis, who is in the fourth season of a seven-year, $49.6 million contract that included a $16 million signing bonus. "It was nothing personal. I was frustrated with myself about it. It happened. They put Montrae in and he did a great job when he was in there. You can't ask for anything more."
The Cowboys scored only three points before Davis was benched. They allowed five sacks in their first four possessions.
The two sacks allowed by Davis were key plays in stalled drives. The first came on a third-and-10 from the Tennessee 40 on the Cowboys' first possession. The second was a 9-yard loss on first down from the Tennessee 34, triggering a series of negative plays that led to a Cowboys punt.
"Leonard early in the ballgame was having a hard time with some of their inside pass rush," offensive coordinator Jason Garrett said. "We just felt at that time it was the right thing to do to give Montrae a chance to do that. He did a good job. He went in there and kind of stabilized it. Then, when Leonard had a chance to come back in, he played much better. I think it was the right thing to do, and both guys handled it well."
Davis returned for the final play of the third quarter and played the remainder of the game because of an injury to Holland. Holland was hit in the face when he blocked a Tennessee linebacker, opening a gash on his nose that required four stitches and caused his right eye to swell nearly shut.
"When I put my helmet on I couldn't really see to my right," said Holland, who has 49 career starts. "I didn't want to put the team in a handicap, so we came to a decision."
The Cowboys had long touchdown drives on the first two series that Holland played. The other two that he played resulted in a missed field goal and an interception in the red zone.
The 6-foot-6, 355-pound Davis said he felt like this was one poor performance and not a trend, but the Cowboys have been concerned about his play since last season, especially against quick opponents.
Davis, who is due to make $6 million over each of the next three seasons plus another $2.6 million in roster bonuses, acknowledged that he feels like he's fighting to keep his job.
"We just have to evaluate the tape and make those decisions tomorrow after we look at it," Garrett said.
Tim MacMahon covers the Cowboys for ESPN Dallas. You can follow him on Twitter or leave a question for his weekly mailbag.
ESPNDallas.com
Joined ESPNDallas.com in September 2009
Covers the Dallas Cowboys and Dallas Mavericks
Appears regularly on ESPN Dallas 103.3 FM
WEEK 5: TITANS 34, COWBOYS 27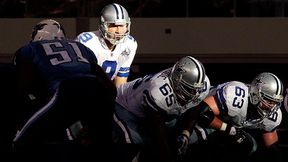 Follow ESPNDallas.com's coverage

of the Dallas Cowboys on Twitter
DALLAS COWBOYS CENTER
Check out ESPN Dallas' home for complete Dallas Cowboys coverage before and after each week's game, including analysis, commentary, videos, predictions, report cards, leaders, photos and more.
Cowboys Center »
MORE COWBOYS COVERAGE
Get the latest news and analysis by checking out ESPNDallas.com's Cowboys Blog.
Former NFL scout Bryan Broaddus breaks down film for the Scout's Eye series.
Submit questions for Calvin Watkins to answer in his weekly Cowboys Mailbag.
NFL BLOG NETWORK